This program takes place once a month at the Marion County Juvenile Detention Center.
Incarcerated juveniles are paired up with shelter dogs from Indianapolis Animal Care Services, and the dogs stay at the detention center for the week of the program.
Children that are disadvantaged need positive experiences to recover and rehabilitate. The same can be said for discarded animals.  Over 14,000 animals were surrendered to Indianapolis Animal Care Services (IACS) in 2017. An animal's best chance at adoption relies on its ability to engage a potential owner and demonstrate a personable disposition amidst the noise and confusion of the shelter.  A dog that has had training through positive reinforcement will demonstrate interest in and will be more responsive to a human partner, i.e. be more adoptable, and more successful in the adoptive environment.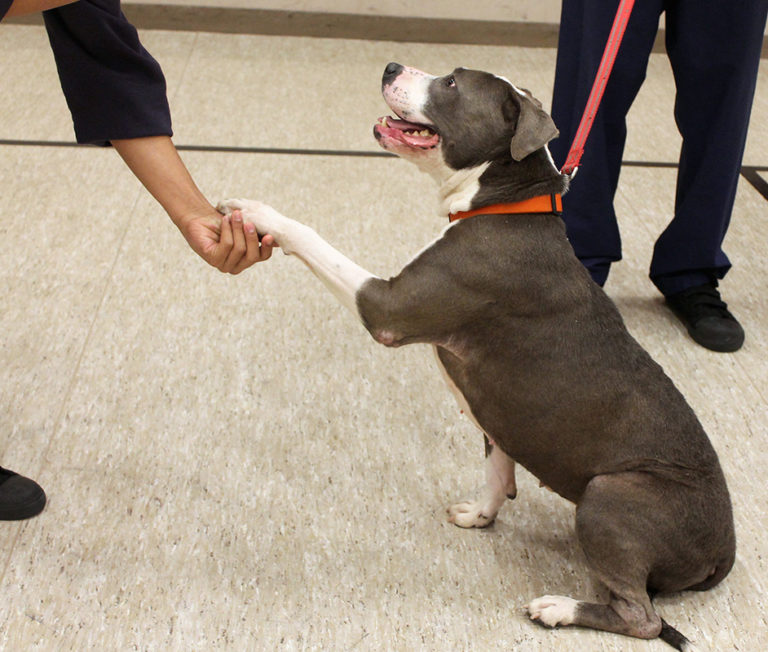 How to Volunteer with Pawsitive Corrections
Youth-Canine Coach: Youth-Canine Coaches serve as mentors to the youth in our programs. Youth-Canine Coach volunteers work under the supervision of the Dog Trainer/Youth-Canine Program Leader and provide guidance, support, and praise to the youth and ensure proper handling of the dogs. 
Youth-Canine Evening Care: Evening Care volunteers for our Pawsitive Corrections Program help to care for the shelter dogs in the Youth-Canine Program in the evening after the program has ended for the day. Evening Care volunteers are responsible for helping to feed, walk, and toilet the dogs, administering any necessary medications to the dogs, and providing the dogs with love and affection.
"A dog is a bridge to a lot of stuff: comfort, giving you confidence, making you believe in yourself. So that just reiterates what I really believe dogs do, and they magic they have."

Janice Garner, Paws & Think volunteer