Pet Therapy Training Class Volunteers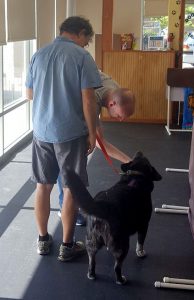 If you are interested in volunteering your time along with your dog, please visit our Pet Therapy Training & Evaluations page.
If you don't have a dog, or maybe your dog is not a good fit to volunteer with you as a therapy dog, we still need your help!
Paws & Think needs volunteers to assist with our Pet Therapy training classes. These are the classes where dogs and their handlers learn the skills to become a registered therapy team with Paws & Think. Our Trainer leads these classes, and volunteers are needed to help the Trainer practice different exercises with the dogs. As a volunteer, you would not bring your dog with you for this opportunity.
Some examples of volunteer responsibilities include:
Helping to set up the training room
Providing different distractions for the dogs while they practice walking calmly with their handlers
Administering pretend vet examinations to the dogs
Helping to set up an obstacle course of toys and treats
Practicing calm greetings with the dogs and their handlers
Other duties as needed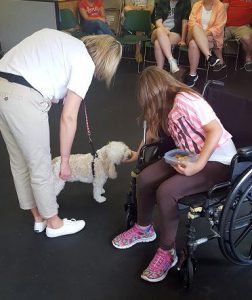 We also welcome school-age children to volunteer along with their parent or guardian.  All volunteers must either complete the Paws & Think volunteer application and background check or provide a signed waiver before volunteering at a class.
If you are interested in volunteering with a Pet Therapy class, please check out our online calendar for upcoming dates where volunteers are needed. If you find a date that works for you, please email us at info@nullpawsandthink.org to sign up.