We are absolutely thrilled to have received $6,000 from the The Latham Foundation for our Youth-Canine programs again this year. Their support is going to help ensure we can continue our programming even during these unique times. Thank you!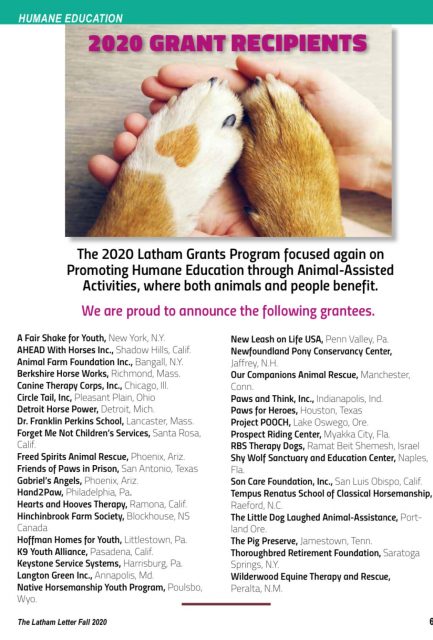 ---
This story time is extra special. Momo is a graduate of our Youth-Canine program. During the program, volunteer Amy fell in love with him and then adopted him after the program. Now, Momo is a therapy dog with Paws & Think and living the good life. Amy reads "Wake Up, Woods" by Michael Homoya and shares about plants and insects you can find in your own backyard! Enjoy story time with this unique team.
Join us for future Paws to Read Story Times with Paws & Think therapy dogs on Mondays, Wednesdays, and Fridays at 10am. You can watch these story time videos on our Facebook page and our YouTube page. To support more online story telling from Paws & Think, please consider donating at www.pawsandthink.org/donate
---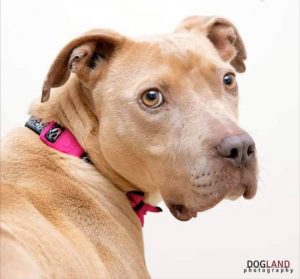 Our sweet Hamilton County Youth-Canine graduate Theresa was returned after being adopted. She is 8 years old and a complete sweetheart.
She needs a home without other dogs or cats. She can be leash reactive to other dogs while on walks, so she needs a home with someone who is willing to manage this.
She doesn't do well in a shelter setting. She gets very sad when she's there and shuts down. Please contact Humane Society for Hamilton County (Indiana) if you can foster or adopt this girl.
---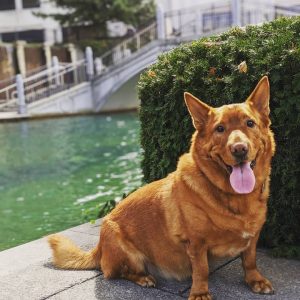 Last summer, shelter dog Momo participated in our Pawsitive Corrections Youth-Canine program at the Marion County Juvenile Detention Center where he met Amy, a new Paws & Think volunteer with a secret mission to adopt a dog. When she first saw Momo, she was immediately taken with his unique face. Many volunteers in the program commented that the chubby rolls on his snout made him look like Alf, and everyone agreed that they had never seen a dog quite like him before. Amy knew he was special, and at the end of the program she and her husband Michael went to Indianapolis Animal Care Services to make him a permanent member of their family.
The shelter estimated that Momo was an older dog who had lived on the streets for a while, which explained his patchy fur and the fact that he seemed to tire easily, slowly shuffling his big feet on walks around his new neighborhood. However, Momo soon learned from the vet that he had hypothyroidism, a condition that caused a variety of symptoms including weight gain, fur loss, lethargy, and droopy muscles on the face known as "tragic face." It turns out Momo's iconic snout rolls were because of his health condition, and his tiredness and sluggish gait were likely because he was not feeling well because of his overactive thyroid.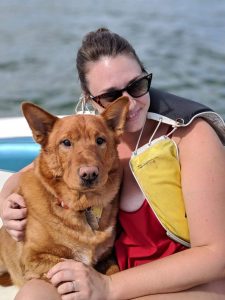 Momo started a new medication and within months his "tragic face" was gone, he lost over ten pounds, and he had a new perky attitude and happy pep in his step. Momo took new joy in playing with toys and was able to go for longer walks with his parents. He even enrolled in therapy dog training, and just a year later he and Amy became a registered therapy team with Paws &Think. Momo dressed up as Harry Pawter and visited members of our community to help promote our Dogs Are Magic: Wags & Wizards event this fall, and he plans to volunteer with the Paws to Read program in the future.
We love seeing shelter dogs come full circle through Paws & Think. Momo was able to benefit from our Youth-Canine program where he found his new healthy home, and now as a therapy dog he will be able to give back to the community through our Pet Therapy programs. Donate this Giving Tuesday to help Paws & Think continue to improve lives through the power of the human-dog connection.
---
Donate Today
Click on the button below to make a donation. By clicking on the button below, you will be redirected to the PayPal website where you can make a donation using your credit card.
Have a PayPal account? If you have a PayPal account, we encourage you to donate using this link. It is our PayPal Giving Fund in which all transaction fees are paid by PayPal, rather than our organization. You must have a PayPal account if you would like to make a donation this way.
---
It is with tears of joy I write this post. Soldier has been adopted!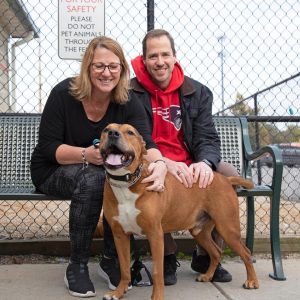 Soldier is a very special dog who was a graduate of our Youth-Canine program in 2016. He was trained in basic obedience by kids at Marion County Juvenile Detention Center. Although he did great in class, he was heartworm positive making it a challenge to find an adopter.
Lucky for Soldier, our temp tester Jodi VanSlyke stepped up and fostered Soldier for months during his treatment. With Soldier being an older pit mix and being in foster, it was hard to find an adopter.
One of our volunteers agreed to adopt Soldier and loved him completely until she was diagnosed with an autoimmune disorder that made it difficult for her to handle Soldier especially since he doesn't like other dogs too much and would pull to get to them.
Even though Soldier originally came from another shelter, we needed to find a shelter/rescue who had the capacity to work through some of his dog aggression issues. Lucky for us, our friends at Humane Society for Hamilton County (Indiana) stepped up. They agreed to take Soldier.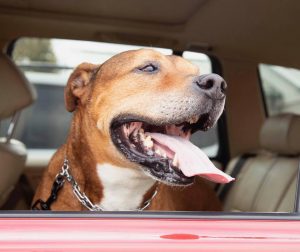 Because of funding from Nina Mason Pulliam Charitable Trust, we were able to cover the cost of his two week lodge and learn training and some recent medical costs! Thank you NMPCT!
Soldier was at the shelter since this spring. The great volunteers and staff at HSHC never gave up on him, and neither did we promoting him frequently including at our recent Dogs are Magic event. We knew his people were out there somewhere.
He waited patiently for his happy ending, and he got it!
Soldier was recently adopted by a wonderful couple, and as you can see from the pictures, he is so happy.
Thank you for adopting this big old love bug! We wish you all morning but years of happiness together!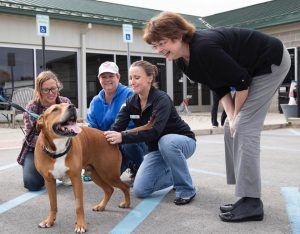 As you can see, it takes a village to help some of the more difficult to place dogs. Thank you to HSHC for being so incredible for the dogs in our community, NPMCT for helping us ease the burden of the financial side for the shelter, Jodi for spending months nursing him back to health, our volunteer for originally adopting him and loving him so much, and to his new family for giving him another chance.
If you want to help us continue to give dog's like Soldier a fighting chance, you can donate at https://pawsandthink.org/get-involved/make-a-donation/
---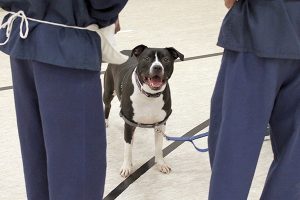 Since 2001, Paws & Think has been impacting communities in Central Indiana with our mission of improving lives through the power of the human-dog connection. One of the ways that we are able to support those in our community who need it most is through our Youth-Canine programs, where vulnerable youths are paired up with shelter dogs for a weeklong positive reinforcement training class that benefits the youths and the dogs. The goals of this program include instilling positive life skills in the youths and increasing adoption rates for the shelter dogs. Since 2013, our Youth-Canine programs have served over 520 vulnerable youths and 260 shelter dogs.
Paws & Think's longest standing Youth-Canine program is the Pawsitive Corrections Youth-Canine Program, a partnership between Paws & Think, the Marion County Juvenile Detention Center, and Indianapolis Animal Care Services. For this program, Paws & Think's trained temperament tester selects dogs from Indianapolis Animal Care Services to participate in the training class at the Marion County Juvenile Detention Center. An empty cell block is used to house the dogs for the week, and the dogs get a much-needed vacation from the crowded chaos of the shelter. Each cell is transformed into kennels so that each dog has a safe and secured space to sleep.
During the week of the program, incarcerated juvenile offenders are paired up with the shelter dogs, and together each pair learns the basics of positive reinforcement obedience training. Paws & Think's professional dog trainer leads the class, and the youths work through a series of exercises with their dogs to teach them basic commands. Paws & Think volunteer coaches act as mentors to help guide the youths and instill a foundation of positive learning that leads to success for both the youth and the dog.
At the end of the week, each youth makes a graduation card for their dog that is displayed on the dog's kennel when it goes back to the adoption floor at Indianapolis Animal Care Services. The card indicates the commands and skills that the dog has mastered to help increase the dog's chances of finding a permanent home. In 2017, the Pawsitive Corrections Youth-Canine Program celebrated a 100% placement rate for dogs that participated for the year, meaning that all dogs were adopted after they graduated from the training program.
In the past two years, Paws & Think has been able to expand our Youth-Canine programming beyond the Pawsitive Corrections Program, partnering with Warren Central High School and local foster-based rescues for the PAWs (Pups and Warriors) Program and bringing together Fishers Youth Assistance Program and the Humane Society For Hamilton County for the Hamilton County Youth-Canine Program.
With the support of our volunteers and donors, we continue to be able to help both at-risk youth and dogs to make our community a better place.
---
Do you want to help at-risk kids and shelter dogs? Then, we need YOU!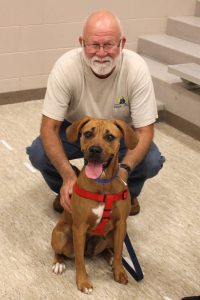 We are looking for volunteers to help with our Pawsitive Correction Youth-Canine Program at the Marion County Juvenile Detention Center.
Learn more by reviewing the Youth Canine Coach Mentor Description
If interested, contact Kim Trimpe at kimberlytrimpe@nullatt.net.
---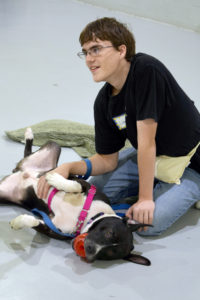 Tarzan's eyes were laser focused on the small ball in Chad Shuman's hands. It was the dog's turn at the Indiana State Fair Dock Diving Competition. The crowd was roaring and the smell of fair food filled the air, but the ball was the only thing that existed to Tarzan in that moment.
Right on cue, he begins to run the several feet down the platform as his owner throws the ball toward the water. Tarzan leaps off the platform and several feet across the pool before finally making his way back down to earth with a massive splash.
It's hard to imagine that not even one year earlier, Tarzan didn't know how to obey even the most basic of obedience commands.
Before being adopted by Shuman, Tarzan was living at the Humane Society for Hamilton County (HSHC) as a shelter dog. But in August 2017, he was chosen to be one of 5 shelter dogs chosen to participate in the first session of Paws & Think's Hamilton County Youth-Canine Program.
The program pairs at-risk youth from Hamilton Youth Assistance Program with shelter dogs to train them on basic obedience, improving their adoptability. For the program, Tarzan had been paired with a teen named Liam.
But on day 1, Tarzan was having none of it. He struggled in new environments, and refused to follow any of Liam's commands. But Liam had an idea.
"What if I give him a ball?" he asked, thinking that a toy might help Tarzan focus.
It worked. "Just like that, he connected with that dog," said Executive Director, Kelsey Burton.
Although Liam had broken through with Tarzan, it wasn't completely smooth sailing. Tarzan still had his stubborn moments when he decided to "quit" his training for the day and lay down on the floor. But Liam never gave up. In those moments, he would "lay down next to him and would pet him and love on him and just kind of start to teach Tarzan that it was okay to trust another person," said Burton.
Liam's persistence paid off for both him and Tarzan. He kept working to build trust with Tarzan throughout the week, and by the end of the 5 day program, Tarzan was thriving, even jumping through hula hoops.
But it wasn't just Tarzan that had grown. Liam had also made huge strides during the week, going from "not even being able to be in the room" at the beginning of the session to "being a leader, and demonstrating that," said Tricia Straus, an Advocate with the Fishers Youth Assistance Program.
"He was probably our star of our program from the standpoint that he benefited the most," said Burton. She explained how Liam gained confidence through the process of taking a scared shelter dog like Tarzan and through persistence, finally earning his trust. "He taught the dog those skills. That was totally him and he can have that accomplishment," Burton said.
By the end of the week, it was time for Liam and Tarzan to part ways. Burton remembers how Liam stretched out the goodbye as long as possible. "All the other kids had left and Liam had asked if he could come with us to walk Tarzan back to the Humane Society," she said. "And he walked over and you could just tell he didn't want to let that leash go."
Liam even wrote a letter to Tarzan's future owner with advice on how to be the best possible pet parent to Tarzan. One insightful piece of advice that Liam included – "His favorite toy by far is his ball."
Tarzan was soon adopted by Chad Shuman. As an athlete, Shuman had been looking for a dog that could join him on his runs. "I was kind of thinking a dog that could go and run and be active with me, and he is a champion at that," he explains.
And a champion Tarzan is. His results from the Dock Diving Competition? First place. And to think, it may have never happened without the help of a teen named Liam.

---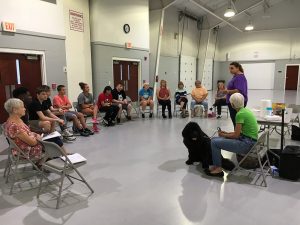 Paws & Think will be piloting a new Youth-Canine program this year in partnership with Hamilton County Youth Assistance Program (HCYAP) and the Humane Society for Hamilton County. The new Hamilton County Youth-Canine Program will be held two times in 2017, and the inaugural program starts this week. The program will be led by Paws & Think's Youth-Canine Coordinator, Kim Trimpe, and each training team will consist of two high school aged students, one dog, and one adult Paws & Think volunteer who will act as a mentor for the youth. This new program will follow the same model as our other Youth-Canine programs, with the goals of teaching valuable life skills to the youth and increasing chances of permanent adoption for the dogs.
HCYAP provides programs that promote positive growth and enhance home and community relationships for at-risk youth in Hamilton County. Teens who are facing challenging life circumstances have been selected by HCYAP staff to participate in our Youth-Canine program pilot with the goal that the program will teach them about opportunities to make their lives better. Youths will learn the value of working together towards a common goal, and our Paws & Think mentor volunteers will help to demonstrate that kindness and positive reinforcement can produce results and pave the way towards opportunities and success. Training sessions will include discussions about leadership, trust, empathy, safety, and will focus on positive reinforcement training for the dogs.
The Hamilton County Youth-Canine Program is the first program of its kind to bring together Paws & Think, HCYAP, and the Humane Society for Hamilton County. The second round of the pilot program will take place in the fall. Paws & Think is also currently working with Dr. Eric Grommon from IUPUI to develop statistical measures for our Youth-Canine programs to better quantify the positive impact of these programs to our community.
Learn more about our Youth-Canine programs.
---