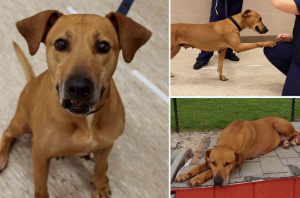 Ireland's journey has been a rough one, as any shelter dog's is. She came to the Pawsitive Corrections Youth-Canine Program at Marion County Juvenile Detention Center as a shy and uncertain seven-year-old who was confiscated from her previous owner due to abuse and neglect. At first she was nervous with the youth, afraid of the brush when they tried to groom her, but she soon started to warm up and respond to the positive reinforcement training. After excelling in the week-long program, she returned to Indianapolis Animal Care Services where she waited anxiously to be adopted by a new family.
After a few days though, Ireland was not faring well. Her stress levels rose the longer she waited in the chaotic kennels of the shelter, and eventually she was removed from the adoption floor because of her anxious temperament. Her life was now at risk, and Paws & Think had to pounce to action to help save her. Frantic emails went out, and another shelter, the Humane Society for Hamilton County, agreed to rescue her if a foster home could be found. More emails went out, and finally a volunteer stepped up to save Ireland's life.
Dr. Linda Hoss, a retired dentist who has been volunteering with Paws & Think's Youth-Canine program for over three years, rose to the call to rescue one of the program's graduates. "I just couldn't let one of 'our' dogs be euthanized," she said, explaining that she took a risk in offering to foster Ireland, knowing nothing about her except that she had not been treated well in her past but was a favorite in the program for her sweet nature. Linda had no idea if Ireland would get along with the other rescued dog in her home, but she volunteered to take her in, trusting that she could help Ireland on her path to finding a permanent home. It has been less than three weeks since she moved to her foster home, and Linda reports that Ireland is looking happier and healthier already.
Linda said that she was initially drawn to Paws & Think by a presentation from a former Board member who shared his experience with his beloved dog. After recently retiring, she was looking for a cause to commit to, and she has found that she enjoys interacting with the dogs and the teens in the Pawsitive Corrections Youth-Canine program. Not only is she inspired by the way the dogs blossom with the love and attention they get during the program, but she also says she has met many wonderful people through her involvement with Paws & Think: "The spirit of cooperation and the dedication involved are a beautiful thing to see."
When Linda is not saving lives, she enjoys cooking, reading, movies, and hanging out with her dog and her friends. She teaches at the IU School of Dentistry and occasionally returns to her former career of dental practice as a substitute. Her one child lives in Tennessee, and she currently lives in Indianapolis with Ireland and her other rescued dog, Venus.
Ireland is available for adoption from Humane Society Hamilton County. Please contact them at 317-773-4974 to set up a meet and greet.
---
There are some people that claim to not be a "dog person". Those people haven't met George.
"Even people who profess to not like dogs have been won over by George's gentle charm," says Maggie Ward, the owner of the Corgi/Border Collie mix. "I wanted to be able to share his happy attitude with other people," she says of her decision to form a therapy team with George in March 2015.
George has charmed his way into the hearts of many since starting to "work" with Paws & Think. He is quite the adventurer so his career trajectory has been a little different than other dogs in the organization. "George gets bored with sitting in one place for too long so I know he couldn't be a Paws to R.E.A.D.(r) dog," recalls Maggie.
However, his adventuresome spirit has been a perfect fit for assisted living centers, where he gets to hop from room to room, making friends with each resident he meets. "He's never met a stranger, everyone is his friend," says Maggie. "He will be friends with any human or pet."
One of George's favorite "assignments" is going to colleges to visit stressed students during exam time. "He's a ham for all the attention," says Maggie. Upon arriving at the IUPUI library one night last winter, "George dragged me over to the circle of students so he could start climbing into and rolling around in everyone's lap. He worked his way around the entire circle, taking turns in everyone's laps, loving on them and getting pets."
For anyone considering forming a therapy team with their dog, Maggie offers some advice. "Know your dog's temperament. Not every venue is going to be a good fit. If you can tune into your dog's likes and dislikes, that will go a long way with finding the right venue and atmosphere that makes your dog the happiest. Once you find the right fit, your dog will love heading out 'to work' at your favorite venues."
---
"If it were not for Millie, I am not sure what would have happened that day," recalls Beth Welch. She remembers the moment she realized her 9 month old Goldendoodle possessed an extraordinary gift.
"My mom had some changes in her medication that caused her some confusion," says Beth. One morning after giving her the medications, Beth began working on laundry while her mother went to her bedroom. After a short time, Millie burst into the laundry room, barking loudly. She then grabbed the back of her sweatshirt and pulled her through the house into her mother's room. "To my horror, Mom was starting to take her medications again. Fortunately, Millie had distracted Mom so she did not take them. That was the moment I knew Millie was a special dog."
After that experience, Beth knew that Millie was destined to be a therapy dog. But where? "I had struggled with reading as a child and Millie loves children. I had heard about programs with dogs and reading and thought this would be a good fit for both of us," says Beth of her decision to join Paws & Think with Millie as a therapy team.
With Millie, Beth is able to help children that have similar struggles with reading. "I needed a program like this as a young reader. Here, we are giving children the confidence to read out loud. Millie does not judge or laugh. She is happy to hear a child read."
Millie can even sense when a child might need a little extra time to warm up to her. A few years ago, Millie began a reading partnership with an autistic girl named Olivia. At first "Olivia would sit on the opposite side from Millie. Instead of moving closer, Millie gave Olivia her space," recalls Beth. But as the weeks went by, Olivia became more comfortable and the two began to move closer and closer to each other. "Soon, you did not know where Millie began and Olivia ended," says Beth.
Although Beth and Millie have helped countless children discover the confidence to become life-long readers, Beth has found that she learns just as much from the kids themselves. "The children remind me to stop and take my time. As adults, we get so busy in our daily lives that we forget to stop and enjoy ourselves. We have a wonderful group of supportive staff members who train us and encourage us. It is a very special organization!"
---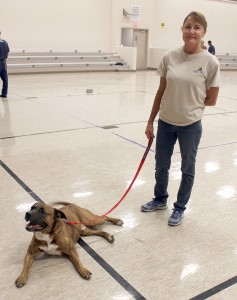 As an animal care technician at Indianapolis Animal Care and Control, Nancy Mynatt has made a big difference in the lives of countless canines. But two years ago, when she learned about the Youth-Canine program from fellow employee Jodi VanSlyke, she saw an opportunity to not only improve the lives of dogs, but the lives of youth as well.
Since then, Nancy has served as a dog handler in the program, helping academically and behaviorally challenged students learn how to train shelter dogs in need. With Nancy's guidance, the youth teach the dogs basic obedience skills, including sit, stay, look, and leave it.
Both trainee and trainer are on a journey of learning and growth during the course of the Youth-Canine program. Nancy has witnessed firsthand how the improved focus, confidence, and self-esteem of the dogs is contagious to the students. "My favorite part of volunteering in the program is when the kids get excited about the progress the dogs are making. It's something positive that makes them smile".
While the students graduate the program empowered with the principles needed to make good life decisions moving forward, they've also given the dogs a priceless gift – adoptability. What is the news that Nancy is always hoping to hear? "When we get news that the dog has been adopted!"
---
Liza is grateful to Paws & Think for helping her get a second chance after ending up in a shelter. Help put more dogs like Liza to work helping people. Donate to Paws & Think to make an impact today!


Liza's journey began in a rough spot. Like many in her breed, the pit bull mix ended up at IACC — despite her sweet disposition and intelligent nature. After spending six long months in the facility, Liza was selected to participate in the Paws & Think Youth-Canine Program. After passing a temperament test, Liza earned the chance to participate in the program with four other dogs.  Throughout the week, teens at the JDC learned valuable positive-reinforcement training techniques and taught the dogs basic obedience skills.
The program, designed to empower residents at the JDC through the power of the human-animal bond, also benefits the dogs. It gave Liza and her companions the chance to learn basic commands, become more adoptable, and take a much-needed break from stressful shelter life. Wendy Hendricks, a long-time volunteer of the program, heard about Liza through a friend in the program. Word traveled that Liza loved her trainers and would let the boys hold her like a baby. "Liza learned all her basic obedience skills, and the boys even taught her to roll over," Wendy says. Once Liza returned to IACC, Wendy visited her, spent hours getting showered in love by the sweet, goofy pit bull, and introduced Liza to Duke, her 11-year-old bulldog-pit mix. The adoption was approved that same day.
Liza was a perfect fit for Wendy. She quickly became a bossy younger sister to Duke and has never met a stranger. "It didn't take her long to discover the couch and bed," Wendy laughs. "She is my Velcro dog at home — always wants to be where I am." Wendy continued Liza's training in a basic obedience class. Once Liza fully settled into her new life, Wendy enrolled her in the Paws & Think therapy dog certification program. Liza passed with flying colors.
Like a true worker-bee, Liza hit the ground running. Wendy joined the therapy dog program at Eskenazi Mental Health. At first, Eskenazi seemed like a big place for a little dog, and Liza was a bit unsure of the sights, sounds, and smells — though this didn't last long. "She is starting to walk in like she owns the place," Wendy says. "Everyone mentions how pretty and sweet she is, although some people are hesitant to pet her because she has pit bull in her."
This initial hesitation, Wendy explains, sparks a dialog about the breed, and Liza's personality opens the minds and hearts of everyone she meets. She shared that nurses often comment on how some patients aren't verbally or physically engaged with anyone, and how wonderful it is that Liza can get a reaction from these patients. Per her mom, Miss Liza Jane has certainly become an ambassador for her breed, and for rescue dogs in general. She is now improving the lives of many patients.
In addition to providing therapy at the hospital, Liza is also the demo dog for the Youth Canine Program. Liza regularly helps trainer Kim Trimpe orientate and teach the JDC kids about the human-animal bond, the importance of positive-reinforcement training, and general pet care. This summer, she also started returning to the JDC every Saturday. "The kids really enjoy seeing her," Wendy says. "They're all smiles."

---