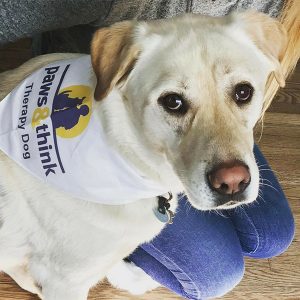 If you have been to a Subaru dealership in the past few years, you may already be familiar with Izzo, the canine half of this month's featured therapy team. "His photo is large in all the Subaru dealerships," explains Megan Thie, Izzo's owner and therapy partner. In the photo, the Labsky looks relaxed as his outstretched head is perched on the rear view mirror, soaking up the beauty of an autumn drive.
But Izzo wasn't always so calm. "Izzo was a wild child as a puppy and we went through a lot of obedience courses," explains Thie. But with his outsized personality also came a huge love of children. "He'd try to pull me towards them when we'd walk on the Monon Trail," recalled Megan.
This gave Megan an idea. Her mom is a 3rd grade teacher, so what better place would there be for Izzo to release his energy than in a room packed with kids? As a result, Izzo and Megan began visiting her classroom occasionally and still do to this day. These visits bring Izzo so much joy that you can see him physically "smile", according to Megan.
Izzo and Megan have been volunteering for Paws & Think for the past year and a half. As the child of a teacher and a lifelong lover of reading, Megan enjoys visiting other schools with Izzo to get kids excited about reading and strengthening their literacy skills.
However, Izzo has been known to be a bit of a workaholic at times. Megan recalls one time when the pair was working at the FINA World Junior Swimming Championship, talking to kids around the globe about competitive swimming and dogs. After an hour and a half of visiting, Megan attempted to leave with Izzo.
Izzo wasn't having it. "He laid down in the exit of the building, howled 'husky talk' at me, and drug me back inside." And even after one victory, Izzo still had some fight in him. When Megan left for the second time, Izzo sprawled out on the parking garage floor in one last attempt to stay even longer.
But all of the joy the pair gets from volunteering is well worth those occasional moments of stubbornness. "I'm always proud to share that Izzo is a therapy dog with the largest locally based therapy organization in Indiana," said Megan.
---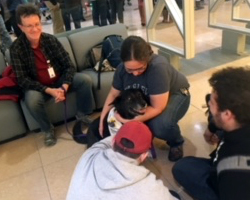 Mike Battista and his dog, Mya, are relatively new to Paws & Think. Less than a year ago, Mike attended a volunteer orientation session at the suggestion of his wife, who has had a therapy dog in the past. After learning more about the organization and its mission, Mike says, "I was hooked." Not long after that orientation, Mike and Mya enrolled in Paws & Think's Pet Therapy training, and together they passed their evaluation to become a registered therapy team.
Mya, now 12 years old, is a "foster fail" who came to Mike about a year ago from Indianapolis Animal Care Services. She had been adopted and returned to the shelter four times before Mike and his wife decided to try fostering. After six months, they made the decision to keep her. "She is ours forever," Mike says. Their family also includes another rescue dog, Jasper, age 11, who was adopted from the Indy Mega Adoption Event two years ago.
After working as a nurse for 22 years, Mike is now retired and enjoys cooking and amateur photography. In addition to volunteering with Mya, Mike has also helped out as a Coach for Paws & Think's Youth-Canine program at the Marion County Juvenile Detention Center. He says the experience of mentoring the youth in this program is "greatly rewarding," but being a part of the Pet Therapy program with Mya is most important to him.
Together Mike and Mya enjoy visiting residents at nursing homes and memory care units. Mike remembers a special experience at Allisonville Meadows, where a withdrawn gentleman showed increasing interest in Mya at each visit, becoming more interactive and responsive. After the fourth visit from Mike and Mya, the man turned to Mike to declare quietly, "She's a good dog." For Mike, this illustrates his favorite thing about volunteering with Paws & Think: "giving anyone, young, old, in good or poor health, the opportunity to feel loved, important, and respected."
---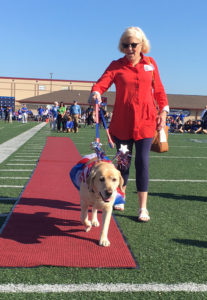 Lisa Jones and her dog Rookie have been volunteering with Paws & Think for over four years and have been able to make a positive impact by visiting all different types of venues as a therapy team. Lisa is an RN who has worked as a realtor and broker for the past 16 years, and she says her favorite part of volunteering with Paws & Think is seeing the difference that Rookie makes in people's lives – "He can help in a way that humans can't." Lisa is passionate about Paws & Think because she can see the value that it has in the community.
Together Lisa and Rookie have had many memorable experiences volunteering. In our end-of-year appeal, we highlighted the story of Rookie's visit with an unresponsive stroke patient who had a breakthrough moment in his recovery when he was able to speak to Rookie and feed him a treat. On another visit at IU, Rookie and Lisa went into the room of a woman who was terminally ill. Her husband, who was grieving, was skeptical about allowing Rookie to visit. "What good will this dog do?" he asked. When his wife placed her hand on Rookie's head, everyone was amazed to see her heart rate decreasing on the monitor, proof of Rookie's calming effect on her even in such a dire time.
Rookie, an English Yellow Lab, has been with Lisa since he was 11 months old and has been volunteering since he was a year and a half. Lisa is married and has three sons and three daughters-in-law, and when she is not volunteering with Rookie she enjoys needlepoint, reading, and volunteering with women who are overcoming addiction. Their family has two new additions – Lisa's first grandchild, and a new English Yellow Lab puppy, who Lisa hopes can also become a therapy dog someday.
---
When Executive Director Kelsey Burton called with the tragic news that three students from Warren Central High School had been killed, Marcia Baker knew that her therapy dog, an Australian Shepherd/Poodle mix named Raisin, could be a source of comfort for the grieving student body.
"I was more than glad to help out," Marcia said, although she wasn't sure what awaited her and Raisin at the school. "I couldn't imagine thousands of students grieving over what was such a raw and tragic event."
So off went Marcia and Raisin to Warren Central.
It was a typical reaction for someone whose love of both dogs and helping teens in need goes back decades.
Marcia grew up in St. Petersburg, Florida, in a dog loving family. Whether it was tramping through the woods or playing in the creek, dogs were a constant presence in her life. "I can't remember a moment when there wasn't a canine friend in the family," she said.
Marcia eventually became a teacher, working with at-risk teens in challenging environments and communities.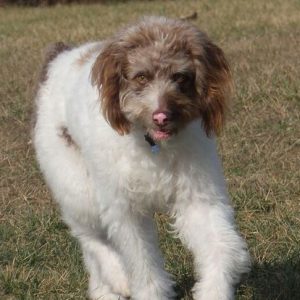 More recently, she became the owner of three-year-old Raisin. Marcia described Raisin as playful, yet relaxed, as she recalled the time Raisin slept on her back in the crate on the way home from Kentucky, where she was adopted.
Marcia soon realized that Raisin's happy-go-lucky nature was perfectly suited for a dog therapy setting. "When Raisin came into my life, I knew I wanted to share her with anyone who needed a canine friend," she said.
So when Marcia learned about Paws & Think while searching for pet therapy opportunities, she jumped at the opportunity for her and Raisin to get involved.
The duo travel all over Indianapolis giving comfort to kids in venues such as IPS #34, Brooks Place, Coburn Place, and Julian Center.
In addition to volunteering with Raisin, the Youth-Canine Program is a passion of Marcia's given her background in helping troubled teens.
"Getting back to this love of mine, along with my love of dogs, this program was just perfect for me," Marcia said of Youth-Canine.
For the program, Marcia has spearheaded the effort to develop new program training materials so that the program can be replicated in juvenile detention centers all over the country.
The materials, Marcia explained, will "make what we do easier, more focused, and increase the opportunity to bring about even better outcomes for the dogs and youth participating in the program."
But while programs like Youth-Canine involve a highly structured training program where at-risk students teach the basics of dog obedience to their canine pupils, when it came to comforting students at Warren Central, there was no program that could prepare Marcia and Raisin for what they would experience.
When they arrived at the school, the pair was greeted quietly by faculty and staff and instructed to just be available for the students.
"Raisin realized that this wasn't a time for play," Marcia said.
The pair wandered through the clusters of students who were sitting on the floor, standing along the hallways, and gathering in the counseling offices, trying to process the horror of what had happened.
"There wasn't much need for words," said Marcia. "Raisin was more than happy to lay next to a student or be surrounded by a group of students and be touched as they worked through their feelings."
However, as time went on, lighter conversation emerged from the silence as the students began to bond with Raisin. They inquired about her breed (often a topic of mystery among those first meeting Raisin) and her love of full-body massages. Many of them would also begin to open up and share their own dog stories. "This seemed to ease them back into the 'normal' world again," said Marcia.
After several days of being available for students, fewer and fewer students continued to need help. High school counselors gently guided students back into class.
By Thursday, the counselors informed Marcia and Raisin that their job was done. Although their calming presence was no longer needed at Warren Central, Marcia is ready to serve again if needed.
"We will be there in a heartbeat if we get the call."
---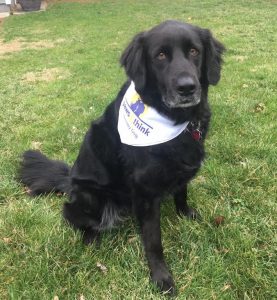 In November of 2015, Katie Selzler came across a picture on the Indianapolis Animal Care Services website of a dark-haired retriever named Remy who appeared to be smiling at the camera. Katie was looking to adopt an older dog, and Remy was estimated to be about five years old at the time. Inspired by the gentle soul captured in the photo, Katie went to IACS to meet Remy, but was told he was not available for adoption because he was in a program at the Marion County Juvenile Detention Center. Intrigued, Katie went back to IACS every day for the next three days until she was finally able to meet Remy, who was by then a new graduate of the Pawsitive Corrections Youth-Canine training program. Katie and Remy took a quick walk together, and after seeing how calm, happy, and friendly he was with strangers, she knew he was the dog for her.
Flash forward to 2017: Katie is searching online for ways to volunteer and give back to the community when she comes across Paws & Think. Having worked for animal rescues in the past, she was particularly interested in volunteering with an organization that worked with rescue dogs, and Paws & Think seemed like the perfect fit. She and Remy soon enrolled in the pet therapy training class, and in March they passed their evaluation to become a registered Paws & Think therapy team. Katie says she and Remy plan to visit hospitals and nursing homes, specifically facilities that have memory care centers. Katie is looking forward to volunteering as much as her schedule allows, and we are thrilled to have one of our Youth-Canine graduates return to Paws & Think as a volunteer. Look for Katie and Remy at upcoming outreach events where they will be helping to spread the word about Paws & Think!
---
"She came out and put her head on my shoulder as if to say 'I just need some love'", recalls Pam Martin of her encounter with the sweet, shy dog in the Youth-Canine Evening Care Program.
And love is exactly what Pam gives to the shelter dogs that are being trained in the JDC by their youth partners. Pam has been a Pet Therapy volunteer alongside her beloved partner Tito, and had always been interested in the Youth-Canine program. Now as a volunteer in the Evening Care Program, she spends time interacting with the dogs, including playing with them, feeding them, and going on walks.
The love goes both ways. Pam fondly remembers how her fellow volunteer Tammy fell in love with a beautiful hound mix named Bailey, who now calls Tammy "Mom". Along with the training provided by each dog's designated JDC youth instructor, Evening Care Volunteers give these special dogs the socialization needed to increase their chances of being adopted from the shelter and finding a forever home.
And Pam's favorite part of volunteering in the Evening Care Program? "I love spending time with the dogs! They are so appreciative of the attention they receive."
---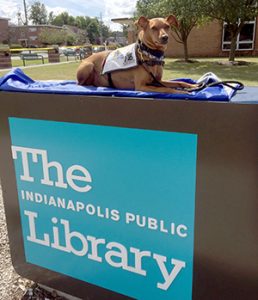 When Leanne Whitesell met Paws & Think's Executive Director at Woofstock 2013, she was excited to learn of the opportunities the organization could offer for her dog. When she got Terrence three years earlier, she knew right away that his gregarious nature and his desire to be around people would make him a great therapy dog, but she struggled to find information about how to accomplish this goal for him. Paws & Think offered a path that made sense, and she says she was drawn to the organization by the friendliness and helpfulness of the staff and volunteers. "They were patient with me and Terrence as we negotiated our way through our new world and allowed Terrence to be himself," she says. By January of 2014, they were a certified therapy team.
In the past three years, Terrence and Leanne have logged 97 therapy visits at 23 different venues. Terrence especially enjoys reading with children, and they regularly visited Eastridge Elementary School, where Leanne remembers two particularly special success stories where Terrance was able to help students improve their reading skills. One third grader improved by three reading levels and said that she believes that reading with Terrence made her enjoy practicing her reading more. Another student worked with Terrence for two years and formed a deep bond with him during their reading time – Terrence would crawl into her lap, and having his undivided attention helped to motivate her. She was the first student in her class to receive the Top Dog trophy for reading ten books.
Leanne appreciates that Paws & Think allows her and Terrence to volunteer together, and she feels their work is special because it provides opportunities for many people to engage with therapy dogs who would not otherwise be able to benefit from bonding with an animal. She says that Terrence loves visiting with people and making new friends through Paws & Think. "He is very aware of his responsibilities when he wears his uniform and takes his job very seriously," she says.
Leanne and Terrence have been volunteering at the Indianapolis Public Library – Irvington Branch since June of 2014. You can stop by to visit them at our Paws to Read program the second Saturday of every month from 11:00am-12:00pm.
---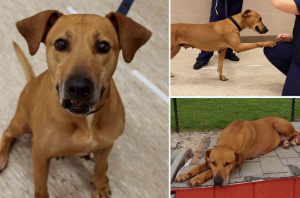 Ireland's journey has been a rough one, as any shelter dog's is. She came to the Pawsitive Corrections Youth-Canine Program at Marion County Juvenile Detention Center as a shy and uncertain seven-year-old who was confiscated from her previous owner due to abuse and neglect. At first she was nervous with the youth, afraid of the brush when they tried to groom her, but she soon started to warm up and respond to the positive reinforcement training. After excelling in the week-long program, she returned to Indianapolis Animal Care Services where she waited anxiously to be adopted by a new family.
After a few days though, Ireland was not faring well. Her stress levels rose the longer she waited in the chaotic kennels of the shelter, and eventually she was removed from the adoption floor because of her anxious temperament. Her life was now at risk, and Paws & Think had to pounce to action to help save her. Frantic emails went out, and another shelter, the Humane Society for Hamilton County, agreed to rescue her if a foster home could be found. More emails went out, and finally a volunteer stepped up to save Ireland's life.
Dr. Linda Hoss, a retired dentist who has been volunteering with Paws & Think's Youth-Canine program for over three years, rose to the call to rescue one of the program's graduates. "I just couldn't let one of 'our' dogs be euthanized," she said, explaining that she took a risk in offering to foster Ireland, knowing nothing about her except that she had not been treated well in her past but was a favorite in the program for her sweet nature. Linda had no idea if Ireland would get along with the other rescued dog in her home, but she volunteered to take her in, trusting that she could help Ireland on her path to finding a permanent home. It has been less than three weeks since she moved to her foster home, and Linda reports that Ireland is looking happier and healthier already.
Linda said that she was initially drawn to Paws & Think by a presentation from a former Board member who shared his experience with his beloved dog. After recently retiring, she was looking for a cause to commit to, and she has found that she enjoys interacting with the dogs and the teens in the Pawsitive Corrections Youth-Canine program. Not only is she inspired by the way the dogs blossom with the love and attention they get during the program, but she also says she has met many wonderful people through her involvement with Paws & Think: "The spirit of cooperation and the dedication involved are a beautiful thing to see."
When Linda is not saving lives, she enjoys cooking, reading, movies, and hanging out with her dog and her friends. She teaches at the IU School of Dentistry and occasionally returns to her former career of dental practice as a substitute. Her one child lives in Tennessee, and she currently lives in Indianapolis with Ireland and her other rescued dog, Venus.
Ireland is available for adoption from Humane Society Hamilton County. Please contact them at 317-773-4974 to set up a meet and greet.
---
There are some people that claim to not be a "dog person". Those people haven't met George.
"Even people who profess to not like dogs have been won over by George's gentle charm," says Maggie Ward, the owner of the Corgi/Border Collie mix. "I wanted to be able to share his happy attitude with other people," she says of her decision to form a therapy team with George in March 2015.
George has charmed his way into the hearts of many since starting to "work" with Paws & Think. He is quite the adventurer so his career trajectory has been a little different than other dogs in the organization. "George gets bored with sitting in one place for too long so I know he couldn't be a Paws to R.E.A.D.(r) dog," recalls Maggie.
However, his adventuresome spirit has been a perfect fit for assisted living centers, where he gets to hop from room to room, making friends with each resident he meets. "He's never met a stranger, everyone is his friend," says Maggie. "He will be friends with any human or pet."
One of George's favorite "assignments" is going to colleges to visit stressed students during exam time. "He's a ham for all the attention," says Maggie. Upon arriving at the IUPUI library one night last winter, "George dragged me over to the circle of students so he could start climbing into and rolling around in everyone's lap. He worked his way around the entire circle, taking turns in everyone's laps, loving on them and getting pets."
For anyone considering forming a therapy team with their dog, Maggie offers some advice. "Know your dog's temperament. Not every venue is going to be a good fit. If you can tune into your dog's likes and dislikes, that will go a long way with finding the right venue and atmosphere that makes your dog the happiest. Once you find the right fit, your dog will love heading out 'to work' at your favorite venues."
---
"If it were not for Millie, I am not sure what would have happened that day," recalls Beth Welch. She remembers the moment she realized her 9 month old Goldendoodle possessed an extraordinary gift.
"My mom had some changes in her medication that caused her some confusion," says Beth. One morning after giving her the medications, Beth began working on laundry while her mother went to her bedroom. After a short time, Millie burst into the laundry room, barking loudly. She then grabbed the back of her sweatshirt and pulled her through the house into her mother's room. "To my horror, Mom was starting to take her medications again. Fortunately, Millie had distracted Mom so she did not take them. That was the moment I knew Millie was a special dog."
After that experience, Beth knew that Millie was destined to be a therapy dog. But where? "I had struggled with reading as a child and Millie loves children. I had heard about programs with dogs and reading and thought this would be a good fit for both of us," says Beth of her decision to join Paws & Think with Millie as a therapy team.
With Millie, Beth is able to help children that have similar struggles with reading. "I needed a program like this as a young reader. Here, we are giving children the confidence to read out loud. Millie does not judge or laugh. She is happy to hear a child read."
Millie can even sense when a child might need a little extra time to warm up to her. A few years ago, Millie began a reading partnership with an autistic girl named Olivia. At first "Olivia would sit on the opposite side from Millie. Instead of moving closer, Millie gave Olivia her space," recalls Beth. But as the weeks went by, Olivia became more comfortable and the two began to move closer and closer to each other. "Soon, you did not know where Millie began and Olivia ended," says Beth.
Although Beth and Millie have helped countless children discover the confidence to become life-long readers, Beth has found that she learns just as much from the kids themselves. "The children remind me to stop and take my time. As adults, we get so busy in our daily lives that we forget to stop and enjoy ourselves. We have a wonderful group of supportive staff members who train us and encourage us. It is a very special organization!"
---