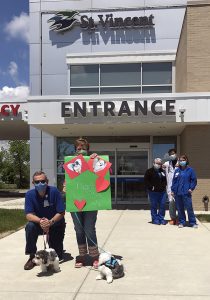 Jane and Ed McHenry first learned about Paws & Think one day in 2018 while watching one of their favorite shows, PetPals TV. The show spotlighted a story about Paws & Think, and they were intrigued enough to contact the organization to learn more about volunteering. They both enrolled in therapy dog training with their dogs, Izzy and Iris, and began volunteering in December of that year.
Jane explains that before they adopted Izzy and Iris, they went to several dog shows and did lots of research before deciding that they wanted a Havanese. They adopted Izzy five years ago, and eight months later they adopted Iris, who was born deaf and needed a home with another dog and a handler who could provide the special training and attention she would need. Izzy and Iris immediately became best friends, and Jane began teaching Iris sign language. She mentions that Iris is "the best, most lovable dog" she has ever owned and has brought a very special joy to their lives.
Together, Ed and Izzy and Jane and Iris visit seniors at Allisonville Meadows and Brookdale of Carmel and volunteer with the Paws to Read programs at the Carmel Library and Sand Creek Elementary. As part of our Paws to Heal program, Ed and Izzy regularly visit St. Vincent Seton and Jane and Iris visit the St. Vincent Women's Hospital. Both teams have also remained active during the coronavirus pandemic, making signs and participating in socially distant visits at Brookdale of Carmel and St. Vincent Urgent Care. They also hope to begin doing virtual visits at St. Vincent Hospital and Peyton Manning Children's Hospital.
When asked their favorite part of volunteering with Paws & Think, the answer was simple: "how uplifted we feel from our visits to staff, patients, and students." Jane mentions how many people thank them profusely for visiting and for sharing Izzy and Iris. "At the hospital some patients are waiting when we get there and tell us it's the highlight of their week." Ed shares a favorite memory where a patient at Seton posted a sign on her door at Izzy's eye level that said "Izzy: Don't forget to stop and visit today!" Jane also fondly mentions a nurse at the Women's Hospital who eats her lunch in the lobby every day that Iris is scheduled to come so that she doesn't miss a chance to visit with her.
Both Jane and Ed are retired and say that their favorite hobby is volunteering with Paws & Think and spending time with Izzy and Iris. Jane used to be an elementary school teacher, so she especially enjoys being a part of the Paws to Read programs at schools. In her free time she also enjoys jazzercise, book clubs, college sports, golfing, and making stained glass art. Ed enjoys playing guitar, swimming, and golfing.
---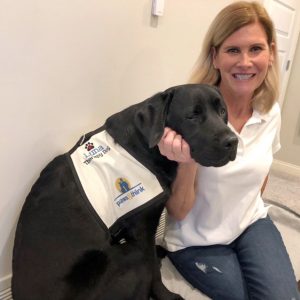 Theresa Thompson says she knew right away that her dog Luna had the potential to be a therapy dog. Theresa had trained dogs for around 8 years and had volunteered with other therapy dogs in the past, and she says, "When I got Luna at 12 weeks, I knew she was special. So I started asking around if anyone knew of any outstanding programs." Her friend Lisa, a Paws & Think volunteer and Board member, shared some information about the organization, and not long after, Theresa and Luna enrolled in Paws & Think's therapy training. They started volunteering together as a therapy team in 2019.
Luna is a black lab who Theresa describes as "a very sweet, smart, calm, well-behaved pup who loves people, especially children." Luna first earned her Canine Good Citizens certificate, and together she and Theresa passed Paws & Think's therapy team evaluation when Luna was just over a year old. Theresa has taken two additional training classes with Paws & Think to expand on opportunities to serve in their community. She and Luna are trained as a crisis response team with the Paws to Comfort program and also as a Paws to Heal team at St. Vincent.
Every Friday, Theresa and Luna visit at the Peyton Manning Children's Hospital (PMCH) as part of the Paws to Heal program. They interact with patients and their families and some of the hospital staff members as well. Theresa's husband, Mark, volunteers as an escort for St. Vincent and accompanies Theresa and Luna on their Paws to Heal visits each week. Mark is a four-time cancer survivor, so together they chose to focus their visits on the PMCH Oncology unit. Theresa says she loves to see the looks on the parents' faces when Mark announces that he is a cancer survivor. "I think it gives the parents and the kids such hope," she says, and she mentions that Mark's 35 years of experience in pediatrics also make him "the best escort there is for just this type of serving."
Theresa, Mark, and Luna have shared many memorable visits at St. Vincent where patients and staff members alike seemed to gain so much from interacting with Luna, even if only for a moment. One time a staff member claimed petting Luna cured his headache, and another time a child exclaimed that she wanted to be a dog trainer someday and wished Luna could come home with her. "I feel so special," the little girl said, after a long visit with Luna. "People at the hospital don't always remember my name," Theresa says, "but they always remember Luna's name, and that is just fine by me!"
As a crisis response team, Theresa and Luna are also on call with Child Abuse Protection and typically do one or two Paws to Comfort visits a week. They have also visited the Crisis Transport Unit and they occasionally do Pause for Paws stress relief visits at offices and college campuses. Theresa says Luna especially loves visiting college campuses where she gets lots of affection from the students. Together they plan to continue to try new Paws & Think venues as they become available.
Theresa and Mark have been married for 31 years, and in addition to Luna they have a 5-year old yellow lab at home. They also volunteer with Indiana Canine Assistant Network (ICAN), where they help to train service dogs.
When asked what stands out to her most about her experience with Paws & Think, Theresa mentions that the Paws to Heal program is "full of so many humble, supportive, caring people." She also says that she is continuously in awe of the impact of Paws & Think's Pet Therapy programs overall. "Considering we have over 50 some venues, that is just remarkable to me that so many peoples' lives are being touched nearly every single day by the therapy teams that Paws & Think has provided training and support to."
---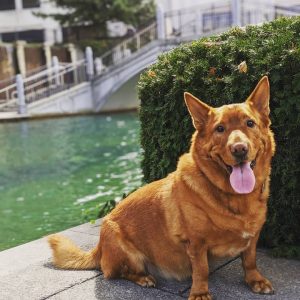 Last summer, shelter dog Momo participated in our Pawsitive Corrections Youth-Canine program at the Marion County Juvenile Detention Center where he met Amy, a new Paws & Think volunteer with a secret mission to adopt a dog. When she first saw Momo, she was immediately taken with his unique face. Many volunteers in the program commented that the chubby rolls on his snout made him look like Alf, and everyone agreed that they had never seen a dog quite like him before. Amy knew he was special, and at the end of the program she and her husband Michael went to Indianapolis Animal Care Services to make him a permanent member of their family.
The shelter estimated that Momo was an older dog who had lived on the streets for a while, which explained his patchy fur and the fact that he seemed to tire easily, slowly shuffling his big feet on walks around his new neighborhood. However, Momo soon learned from the vet that he had hypothyroidism, a condition that caused a variety of symptoms including weight gain, fur loss, lethargy, and droopy muscles on the face known as "tragic face." It turns out Momo's iconic snout rolls were because of his health condition, and his tiredness and sluggish gait were likely because he was not feeling well because of his overactive thyroid.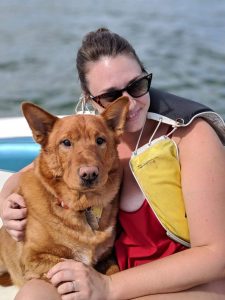 Momo started a new medication and within months his "tragic face" was gone, he lost over ten pounds, and he had a new perky attitude and happy pep in his step. Momo took new joy in playing with toys and was able to go for longer walks with his parents. He even enrolled in therapy dog training, and just a year later he and Amy became a registered therapy team with Paws &Think. Momo dressed up as Harry Pawter and visited members of our community to help promote our Dogs Are Magic: Wags & Wizards event this fall, and he plans to volunteer with the Paws to Read program in the future.
We love seeing shelter dogs come full circle through Paws & Think. Momo was able to benefit from our Youth-Canine program where he found his new healthy home, and now as a therapy dog he will be able to give back to the community through our Pet Therapy programs. Donate this Giving Tuesday to help Paws & Think continue to improve lives through the power of the human-dog connection.
---
Donate Today
Click on the button below to make a donation. By clicking on the button below, you will be redirected to the PayPal website where you can make a donation using your credit card.
Have a PayPal account? If you have a PayPal account, we encourage you to donate using this link. It is our PayPal Giving Fund in which all transaction fees are paid by PayPal, rather than our organization. You must have a PayPal account if you would like to make a donation this way.
---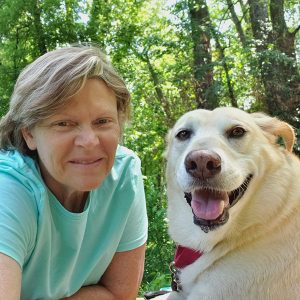 Shari Preston first learned about Paws & Think while watching PetPals TV in 2016. She was intrigued by the story and started volunteering with the Pawsitive Corrections Youth-Canine program shortly after. Shari has become a regular volunteer as a Mentor/Coach for the Youth-Canine program, and she has witnessed many inspiring moments that she says she hopes will make a difference for the youths that she has had the pleasure of meeting.
Shari explains that if a dog is distracted or shies away from a teen in the program, she will describe for the teen all that the dog has been through in such a short time: living in a noisy shelter, traveling with the other dogs from the shelter to the Juvenile Detention Center, and moving into an unfamiliar kennel with all new sights, sounds, and smells. She said the teens often speak about how they can relate to the dog's experience, and within minutes, she's able to watch a bond grow between the youth and the dog.
Helping the youth to practice different obedience commands with their dogs reinforces this bond, and she remembers one teen confiding in her that his dog taught him patience. Shari can relate to this – she has one dog of her own, a 7-year old yellow Lab mix named Finn that she rescued in 2014. She explains that before Finn, she didn't know what it was like to be around a fearful dog, and he has taught her so much. She and her husband, Chris, love to go hiking with Finn, and she enjoys sharing stories of their adventures with kids in the Youth-Canine programs.
In addition to helping with the Youth-Canine program, Shari also volunteers as an escort with the Paws to Heal program at St. Vincent. "It's great to ask someone if they would like a pet visit, and then to watch the emotional change it brings to the entire room," she says, reflecting on the impact of the program. She explains that not only does visiting with a therapy dog brighten a patient's day, but it often starts a great conversation by allowing the person to share stories about their dog as well. For her, this is the best part of volunteering with Paws & Think: "It's so heartwarming to see the pure joy on a person's face when they talk about a dog!"
---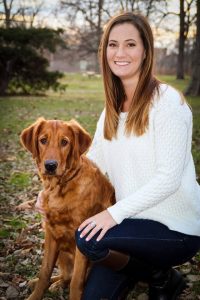 Whitney and her dog Pete started their volunteer journey in Cincinnati, where they lived and volunteered together at the Cincinnati Children's Hospital for a year. Whitney describes Pete as a calm and loving dog who enjoys everyone he meets, so after moving to Indianapolis, she knew she wanted to find a way for she and Pete to get involved with the community. They found Paws & Think after contacting Riley Children's Hospital to learn about their therapy dog volunteer opportunities. Whitney was impressed with Paws & Think's mission: "I love that Paws & Think helps in many different venues and is constantly trying to educate the community on the many ways dogs and humans help each other."
Together Whitney and Pete passed their therapy team evaluation with Paws & Think in June of this year and went on to complete the additional training to become part of the Paws to Heal program at St. Vincent's. They visit St. Vincent's every other week, and the Peyton Manning Children's Hospital is their favorite place to volunteer together. Whitney reflects on a recent visit there, where they encountered a young girl in the hallway outside her room. The girl sat down next to Pete, and Pete wiggled close to her and laid his head in her lap. The girl was so small that Pete's head barely fit in her lap, but they sat together for five minutes or more, content with each other's company. "That interaction just reminded how lucky I am to have Pete and how lucky we all are to have dogs that know just what to do to make the most of a moment," Whitney says.
Pete is a Golden Retriever who will be turning four in March, and when he is not volunteering with Paws & Think he loves to play fetch and go swimming in any water that he can get to. Pete has a younger brother, Eddie, who is also a Golden Retriever and just turned one year old. Together they enjoy visiting local parks to walk the trails, and Whitney is training Eddie so that he can become a therapy dog with Paws & Think someday, too. Whitney looks forward to being able to volunteer with Eddie and is happy that she is able to share Pete's gifts with others. "I get asked all the time how I trained Pete to be a therapy dog," she says. "While there is a lot of work and training that goes into it, it is so much more than just obedience. Some dogs just have that special personality!"
---
Dear Friend: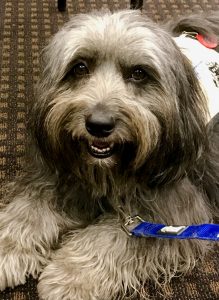 I'm lucky. I'm Harriet, a Paws & Think therapy dog – or as I like to think of myself, a smile creator, stress reliever, and master snuggler. When I go to work at St. Vincent Hospital, Brooke's Place, schools, libraries, or any of the many places I visit, I never know what I'll get to do.
One afternoon my human and I were searching for a patient's room in Peyton Manning Children's Hospital. I'm never in a hurry, because lots of times the caregivers, staff, and visitors need a little TLC, too. I'm flexible. So, I stop and cheer them up if they need a quick lovin'. That's something amazing about being a dog – I just never run out of love. Energy, yes, but run out of love? Never!
We were on our way to visit a little girl, and when we arrived there was quite the crowd in her room. She was on her way to surgery that very minute. My human asked if we had bad timing. Gosh, silly humans. Couldn't they see my timing was perfect? Thankfully, the doctors and nurses recognized this and said we were right on time! They asked if she would like me to ride to surgery with her. The scared child smiled and asked if I could hop up on her bed and snuggle. So, that's exactly what I did!
Up I went to escort my first patient to surgery. She loved on me the whole ride. Boy, was that great! And her Mom even said I had the best timing ever.
It's because of our supporters I get to do this awesome job.
Best job ever,
Harriet
Paws & Think Therapy Dog
Every day, your support makes stories like Harriet's possible.
Over 30,000 men, women, and children were provided comfort and support through our Pet Therapy Program (Animal-Assisted Interactions) in 2018. Hundreds of kids learned to fall in love with reading through our Paws to Read programs in schools and libraries where children read to therapy dogs.
In addition, our Youth-Canine Programs provided a second chance to 65 shelter dogs and 130 kids in 2018 alone!
We need your help to continue to make all of this possible.
Would you consider making a special year-end donation to help us continue to improve lives through the power of the human-dog connection?
Thank you for your continued support and friendship,
Kelsey Burton, Executive Director
Paws and Think, Inc.
---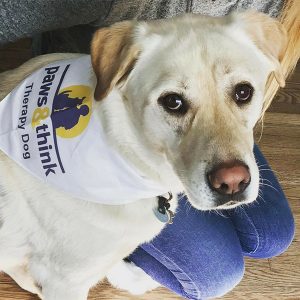 If you have been to a Subaru dealership in the past few years, you may already be familiar with Izzo, the canine half of this month's featured therapy team. "His photo is large in all the Subaru dealerships," explains Megan Thie, Izzo's owner and therapy partner. In the photo, the Labsky looks relaxed as his outstretched head is perched on the rear view mirror, soaking up the beauty of an autumn drive.
But Izzo wasn't always so calm. "Izzo was a wild child as a puppy and we went through a lot of obedience courses," explains Thie. But with his outsized personality also came a huge love of children. "He'd try to pull me towards them when we'd walk on the Monon Trail," recalled Megan.
This gave Megan an idea. Her mom is a 3rd grade teacher, so what better place would there be for Izzo to release his energy than in a room packed with kids? As a result, Izzo and Megan began visiting her classroom occasionally and still do to this day. These visits bring Izzo so much joy that you can see him physically "smile", according to Megan.
Izzo and Megan have been volunteering for Paws & Think for the past year and a half. As the child of a teacher and a lifelong lover of reading, Megan enjoys visiting other schools with Izzo to get kids excited about reading and strengthening their literacy skills.
However, Izzo has been known to be a bit of a workaholic at times. Megan recalls one time when the pair was working at the FINA World Junior Swimming Championship, talking to kids around the globe about competitive swimming and dogs. After an hour and a half of visiting, Megan attempted to leave with Izzo.
Izzo wasn't having it. "He laid down in the exit of the building, howled 'husky talk' at me, and drug me back inside." And even after one victory, Izzo still had some fight in him. When Megan left for the second time, Izzo sprawled out on the parking garage floor in one last attempt to stay even longer.
But all of the joy the pair gets from volunteering is well worth those occasional moments of stubbornness. "I'm always proud to share that Izzo is a therapy dog with the largest locally based therapy organization in Indiana," said Megan.
---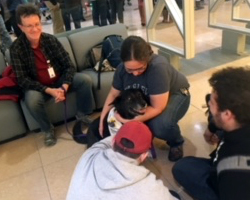 Mike Battista and his dog, Mya, are relatively new to Paws & Think. Less than a year ago, Mike attended a volunteer orientation session at the suggestion of his wife, who has had a therapy dog in the past. After learning more about the organization and its mission, Mike says, "I was hooked." Not long after that orientation, Mike and Mya enrolled in Paws & Think's Pet Therapy training, and together they passed their evaluation to become a registered therapy team.
Mya, now 12 years old, is a "foster fail" who came to Mike about a year ago from Indianapolis Animal Care Services. She had been adopted and returned to the shelter four times before Mike and his wife decided to try fostering. After six months, they made the decision to keep her. "She is ours forever," Mike says. Their family also includes another rescue dog, Jasper, age 11, who was adopted from the Indy Mega Adoption Event two years ago.
After working as a nurse for 22 years, Mike is now retired and enjoys cooking and amateur photography. In addition to volunteering with Mya, Mike has also helped out as a Coach for Paws & Think's Youth-Canine program at the Marion County Juvenile Detention Center. He says the experience of mentoring the youth in this program is "greatly rewarding," but being a part of the Pet Therapy program with Mya is most important to him.
Together Mike and Mya enjoy visiting residents at nursing homes and memory care units. Mike remembers a special experience at Allisonville Meadows, where a withdrawn gentleman showed increasing interest in Mya at each visit, becoming more interactive and responsive. After the fourth visit from Mike and Mya, the man turned to Mike to declare quietly, "She's a good dog." For Mike, this illustrates his favorite thing about volunteering with Paws & Think: "giving anyone, young, old, in good or poor health, the opportunity to feel loved, important, and respected."
---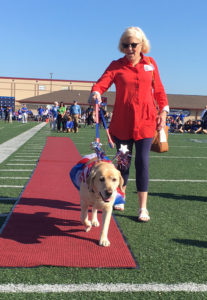 Lisa Jones and her dog Rookie have been volunteering with Paws & Think for over four years and have been able to make a positive impact by visiting all different types of venues as a therapy team. Lisa is an RN who has worked as a realtor and broker for the past 16 years, and she says her favorite part of volunteering with Paws & Think is seeing the difference that Rookie makes in people's lives – "He can help in a way that humans can't." Lisa is passionate about Paws & Think because she can see the value that it has in the community.
Together Lisa and Rookie have had many memorable experiences volunteering. In our end-of-year appeal, we highlighted the story of Rookie's visit with an unresponsive stroke patient who had a breakthrough moment in his recovery when he was able to speak to Rookie and feed him a treat. On another visit at IU, Rookie and Lisa went into the room of a woman who was terminally ill. Her husband, who was grieving, was skeptical about allowing Rookie to visit. "What good will this dog do?" he asked. When his wife placed her hand on Rookie's head, everyone was amazed to see her heart rate decreasing on the monitor, proof of Rookie's calming effect on her even in such a dire time.
Rookie, an English Yellow Lab, has been with Lisa since he was 11 months old and has been volunteering since he was a year and a half. Lisa is married and has three sons and three daughters-in-law, and when she is not volunteering with Rookie she enjoys needlepoint, reading, and volunteering with women who are overcoming addiction. Their family has two new additions – Lisa's first grandchild, and a new English Yellow Lab puppy, who Lisa hopes can also become a therapy dog someday.
---
When Executive Director Kelsey Burton called with the tragic news that three students from Warren Central High School had been killed, Marcia Baker knew that her therapy dog, an Australian Shepherd/Poodle mix named Raisin, could be a source of comfort for the grieving student body.
"I was more than glad to help out," Marcia said, although she wasn't sure what awaited her and Raisin at the school. "I couldn't imagine thousands of students grieving over what was such a raw and tragic event."
So off went Marcia and Raisin to Warren Central.
It was a typical reaction for someone whose love of both dogs and helping teens in need goes back decades.
Marcia grew up in St. Petersburg, Florida, in a dog loving family. Whether it was tramping through the woods or playing in the creek, dogs were a constant presence in her life. "I can't remember a moment when there wasn't a canine friend in the family," she said.
Marcia eventually became a teacher, working with at-risk teens in challenging environments and communities.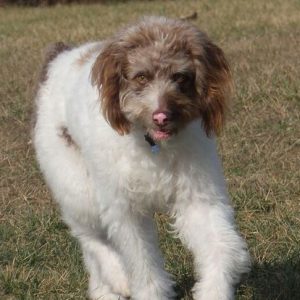 More recently, she became the owner of three-year-old Raisin. Marcia described Raisin as playful, yet relaxed, as she recalled the time Raisin slept on her back in the crate on the way home from Kentucky, where she was adopted.
Marcia soon realized that Raisin's happy-go-lucky nature was perfectly suited for a dog therapy setting. "When Raisin came into my life, I knew I wanted to share her with anyone who needed a canine friend," she said.
So when Marcia learned about Paws & Think while searching for pet therapy opportunities, she jumped at the opportunity for her and Raisin to get involved.
The duo travel all over Indianapolis giving comfort to kids in venues such as IPS #34, Brooks Place, Coburn Place, and Julian Center.
In addition to volunteering with Raisin, the Youth-Canine Program is a passion of Marcia's given her background in helping troubled teens.
"Getting back to this love of mine, along with my love of dogs, this program was just perfect for me," Marcia said of Youth-Canine.
For the program, Marcia has spearheaded the effort to develop new program training materials so that the program can be replicated in juvenile detention centers all over the country.
The materials, Marcia explained, will "make what we do easier, more focused, and increase the opportunity to bring about even better outcomes for the dogs and youth participating in the program."
But while programs like Youth-Canine involve a highly structured training program where at-risk students teach the basics of dog obedience to their canine pupils, when it came to comforting students at Warren Central, there was no program that could prepare Marcia and Raisin for what they would experience.
When they arrived at the school, the pair was greeted quietly by faculty and staff and instructed to just be available for the students.
"Raisin realized that this wasn't a time for play," Marcia said.
The pair wandered through the clusters of students who were sitting on the floor, standing along the hallways, and gathering in the counseling offices, trying to process the horror of what had happened.
"There wasn't much need for words," said Marcia. "Raisin was more than happy to lay next to a student or be surrounded by a group of students and be touched as they worked through their feelings."
However, as time went on, lighter conversation emerged from the silence as the students began to bond with Raisin. They inquired about her breed (often a topic of mystery among those first meeting Raisin) and her love of full-body massages. Many of them would also begin to open up and share their own dog stories. "This seemed to ease them back into the 'normal' world again," said Marcia.
After several days of being available for students, fewer and fewer students continued to need help. High school counselors gently guided students back into class.
By Thursday, the counselors informed Marcia and Raisin that their job was done. Although their calming presence was no longer needed at Warren Central, Marcia is ready to serve again if needed.
"We will be there in a heartbeat if we get the call."
---