Who:     All Ages Welcome.
What:    St. Puprick's Day Yappy Hour
Where:  Register and Donate to Play HERE
When:   March 17, 2020, 6:30 p.m. to 7:30 p.m.
2nd Place:

The second place winner will receive a $25 Panera gift card and their dog will be featured in our social media stories for a day.
Can't make the events but still want to help?
You can donate anytime HERE on our website.
---
Paws & Think therapy dogs love the snow! Watch as our furry friends enjoy the winter weather.
---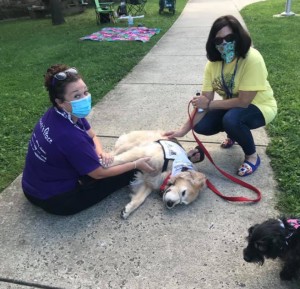 We are so thankful to have been a grant finalist again this year for Impact 100 Greater Indianapolis. The funds they donated have gone a long way to help improve the mental health of those in our community.
Thank you, ladies of Impact 100!
---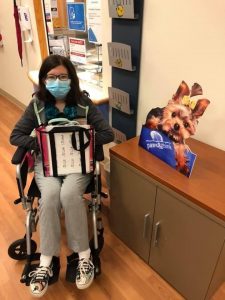 Dear Friend,
2020 has been a dark year for so many in our community. While the clouds rolled in, our therapy dogs and youth-canine programs shone bright rays of hope and comfort onto people experiencing their darkest moments.
When the pandemic began, we knew our services would be needed now more than ever before. Our volunteers, staff, and Board of Directors were up to the challenge of figuring out how to change our programming in order to continue shining our light while ensuring everyone's safety.
With this came many new program plans. Some of these include holding virtual visits, providing outside parades, doing window visits, creating training videos, sending cards, making dog cutout images, creating uplifting videos, developing activity books, sharing story times, and much more.
What we learned is that this new programming takes more hours and resources to oversee, but the cost is worth it. It's worth it because we have seen families break down and cry during distance visits after losing family members to Covid-19 and finding comfort in our furry therapists. We've seen our program partners cheer when they received one of our dog cutouts. We've heard sick, hospitalized children laugh for the first time in days while our therapy dogs showed off their skills during a virtual visit.
All of this matters.
Your support matters because it means we can keep doing this work while adjusting and overcoming obstacles in 2021. With your gift, you are ensuring that our programming won't end. You're ensuring that the comfort, hope, and light won't stop. You're making sure everyone who needs it will still get to benefit from the scientifically proven methods of Animal-Assisted Interventions.
We are hopeful for a brighter 2021. Until then, we will continue to bring the light to so many in our community who desperately need it.
Would you consider making a year-end donation to help us bring much needed light during this dark time? You can donate at pawsandthink.org/donate.
With light and hope,
Kelsey Burton
Executive Director, Paws and Think, Inc.
P.S. As part of the CARES Act, the IRS has made a special provision that allows people to easily deduct up to $300 in donations to charities like Paws and Think, Inc.
---
This is Violet's story.
Having our therapy dogs with her during this challenging time has helped her find joy. As therapy dog handler Kathy Janes said, "giving someone a gift of a few minutes of happiness…it's like seeing little miracles happen in front of you…and the dogs bring that."
It takes $500 to cover expenses for each therapy team per year, and $250 allows Pas & Think therapy teams to visit 50 children in hospitals. To ensure that kids like Violet will have the comfort and support of our therapy dogs, please consider donating today. We need your help to ensure kids like Violet can find joy in their darkest moments.
Donate today at pawsandthink.org/donate
---
Happy holidays from all of us at Paws & Think!
---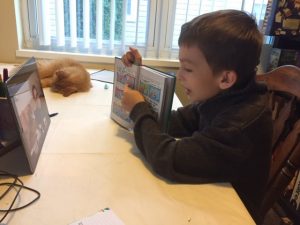 A parent recently shared with us the impact that our virtual Paws to Read program has had on her family. Two of her children have been able to participate in our program with the Indianapolis Public Library, and she told us she is so proud of how their reading has blossomed. "They are very motivated by the cute dog audiences," she said. "Thank you so very kindly for having this available to us at home."
Thank you to the librarians, volunteers, and supporters who make these programs possible!
---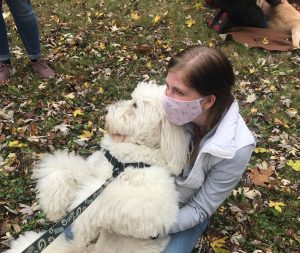 Dear Friend,
My name is Lambeau, and I'm a therapy dog with Paws & Think. Being a therapy dog is my favorite thing in the world. My mom, Sheri, says I thrive on making people happy, so this is the best job for me and her to do together. My purpose in life is to make people smile!
We usually visit the kids at Riley Children's Hospital every other week, but lately we haven't been able to do our regular visits. I really miss seeing my friends! I take my job very seriously, and when I don't get to visit it makes me sad. That's why I was so happy when my mom and I got to go to the Indiana Donor Network camp and visit with the kids. This was our first visit in over six months, and I couldn't wait to get back to work!
The camp was to honor organ, tissue, and eye donors. My mom and I visited with kids who were grieving the loss of these donor heroes. Seeing the kids light up when they saw me made my whole day! I LOVE HUGS, and I got so many from the kids, their families, and even from the staff members who were working at the event. I am happiest when I am snuggled up tight in a hug with one of my friends, and I'm pretty sure it makes them happy too!
The best part of the event though, even better than the hugs and the pets, was listening to the kids' stories. I am an excellent listener, so my mom asked the kids to tell me about the loved one they had lost. I think that kids know that they can talk to me about feeling sad, even when they don't feel comfortable talking to other humans. Dogs are very loyal and trustworthy, in case you didn't know.
I was so happy I got to go to this event, and that two other therapy dogs were also there to help me make people feel better. My mom says that the best thing about volunteering with Paws & Think is making people smile in challenging times, and I agree. She says it has been an honor to be able to share me with other people, and I am so glad that she did!
For Giving Tuesday, will you donate to Paws & Think to support training more therapy dogs like me to bring smiles and comfort to people who need it most in our community?
Thank you for listening to my story!
Love always,
Lambeau
Paws & Think Therapy Dog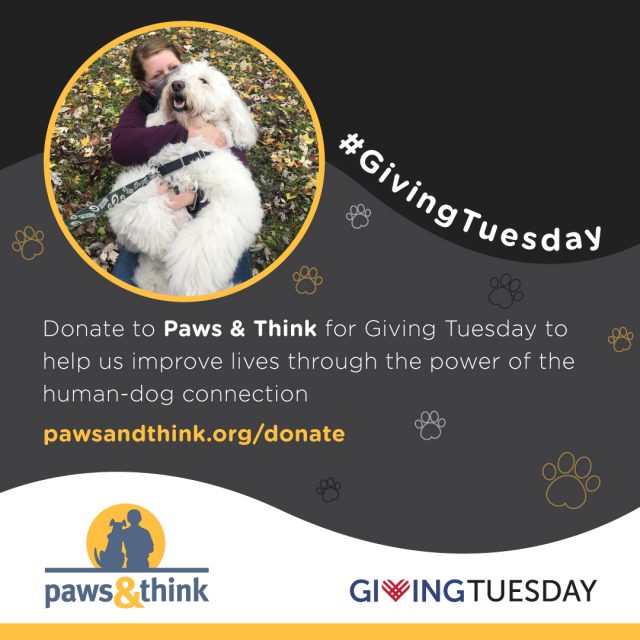 By donating to Paws & Think for Giving Tuesday, you are helping therapy dogs like Lambeau reach their full potential.
At Paws & Think, our vision is to create a community where every person who would benefit from a dog has the opportunity, and every dog fulfills its potential.
Every Person. Every Dog.
You can help us to reach this goal by donating this Giving Tuesday.
In addition to the over 60,000 people we provide Pet Therapy to each year, our Youth-Canine Programs help shelter dogs and youth get a second chance.
Whether its our work through our Pet Therapy Programs, or our Youth-Canine Programs, our volunteers make a HUGE impact every day.
Please donate this Giving Tuesday and give the gift of love during this difficult year.
---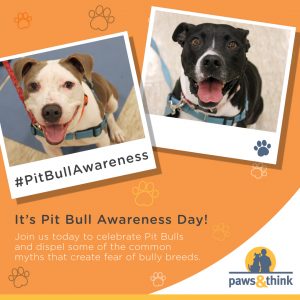 Today is National Pit Bull Awareness Day! At Paws & Think we believe in every person and every dog, and our Youth-Canine Programs help many pit bulls from local shelters fulfill their potential. We educate the teens who participate in these programs on many common myths about pit bulls to dispel misinformation about these misunderstood breeds.
The American Temperament Test shows that bully breeds typically referred to as "pit bulls" consistently score above average on temperament for all breeds tested, and there is no scientific evidence that pit bulls are more likely than other breeds of dogs to injure a human or another dog.
We even have several Paws & Think therapy dogs that are pit bulls! Share a picture of a pit bull that you know and love on Instagram, Twitter, or Facebook and tag us to celebrate with us today!
---
We are so excited to have you join us tonight, Thursday night, for Dogs are Magic-Wizard of Paws at 6:30 pm EST. The show will be approximately one hour long.
HOW TO WATCH
First, you need to register at qtego.net/qlink/pawsandthink.
O
n your phone:
6:20 pm, you will receive a text with a link to your Qsite. All you need to do is click on the link. Then, at the top of the page, click on LIVE STREAM.
On your computer or tablet:
If you'd prefer to watch on your computer or tablet, I have attached directions. You can also just type in the link that was sent to you in your web browser.
(Helpful hint: Your PIN is the last 4 letters/numbers of your Qsite link that will be sent to you at 6:20pm.)
QUESTIONS OR HELP
Any questions including difficulty logging in:
Email Jamie Lehman at jlehman@nullpawsandthink.org
Once logged in:
You can also use the chat feature located at the top of the page. Rhaya Shilts will be on-hand to answer any questions you may have to the best of her knowledge. Keep in mind all guests can see all comments in the chat.
Be sure to get your bids in for the silent auction and get your buys in for the instabuys on the wine/vodka pull, yellow brick road game, and jewelry pull. Jamie can help if you have any trouble with getting your bids or buys in. The silent auction closes at 7:30 pm Thursday night.
We can't wait to walk the Yellow Brick Road with you as we journey through the land of Paws & Think.
---