One of the best things about Paws & Think is the impact the organization has on people who need help the most. We are lucky to have witnessed the power of the connection between humans and dogs for the past 18 years, and earlier this year, one of the strongest connections was formed.
In May 2017, Ellie was diagnosed with a brain tumor at just 13 years old. This past March, Ellie arrived for chemotherapy treatment at St. Vincent. These treatments have been hard on Ellie, causing both long-term and short-term side effects. To help make these days a little easier, Paws & Think has been sending pet therapy teams to see Ellie every week.
According to Ellie's mom, Karyn, Ellie's mood has brightened ever since her first visit with Paws & Think.
"Each week when we arrive at the clinic, Ellie raises her eyebrows in hopeful anticipation, and when she hears that a dog will visit, she literally jumps for joy," says Karyn.
The dogs gravitate to Ellie, sitting with her and loving on her while she happily rubs their bellies and ears. By the time Paws & Think volunteers leave the room, Ellie is always smiling.
"The dogs and the teams remember me every time, and it makes me so excited to see them," says Ellie. "It really helps every single time I have a dog…in ways I can't describe."
After extensive treatment, Ellie's tumor returned in July. She is now undergoing a 52-week chemotherapy regimen. Paws & Think volunteers will continue to be by her side, helping her fight every single week and bringing a little bit of happiness and a lot of love to Ellie and her family.
Every day, your support makes stories like Ellie's possible.
Over 50,000 men, women and children were provided comfort and support through our Pet Therapy Program (Animal-Assisted Interventions) in 2019. Hundreds of kids learned to fall in love with reading through our Paws to Read programs in schools and libraries where children read to therapy dogs.
In addition, our Youth-Canine Programs provided a second chance to 79 shelter dogs and 150 kids in 2019 alone!
We need your help to continue to make all of this possible.
Would you consider making a special year-end donation to help us continue to improve lives through the power of the human-dog connection?
Thank you for your continued support and friendship,
Kelsey Burton
Executive Director, Paws and Think, Inc.
---
Paws and Think, Inc. Selected as an Impact 100 Greater Indianapolis Change-Maker Finalist 
Impact 100 Greater Indianapolis, a charitable women's giving circle, selected Paws and Think, Inc. as one of five Change-Maker finalists that competed for a $100,000 high-impact grant at the 14th annual Impact 100 Greater Indianapolis celebration. As a finalist, we received a $24,000 residual grant to help us continue to improve lives through the power of the human-dog connection.
Thank you to the Environment and Animal Welfare Focus Area Committee for their amazing support and guidance. Your assistance made all the difference!
We are grateful to everyone at Impact 100 for this experience. We truly appreciate being able to share our story with so many incredible women.
Membership in Impact 100 Greater Indianapolis is secured through an individual donation of $1,000. Shared memberships in which two to four women can pool their money to share one vote are also available. Membership funds are used exclusively for the purpose of grant making, with more than 250 women collectively giving $191,000 to the 2019 grant pool.
---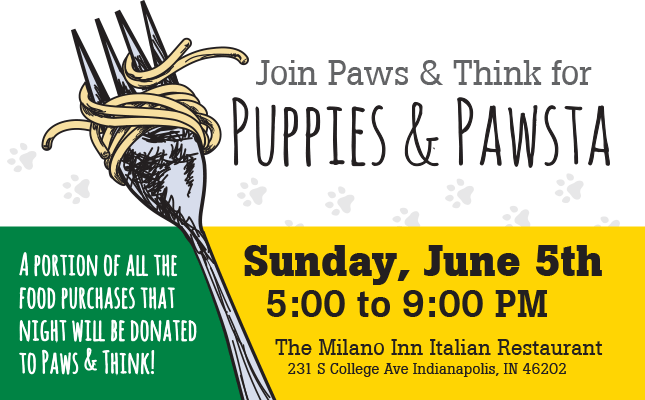 When: Sunday, June 5, 5:00-9:00pm
Where: Milano Inn
Join us at Milano Inn for an evening dedicated to Paws & Think and ARPO.
Enjoy a fun evening with other dog lovers in the outside patio and the lawn reserved for Paws & Think guests…and your dog! A portion of all the food purchases that night will be donated to Paws & Think. Additionally, we will have a Silent Auction with great items. 100% of money raised from the Silent Auction is donated to Paws & Think.
Milano Inn is located at 231 S College Ave. Indianapolis, IN 46202 (Map & Directions)
RESERVATIONS ARE REQUIRED!
Please call the Milano Inn at 317-264-3585 and indicate you would like to make a reservation for Paws & Think and include the number of people and dogs coming.
Check out a video to see the fun: http://milanoinn.com/events/
Bringing dogs is based on weather since the event is outside. If raining, event will continue inside but unfortunately dogs will not be able to join us.
---
UPDATE: April class is now full!
Our next class begins in May. (Click here for dates.)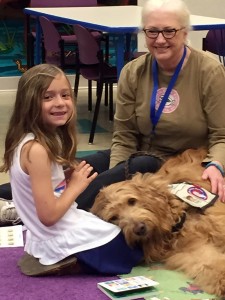 If you are interested in volunteering your time (along with your pet) for one of the Animal Assisted Activity/Therapy programs, our next available class begins in April! The class dates are April 2nd, 9th, 16th and 23rd. (Evaluations will be April 30th.) Please remember that prior to class, you will need to contact Carol Davenport at cdavenport@nullpawsandthink.org as well as complete and submit an assessment tool. (Pre-registration and pre-payment is required.)
Click here for more information.
---

Make Paws & Think part of your year by donating time, energy and passion as a volunteer with our organization in 2013. Each volunteer has a unique set of talents and skills beneficial to Paws & Think. Our various volunteer opportunities meet the needs of diverse schedules and interests. Your time and dedication will touch countless lives in Central Indiana. Lend your paw today.
---
Join us on Sunday, June 17th from 5:00 to 8:00pm at the Milano Inn Italian restaurant for a night benefiting Paws and Think!
A portion of all the food purchases that night will be donated to Paws and Think, plus it will be a great opportunity to meet many of our board members and volunteers. If the weather is nice, we will have the outside patio and lawn (with bocce ball ball courts) reserved for our group and you will be permitted to bring your dog along to join in the fun. (Please keep in mind if you choose to sit indoors, there are no dogs permitted in the indoor dining areas.)
There will be some prize giveaways, live music, and your dog's tail will surely wag when they see the treat truck from Best Friends Pet Care on site!
If you plan on coming, please email Kathy Janes at kjanes@nullpawsandthink.org and indicate the number of people (and dogs) coming. (RSVPs are not required, but are helpful for planning purposes.)
Hope to see you at Milano's for this fun event!
---
The Kindergarten classes at Oak Trace Elementary School invited Paws and Think to come to speak with their children during their unit studying the letters C, D, and P.
The dogs and handlers came to both morning and afternoon classes and talked about training the dogs and then let the children visit and ask questions. The classes had a theme incorporating pets into their study of the letters and were talking about different dogs, cats, and pets that start with those letters. Having the dogs there was quite a hit with the kids, and the dogs had a great time as well!
See the full gallery of photos on our Facebook page »
---
Paws & Think will be at Sun King Brewery on Friday, May 11th from 4:00-7:00pm.
We will be there with some of our Therapy Dog teams, and also giving the chance to win prizes including a Sun King growler and gift card. Our tent will be at the entrance of the brewery. We invite you to stop by and meet some of our board members, volunteers and dogs before enjoying the great Sun King beers inside. We are very excited to be a community partner with Sun King and hope to see you on May 11th!
---
Meet Anna! When her fourth grade class assignment was to give a presentation on a favorite Hoosier, she chose the founder of Paws and Think, her grandmother, Gayle Hutchens. We were lucky enough to be able to stop by and see Anna give her presentation. She did a wonderful job. Thanks Anna for sharing the life story of such a remarkable woman!
(Shown here is a photo of Anna, along with her presentation materials and Kalin the dog, who belonged to Gayle.)
---
With the help of a generous donor, Paws and Think is in the process of creating new marketing materials. One brand element we are considering changing is our logo. We want to hear from you – our friends, donors and volunteers – what you think about our potential new logo and kindly request you fill out our simple two question survey at http://www.surveymonkey.com/s/T9MS6TW We know your time is valuable and we thank you for your feedback!
---