Dear Friend: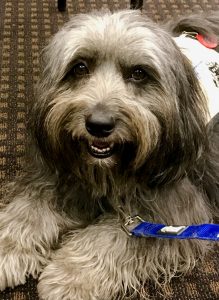 I'm lucky. I'm Harriet, a Paws & Think therapy dog – or as I like to think of myself, a smile creator, stress reliever, and master snuggler. When I go to work at St. Vincent Hospital, Brooke's Place, schools, libraries, or any of the many places I visit, I never know what I'll get to do.
One afternoon my human and I were searching for a patient's room in Peyton Manning Children's Hospital. I'm never in a hurry, because lots of times the caregivers, staff, and visitors need a little TLC, too. I'm flexible. So, I stop and cheer them up if they need a quick lovin'. That's something amazing about being a dog – I just never run out of love. Energy, yes, but run out of love? Never!
We were on our way to visit a little girl, and when we arrived there was quite the crowd in her room. She was on her way to surgery that very minute. My human asked if we had bad timing. Gosh, silly humans. Couldn't they see my timing was perfect? Thankfully, the doctors and nurses recognized this and said we were right on time! They asked if she would like me to ride to surgery with her. The scared child smiled and asked if I could hop up on her bed and snuggle. So, that's exactly what I did!
Up I went to escort my first patient to surgery. She loved on me the whole ride. Boy, was that great! And her Mom even said I had the best timing ever.
It's because of our supporters I get to do this awesome job.
Best job ever,
Harriet
Paws & Think Therapy Dog
Every day, your support makes stories like Harriet's possible.
Over 30,000 men, women, and children were provided comfort and support through our Pet Therapy Program (Animal-Assisted Interactions) in 2018. Hundreds of kids learned to fall in love with reading through our Paws to Read programs in schools and libraries where children read to therapy dogs.
In addition, our Youth-Canine Programs provided a second chance to 65 shelter dogs and 130 kids in 2018 alone!
We need your help to continue to make all of this possible.
Would you consider making a special year-end donation to help us continue to improve lives through the power of the human-dog connection?
Thank you for your continued support and friendship,
Kelsey Burton, Executive Director
Paws and Think, Inc.
---
Technically, the title "therapy dog" didn't exist in the days of the American West. But after visiting the Dogs: Faithful and True exhibit at the Eiteljorg Museum, you'd be hard-pressed to say they didn't give their owners therapy. Whether it was defending their owner during a hunt or mushing across the unforgiving frozen landscape, dogs played vital roles as heroes, workers, and companions in Native American and Western Culture.
Dogs: Faithful and True is a celebration of those dogs. Through art, photographs, artifacts, and interactive experiences, visitors can learn about the history of dogs in the American West.
In addition, you'll also have the opportunity to meet some of the Paws & Think therapy dogs! As a proud program partner, Paws & Think dogs will be visiting the exhibit one Saturday a month from noon-4pm. Those days are:
May 13th
June 3rd
July 8th
Other events include dog adoption from the Indy Humane's Pet Adoption Wagon, fun dog-related art workshops, and a talk from the Purdue College of Veterinary Medicine on the history of dogs in art.
To learn more about the exhibition and event times, visit the Dogs: Faithful and True event page on the Eiteljorg website. We look forward to seeing you there!
---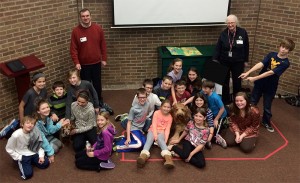 Recently the students in Ms. Whalen's fifth grade class at Hinkle Creek Elementary School in Noblesville held a fundraiser for Paws & Think. They were inspired to raise money for the organization after Paws & Think board members Brad Kupper and Kathy Janes and their canine partners Brewser and Mater came to their classroom to share information about the organization's mission.
Brad talked about Paws & Think's Youth Canine Program, and Kathy educated the students about the training that is required for therapy animals. The class was very interested in the discussion that Brad and Kathy facilitated about the value of the human-animal bond and were amazed to learn that there is even scientific evidence to support the effectiveness of animal therapy. After learning more about how Paws & Think allows people and their pets to help others in need, Ms. Whalen and her fifth graders worked together to collect and donate over $500 to the organization!
Our sincere thanks goes out to the students and Ms. Whalen for arranging the visit and fundraiser!
---

Paws and Think dogs Murphy and Brewser participated in the "De-Stress Fest" at the IU library on the Bloomington campus on Oct. 15. The event was designed to help students manage their stress levels during midterms. In addition to the dogs, students also made their own stress balls and had the opportunity to get a massage and experience aromatherapy. Murphy and Brewser were a big hit with several students commenting how it was great to see and pet a dog, and that they missed their own dogs back home.
---
Paws & Think participated in the "HEUG a Dog" program at the Higher Education User Group Alliance Conference on March 18 and 19 at the Indiana Convention Center. Our dogs provided a welcome stress relief and break for the conference attendees. Paws & Think volunteers Heather Bacher, Robyn Porter, Kathy Janes and Brad Kupper told the attendees about our programs while they interacted with the dogs. Everyone had a great time, especially the dogs! In addition, the attendees were very generous in their contributions and support. Paws & Think thanks everyone that stopped by!
Click on any of the images below for a larger view!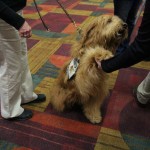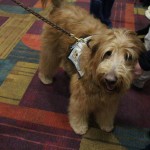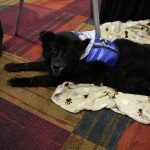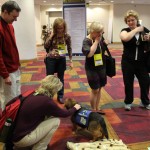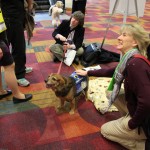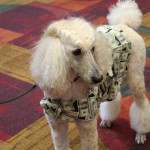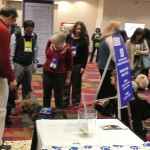 ---