Executive Director Kelsey Burton and therapy dog Pipsqueak stopped by Indy Style to chat with Patty Spitler about all things therapy dogs. Even with the pandemic, our services have continued to bring comfort to so many in our community.
Thank you, Patty and WISH-TV for having us on today to talk about our important work! Check out the WISH-TV piece here.
---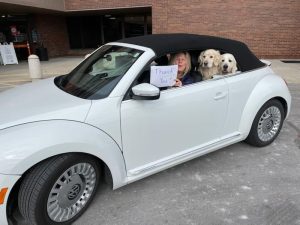 We have spirit, yes we do! We honked our appreciation in a volunteer and pup spirit parade around Ascension St. Vincent Hospital. The parade was led by our fearless Denison Shuttle driver and more than a dozen cars followed behind. Lots of fun was had by all as we made a loud loop around the hospital campus, showing our appreciation for the Healthcare Heroes inside.
Special thanks to Sally Mann and her two furry friends, pictured here, for participating!
---
Paws & Think volunteer Brad Hoop and therapy dog Gus are featured in the December issue of Dogster Magazine. Brad and Gus are a Paws to Heal therapy team who visit healthcare facilities to provide comfort for patients, their families, and staff members. Brad is a cancer survivor, and when he was undergoing treatment he was visited by a therapy dog at the hospital. This encounter inspired him to pursue becoming a volunteer therapy dog handler.
Together Brad and Gus have visited Ascension St. Vincent and Riley Children's Hospital to brighten the days of cancer patients. Gus is such a sweetheart, and the staff at Ascension St. Vincent told us that his visits "change the whole mood of the unit." Read the Dogster article to learn more about Brad and Gus's story: Meet the Dynamic Due Bringing Happiness to Hospitals
---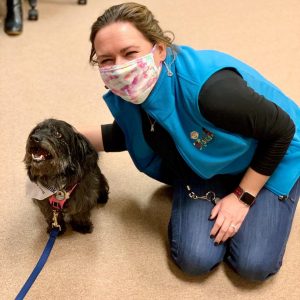 Therapy dog Daisy loves her friends at Susie's Place. Daisy and her handler Sandi are on-call to provide support to kids who have experienced abuse before their forensic interviews. Daisy also provides lots of love for the families of these kids and the Susie's Place staff.
We always take a comprehensive approach at our visits by bringing light and joy to all who are involved, including the staff who sometimes need the love and support from our therapy dogs as much as the clients we are there to visit.
Thank you, Susie's Place for being such a great program partner.
---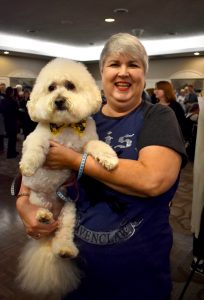 Our Paws to Heal program allows us to touch the lives of people in Indy healthcare facilities every week. The wife of a patient from Ascension St. Vincent recently shared a story about their visit with a Paws & Think therapy team after her husband's surgery.
"My husband was in the hospital here in Terre Haute for two weeks before we were transferred to St. Vincent's for Open Heart surgery. We have two dogs of our own at home that neither of us had seen in weeks. When I saw Mordecai walk by across the hallway I skidded through the nurse's station like a little kid just to see him. His handlers said they would stop at our room if they could after their scheduled visits. The look on my husband's face when that beautiful fluffy little guy came in was indescribable! It was one of few bright spots in a very long hospital stay. After his surgery, they even tracked us down after he came back out of ICU and visited again. I'm sure you hear this all the time, but those two visits meant the world to us."
Thank you to Mordecai and Donna for being a part of this special moment. To support Paws & Think and help us continue to comfort people through our Paws to Heal and other pet therapy programs, please consider donating to our upcoming #WalkingforPaws fundraiser walk at pawsandthink.org/walkingfordreams
---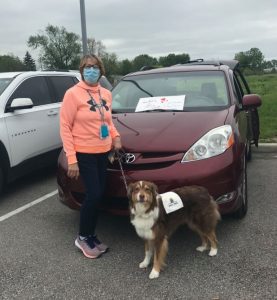 Last month we provided no-contact parking lot visits at Ascension St Vincent Neighborhood Emergency Departments to show support for staff members during Hospital Week. Paws & Think therapy teams Kathy & Toohey and Sandi & Daisy visited the Avon location. Even though staff couldn't pet our therapy dogs, they appreciated getting a little long-distance love! These stress relief visits with healthcare workers are an important part of the mental health support that we provide to the community through our programs.
---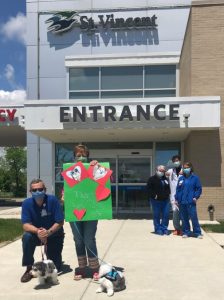 Paws & Think therapy teams visited the Greenwood location of Ascension St Vincent Neighborhood Emergency Department last month for a no-contact visit. Ed & Jane with therapy dogs Iris & Izzy (pictured here) and Steve & Liz with therapy dog Aspen were able to provide love and support from afar to healthcare workers during Hospital Week. Research shows that interacting with therapy dogs provides opportunities for therapeutic benefits that enhance quality of life, and we were glad to be able to provide a mental health break to these hardworking staff members.
---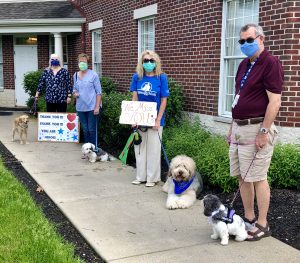 At the end of last month we had the pleasure of visiting at Brookdale Carmel where we were able to conduct window visits with residents in memory care and provide distanced support visits to staff members. Katie Broniarczyk, their Program Manager, said "the residents were so excited to see the variety of dogs and they had a most wonderful time! The Paws & Think volunteers are always so nice."
Visits like these help boost morale and provide mental health support. Great work, teams!
---
Dear Friend: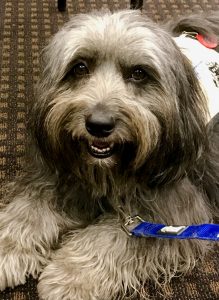 I'm lucky. I'm Harriet, a Paws & Think therapy dog – or as I like to think of myself, a smile creator, stress reliever, and master snuggler. When I go to work at St. Vincent Hospital, Brooke's Place, schools, libraries, or any of the many places I visit, I never know what I'll get to do.
One afternoon my human and I were searching for a patient's room in Peyton Manning Children's Hospital. I'm never in a hurry, because lots of times the caregivers, staff, and visitors need a little TLC, too. I'm flexible. So, I stop and cheer them up if they need a quick lovin'. That's something amazing about being a dog – I just never run out of love. Energy, yes, but run out of love? Never!
We were on our way to visit a little girl, and when we arrived there was quite the crowd in her room. She was on her way to surgery that very minute. My human asked if we had bad timing. Gosh, silly humans. Couldn't they see my timing was perfect? Thankfully, the doctors and nurses recognized this and said we were right on time! They asked if she would like me to ride to surgery with her. The scared child smiled and asked if I could hop up on her bed and snuggle. So, that's exactly what I did!
Up I went to escort my first patient to surgery. She loved on me the whole ride. Boy, was that great! And her Mom even said I had the best timing ever.
It's because of our supporters I get to do this awesome job.
Best job ever,
Harriet
Paws & Think Therapy Dog
Every day, your support makes stories like Harriet's possible.
Over 30,000 men, women, and children were provided comfort and support through our Pet Therapy Program (Animal-Assisted Interactions) in 2018. Hundreds of kids learned to fall in love with reading through our Paws to Read programs in schools and libraries where children read to therapy dogs.
In addition, our Youth-Canine Programs provided a second chance to 65 shelter dogs and 130 kids in 2018 alone!
We need your help to continue to make all of this possible.
Would you consider making a special year-end donation to help us continue to improve lives through the power of the human-dog connection?
Thank you for your continued support and friendship,
Kelsey Burton, Executive Director
Paws and Think, Inc.
---
Technically, the title "therapy dog" didn't exist in the days of the American West. But after visiting the Dogs: Faithful and True exhibit at the Eiteljorg Museum, you'd be hard-pressed to say they didn't give their owners therapy. Whether it was defending their owner during a hunt or mushing across the unforgiving frozen landscape, dogs played vital roles as heroes, workers, and companions in Native American and Western Culture.
Dogs: Faithful and True is a celebration of those dogs. Through art, photographs, artifacts, and interactive experiences, visitors can learn about the history of dogs in the American West.
In addition, you'll also have the opportunity to meet some of the Paws & Think therapy dogs! As a proud program partner, Paws & Think dogs will be visiting the exhibit one Saturday a month from noon-4pm. Those days are:
May 13th
June 3rd
July 8th
Other events include dog adoption from the Indy Humane's Pet Adoption Wagon, fun dog-related art workshops, and a talk from the Purdue College of Veterinary Medicine on the history of dogs in art.
To learn more about the exhibition and event times, visit the Dogs: Faithful and True event page on the Eiteljorg website. We look forward to seeing you there!
---