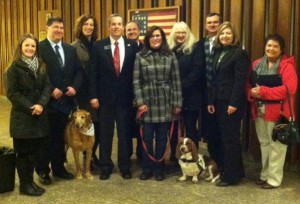 On Monday, January 12th, Michael J. McQuillen, Minority Leader on the Indianapolis City-County Council, presented a Special Resolution recognizing Paws & Think for their efforts in the local community. Having heard about the program from his wife, a librarian with Lawrence Township Schools, Councillor McQuillen visited the "Paws to Read" program at Crestview Elementary School where every Friday, students are invited to read books to the visiting dogs. The Special Resolution sponsored by Councillor McQuillen and signed by the Mayor honors Paws & Think's efforts and achievements, and applauds them for the implementation of the Youth Canine Program.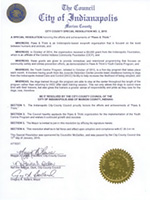 "Having lived in Lawrence Township for many years, I'm very excited to see this program and hope that it expands to other schools," said Councillor McQuillen at the City-County Council meeting on Monday. Also in attendance was Paws & Think Executive Director Brad Kupper, who said, "Whether it's helping a student at an IPS Elementary or Township school improve their reading scores, visiting patients at Eskenazi Hospital, or assisting the youth at the Marion County Juvenile Detention Center train dogs from Indianapolis Care and Control, we appreciate the honor and the opportunity to serve the great city of Indianapolis and its residents."
Paws & Think would like to thank Councillor McQuillen and the City-County Council for this honor, and looks forward to the continued success of the many programs it provides.
---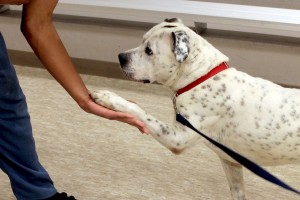 Earlier this month, Paws & Think, an Indianapolis-based nonprofit organization focused on the human animal bond, received a $9,000 grant from the Indianapolis Foundation, a CICF affiliate. These grants are given to provide immediate and intentional programming focused on community safety and preventing crimes committed by youth and adults, which Paws & Think demonstrates in its Youth Canine Program.
Started in October of 2013, this 5-day program takes place each month, and involves youth from the Juvenile Detention Center training dogs from Indianapolis Care and Control. This basic obedience training helps increase the likelihood of the dogs being adopted. This recent grant will be used to add a kennel area to the Juvenile Detention Center.
Rather than returning to Animal Care and Control after each training session, the dogs will now be able to stay at the center throughout the length of the program. This will not only allow the dogs to spend more time with their trainers, but also give the trainers a greater sense of responsibility and pride as they care for the dogs.
"To our knowledge, this is the first type of program at a detention center to include fostering shelter dogs," said Brad Kupper, Executive Director for Paws and Think. "Adding the kennels and dog wash at the Detention Center will add so much to the program, and enhance the experience for both the kids and the dogs."
Paws & Think would like to thank the Indianapolis Foundation and everyone who was involved in the grant process.
---
We are pleased to announce that Paws & Think has received a $2,000 grant from Target to benefit our "Paws to Read" program! Most of the grant will go towards purchasing books for the programs. We greatly appreciate Target's support and commitment to helping local communities!
Since 1946, Target has given 5 percent of its profit – which today equals more than $4 million a week – to local communities. Our more than 1,700 Target stores carry on this tradition by making local grants and providing volunteer hours.
---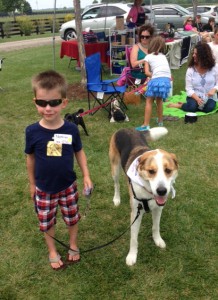 The "Polo on the Prairie" event hosted on August 9th was able to raise $1107 for its hosts – Paws & Think and Every Dog Counts Rescue. The event featured not only a polo match at Indiana's only polo field, Hickory Hall Polo Club, but also a silent auction, dog adoption and half-time "doggy pageant" contest.
Thanks to all who attended and participated, and to Every Dog Counts Rescue for co-hosting the event!
---
Nina Mason Pulliam Charitable Trust
. The Trust seeks to help people in need, especially women, children and families; to protect animals and nature; and to enrich community life in Indianapolis. On June 19th, the Trust announced its first round of 2014 grants, which included more than $1.4 million to 18 Indiana nonprofit organizations.
Paws & Think will use the grant for their Youth Canine Program. Started in October of 2013, this 5-day program takes place each month, and involves youth from the Juvenile Detention Center training dogs from Indianapolis Care and Control. This basic obedience training helps increase the likelihood of the dogs being adopted, and so far, all 46 dogs from the program have found a home. Each dog who completes the program receives a certificate on their kennel with their photo, letting potential owners know that they've had basic obedience training.
Paws & Think would not only like to thank the Nina Mason Pulliam Charitable Trust for their generous grant, but also several people who have made the Youth Canine Program possible. Superintendent at Marion Superior Court Juvenile Detention Center and Paws & Think volunteer, Charles Parkins; Paws & Think trainer, Jodi Van Slyke; and Deputy Chief of Kennel Operations at Animal Care and Control, Amanda Dehoney. With their support and the help of the grant, the Youth Canine Program will continue through the fall of 2015.
---
These dogs are from Indianapolis Animal Care & Control and are in need of good homes! They are all taking part in our Youth Canine Program at the Juvenile Detention Center. Let us know if you have any questions!
---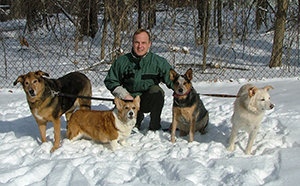 Brett Nelson is partner at the law firm of Plews Shadley Racher & Braun, LLP where he has worked since 1999. His practice includes environmental litigation, insurance coverage for policyholders, commercial litigation and intellectual property matters. Brett is a Bloomington native and he and his wife, Lori, share their Bloomington home with four dogs: Ginger (Pembroke Welsh Corgi), Cali (Shepherd/hound mix), Gator (Australian Cattle Dog) and Boomer (Great Pyrenees/Golden Retriever/??? mix).
Brett has a life-long passion for animals and the outdoors and has always shared his life with dogs. Brett grew up with animals in the house and all around him, including dogs, cats, birds, snakes, lizards, turtles and amphibians. During college, and after he obtained a Bachelor of Science in Biology, Brett surveyed reptiles and amphibians at NSA Crane, Camp Atterbury and throughout Hoosier National Forest through projects funded, in part, by the Indiana Department of Natural Resources. While considering veterinary school, Brett worked as a veterinary technician at clinics in Bloomington and Colombia, South Carolina. Brett also operated a specialty pet store dealing in captive bred reptiles and amphibians prior to attending law school at Indiana University in Bloomington, where he earned his J.D., cum laude.
Brett has been involved with Paws & Think since October 2013, and was invited to join the Board in January, 2014.
---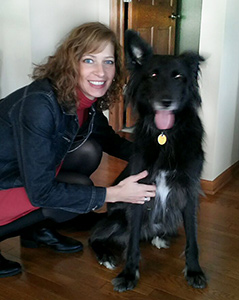 Heather Zoellick is the Marketing and Business Development Senior Associate at INHP, the Indianapolis Neighborhood Housing Partnership, a local organization in Indianapolis. With a bachelor's degree in Journalism and recently earning the Master's Certificate in Nonprofit Management from Indiana University, Heather has worked in the nonprofit sector for over 12 years. Her love of animals started as a young child when she took care of every dog in the neighborhood and volunteered her summers at the local animal barn! She now has two cats and a Belgian Shepherd Border Collie mix named Cooper, who she rescued in 2008. Cooper is considering being a therapy dog (he's just so excited he can't sit still about the idea!) But until then, Heather participates in the Youth Canine Program and is involved in additional program development and event planning with Paws and Think. She is also on the Board of Director's for the Girl Scouts of Central Indiana and has been a volunteer with Komen and Outrun the Sun.
Originally from the Chicago area, Heather has been in Indianapolis for 18 years. In her spare time Heather enjoys running, gardening and spending time with family and friends.
---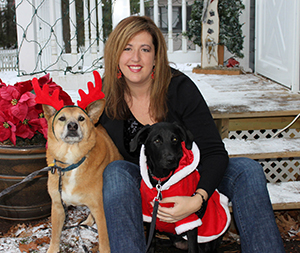 Megan Miller is the Director of Development and Communications for the Indiana University Center for Global Health and the Academic Model Providing Access to Healthcare (AMPATH). She holds her Bachelor of Business Administration (BBA) degree from the University of Miami (Coral Gables, FL) and her Master of Public Affairs (MPA) degree from Indiana University (Bloomington, IN). Megan and her dog, Murphy (a very active one year old black lab/golden retriever mix who loves to give kisses), volunteer through Paws and Think at various venues, including Wishard Hospital, Glendale Library, and Brooke's Place. Megan is also a current board member of the IU School for Public and Environmental Affairs (SPEA) Alumni Association and an active volunteer with a local lab rescue organization – Love of Labs, Indiana. She lives in Broad Ripple with her two dogs, Charlie and Murphy.
---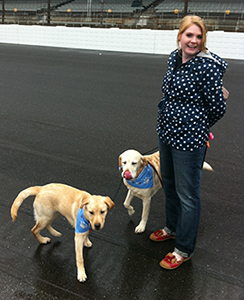 Jill Thompson, MPA, is the Membership/Communications Manager for two international membership associations headquarter in Indianapolis. In May of 2011, Jill graduated with a Master's in Public Administration (MPA) from the Martin School at the University of Kentucky where she focused on Non-Profit Management.
Jill volunteers together with her 10 year old lab, Nelly, at many of Paws and Think' venues. Over the past six months, Jill has taken on the role of Paws and Think's Event Committee Chair facilitating several successful events such as "Paws and Pasta" at Milano Inn and "Ales and Tails" at the Sun King Brewery.
In addition to working full-time and volunteering, Jill enjoys traveling (she speaks German), shopping and reading. Most of all, she enjoys sharing her dogs with others.
---