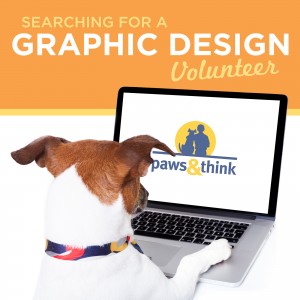 Paws & Think is looking for a graphic designer to volunteer their skills to our organization! We have an ongoing need for someone to help primarily with our print marketing materials, but there are also opportunities to help with web/social graphics, event invitations and program logos.
We are looking for one or more volunteers with design experience (or degree) who are proficient in Illustrator, Photoshop and InDesign.
If you are interested in volunteering in this capacity please contact Rhaya Shilts at rshilts@nullpawsandthink.org with your interest, availability, and any samples of your work.
---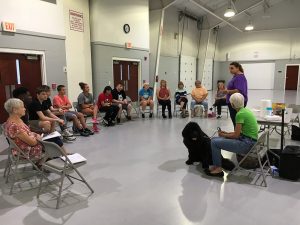 Paws & Think will be piloting a new Youth-Canine program this year in partnership with Hamilton County Youth Assistance Program (HCYAP) and the Humane Society for Hamilton County. The new Hamilton County Youth-Canine Program will be held two times in 2017, and the inaugural program starts this week. The program will be led by Paws & Think's Youth-Canine Coordinator, Kim Trimpe, and each training team will consist of two high school aged students, one dog, and one adult Paws & Think volunteer who will act as a mentor for the youth. This new program will follow the same model as our other Youth-Canine programs, with the goals of teaching valuable life skills to the youth and increasing chances of permanent adoption for the dogs.
HCYAP provides programs that promote positive growth and enhance home and community relationships for at-risk youth in Hamilton County. Teens who are facing challenging life circumstances have been selected by HCYAP staff to participate in our Youth-Canine program pilot with the goal that the program will teach them about opportunities to make their lives better. Youths will learn the value of working together towards a common goal, and our Paws & Think mentor volunteers will help to demonstrate that kindness and positive reinforcement can produce results and pave the way towards opportunities and success. Training sessions will include discussions about leadership, trust, empathy, safety, and will focus on positive reinforcement training for the dogs.
The Hamilton County Youth-Canine Program is the first program of its kind to bring together Paws & Think, HCYAP, and the Humane Society for Hamilton County. The second round of the pilot program will take place in the fall. Paws & Think is also currently working with Dr. Eric Grommon from IUPUI to develop statistical measures for our Youth-Canine programs to better quantify the positive impact of these programs to our community.
Learn more about our Youth-Canine programs.
---
UPDATE: SOLD OUT!
Thank you to everyone who purchased a shirt, and thank you for supporting Paws & Think!
---
There are new Paws & Think t-shirts available for all our volunteers and supporters! Throwback Threads Clothing Co. is offering two different shirts with 25% of sales being donated to Paws & Think. Be sure to pre-order your shirt before it's too late! Click the links below to purchase the shirts directly from the Throwback Threads Clothing Co. website.
Product Details:
– Unisex, modern crewneck fit
– Made with a super soft triblend of 50% poly, 25% combed and ring-spun cotton, 25% rayon
– Screenprinted In Indianapolis, Indiana
---
The winner of our 15th Anniversary Photo Contest is Fritz!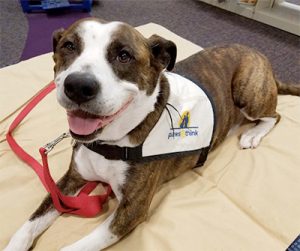 Fritz has been on quite a journey. Adopted by Mary Bennett from Indianapolis Animal Care & Control, the Staffordshire Terrier/Bulldog mix became a Paws & Think therapy dog, and now he has just won the #pawsandthink15 photo contest!
What made Fritz stand out to Mary at IACC? "After looking at many, he stood out because he was so loving," she explains. "He thinks he's a lap dog and just wanted to snuggle and love."
Fritz's happy-go-lucky spirit made him a perfect fit for serving with Paws & Think. Since February 2016, he has volunteered at locations such as Brooke's Place, which provides support to young people and their families after the loss of a loved one. "He loves being with the people, especially the children at Brooke's place," Mary says. "It's great to know we can help in some small way to make people's days a little brighter, and I love that we can do it together."
And Fritz doesn't stop at just loving people. He loves spending time with other dogs and cats – and even loves going to the vet!
So, does Fritz have any other surprises up his sleeve? "He doesn't have a large repertoire of tricks, but he does love to give people high fives," Mary says. Well Fritz, in honor of our 15th anniversary, here is a virtual high-five to commemorate your victory! Congratulations!
---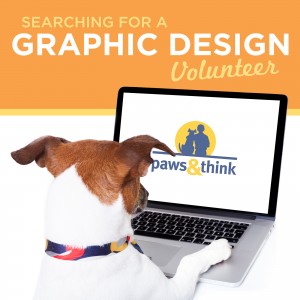 Paws & Think is looking for a graphic designer to volunteer their skills to our organization! We have an ongoing need for someone to help primarily with our print marketing materials, but there are also opportunities to help with web/social graphics, event invitations and program logos.
We are looking for one or more volunteers with design experience (or degree) who are proficient in Illustrator, Photoshop and InDesign.
If you are interested in volunteering in this capacity please contact Rhaya Shilts at rshilts@nullpawsandthink.org with your interest, availability, and any samples of your work.
---
As the year draws to a close, Paws & Think would like to thank all of the generous grantors that helped make 2015 a success.  A BIG thank you to:
Altar'd State Women's Clothing Store
Braxtyns-Bounty-For-Bones
Dollar General Literacy Foundation
First Book
The Indianapolis Foundation, a CICF affiliate
The First Lady's Charitable Foundation
The Kala Sisters Fund, a fund of Central Indiana Community Foundation
The Kelcy M. Whitman Family Fund, a fund of Legacy Fund
Mobi Wireless Management, LLC
The Moorehead Family Foundation
The Nina Mason Pulliam Charitable Trust
The Office Depot Foundation
The Sprint Foundation
The Rogers Family Foundation, a fund of Central Indiana Community Foundation
The Salesforce Foundation
The Super Service Challenge in collaboration with The Brees Dream Foundation
Target Corporation
The Zipes Family Foundation, a fund of Legacy Fund
---
12/28/15 UPDATE: Thank you to all of the applicants. The Executive Director position has been filled and will be announced shortly.
---
Are you a dog-lover who is passionate about enhancing the quality of lives through the power of the bond between dogs and humans?
 
Paws and Think, Inc. is seeking a passionate and mission-driven Executive Director to lead our organization through a period of continued growth. Initially the Executive Director will work part-time, approximately 20 hours per week; however, the organization's goal is to expand the position to full-time (40 hours per week) in the near future, with a corresponding increase in salary.
The Executive Director reports to the Board of Directors and works primarily from home with flexible hours.  In addition to program management and partnership development, the Executive Director will travel locally and work evenings and weekends to accommodate activities such as monthly Board meetings, volunteer engagement and representing the organization at public events in Central Indiana.
Paws and Think, Inc. is a non-profit organization incorporated in 2001 that is dedicated to enhancing the quality of life for the community by using the power of the human-animal bond.  Our volunteers and volunteer handler/dog therapy teams work in partnership with Central Indiana schools, libraries, detention centers, youth agencies, humane societies/shelters and more. We are proud to be honored with one of the first Top-Rated Awards of 2015 from GreatNonprofits.org.
---
RESPONSIBILITIES
Fundraising & Communications:
Expand revenue generating and fundraising activities to support program operations and enable the Executive Director role to become a paid full-time position.
Increase awareness of the organization through communication to volunteers, program partners, external relations and media.
Develop and promote new and existing relationships to garner new program and support opportunities.
Leadership & Management:
Actively engage and energize Paws and Think, Inc. volunteers, board members, committee members, partnering organizations, and supporters.
Develop, maintain, and support a strong Board of Directors: serve as ex-officio of each committee, Spearhead strategic development and expansion of programs and operations.
Regularly communicate with the Board of Directors regarding the current status of services being offered and the development of new programs through written reports, attendance at Board meetings, participation in Board activities and contact with individual Board members.
Lead, coach, develop, and retain Paws and Think, Inc.'s key volunteers and contract employees.
Ensure effective systems to track progress of core programs, and regularly evaluate program components, so as to measure successes that can be effectively communicated to the board, funders, and other constituents.
Participate in development and management of a realistic budget to sustain core programs and expand operations to include a full-time Executive Director and one or more part time administrative positions.
---
REQUIREMENTS
Candidates must meet the following requirements:
Bachelor's degree or comparable experience
Minimum 5 years progressive people or program management experience, preferably in nonprofit sector
Public speaking ability and strong verbal, written and persuasive communication skills
Excellent interpersonal skills and the ability to work effectively in collaboration with diverse groups of people including, but not limited to, board members, donors and volunteers.
Strong organizational management skills including coaching staff and/or volunteers, managing and developing  high-performance teams, setting and achieving strategic objectives and planning and managing a budget
Multidisciplinary project management skills and computer proficiency
Broad based knowledge of nonprofit sector
Ability to work occasional evenings and weekends and travel within Central Indiana
Our ideal candidate will be committed to Paws and Think, Inc.'s mission and demonstrate a high level of passion, integrity, positive attitude and self-direction. (S)he will be able to effectively convene a diverse group of stakeholders to create a strategic plan for Paws and Think, Inc. and develop the resources needed to execute it. In addition, the ideal candidate will be effective in fundraising, recognizing new opportunities and developing them into ongoing, sustainable revenue growth.
---
SALARY & HOW TO APPLY
Annual Salary: $25,000
How to Apply:  Interested candidates should send their resumes to: ExecutiveDirectorSearch@nullpawsandthink.org. No phone calls, please.
---
We are so excited to be competing in the 2015 Brackets for Good tournament which tips off TODAY! The six-round, single-elimination tournament begins, with the winner being announced on April 3rd for a prize of $10,000!
How does it work?
Votes are cast by donations made through the BracketsForGood.org website. One dollar equals one vote. So spread the word and get your game face on!
Having trouble finding our bracket? We are in the top left "CITIMARK" division. (We are the fifth pairing from the top.)
---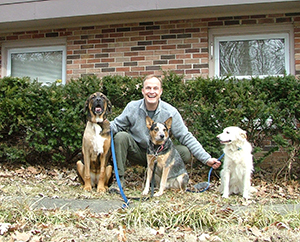 Paws & Think is ringing in 2015 with a new Board President: longtime volunteer and lifelong dog-lover Brett Nelson. Brett is a partner at the law firm of Plews Shadley Racher & Braun, LLP where he has worked since 1999. Before attending law school he spent some time as a vet tech and a biologist, and he mentions that animals have always been an important part of his life. Brett is a Bloomington native and he and his wife, Lori, currently share their home with three rescue dogs: Gator, Boomer, and Lilly. Brett has been volunteering with Paws & Think since October 2013 and has been a member of the Board since February 2014.
As the Board President in 2015, Brett looks forward to continuing and expanding the work of Paws & Think through its many and dedicated volunteers. His primary goal is to communicate and achieve the strategic goals identified by the Board and the Executive Director and help ensure that all members of Paws & Think remain focused on an active pursuit of our shared mission. Brett notes that one of the things that drew him to Paws & Think was the concept of pairing shelter dogs with vulnerable youth to the mutual benefit of both through the Youth Canine program. One goal for this year is to refine and document the benefits of both the Youth Canine and the school reading programs. In order to achieve this and other important goals, the organization will need to focus on finding and training new volunteers as well as empowering those who are already involved with Paws & Think to step into more leadership roles.
In addition to chairing monthly Board meetings and facilitating the business of the Board, Brett likes to stay involved in the day to day activities of the organization. He sometimes substitutes at the Reading Buddy and Youth Canine programs and hopes to team up with his 8 month old Bernese Mountain Dog mix Lilly as a therapy dog after she recovers from a recent surgery. Brett fondly remembers a particular day at the Youth Canine program where a very excited canine team member greeted him by enthusiastically "watering" his shoe and pant leg. Brett cites the comedy of the moment as well as the living lesson of the importance of patience as one of the experiences that keeps him engaged with the wonderful work of Paws & Think.
---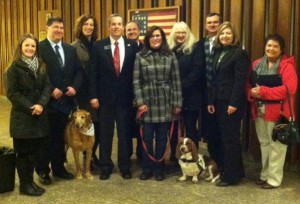 On Monday, January 12th, Michael J. McQuillen, Minority Leader on the Indianapolis City-County Council, presented a Special Resolution recognizing Paws & Think for their efforts in the local community. Having heard about the program from his wife, a librarian with Lawrence Township Schools, Councillor McQuillen visited the "Paws to Read" program at Crestview Elementary School where every Friday, students are invited to read books to the visiting dogs. The Special Resolution sponsored by Councillor McQuillen and signed by the Mayor honors Paws & Think's efforts and achievements, and applauds them for the implementation of the Youth Canine Program.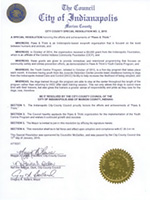 "Having lived in Lawrence Township for many years, I'm very excited to see this program and hope that it expands to other schools," said Councillor McQuillen at the City-County Council meeting on Monday. Also in attendance was Paws & Think Executive Director Brad Kupper, who said, "Whether it's helping a student at an IPS Elementary or Township school improve their reading scores, visiting patients at Eskenazi Hospital, or assisting the youth at the Marion County Juvenile Detention Center train dogs from Indianapolis Care and Control, we appreciate the honor and the opportunity to serve the great city of Indianapolis and its residents."
Paws & Think would like to thank Councillor McQuillen and the City-County Council for this honor, and looks forward to the continued success of the many programs it provides.
---