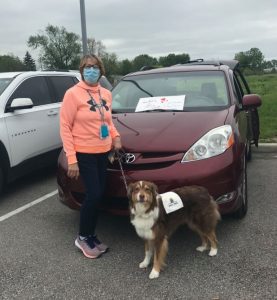 Last month we provided no-contact parking lot visits at Ascension St Vincent Neighborhood Emergency Departments to show support for staff members during Hospital Week. Paws & Think therapy teams Kathy & Toohey and Sandi & Daisy visited the Avon location. Even though staff couldn't pet our therapy dogs, they appreciated getting a little long-distance love! These stress relief visits with healthcare workers are an important part of the mental health support that we provide to the community through our programs.
---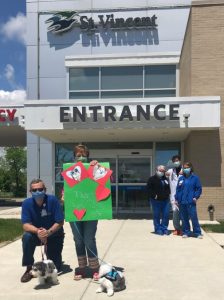 Paws & Think therapy teams visited the Greenwood location of Ascension St Vincent Neighborhood Emergency Department last month for a no-contact visit. Ed & Jane with therapy dogs Iris & Izzy (pictured here) and Steve & Liz with therapy dog Aspen were able to provide love and support from afar to healthcare workers during Hospital Week. Research shows that interacting with therapy dogs provides opportunities for therapeutic benefits that enhance quality of life, and we were glad to be able to provide a mental health break to these hardworking staff members.
---
We have BIG news! For the second year, Paws & Think is a finalist for Impact 100 Greater Indianapolis. This year, our proposal is for our Paws to Comfort Program-Mental Health Initiative. If chosen as the final winner, we will be able to serve 3200 individuals in our community by providing the unconditional love and support of therapy dogs.
This includes providing trained, evaluated, and registered therapy dogs to:
Children who have experienced child abuse and are receiving help from Peyton Manning Children's Hospital Child Abuse Pediatric Department and undergoing forensic interviews at Susie's Place Child Advocacy Centers
Children who are experiencing grief from the loss of a loved one through Brooke's Place and Camp Healing Tree
Individuals experiencing crisis who require our Crisis Response Teams
Healthcare workers and support staff who help these populations
Now more than ever, our support is needed. We are so thankful to Impact 100 for selecting us as a finalist. We wish our congrats to all the other finalists.
---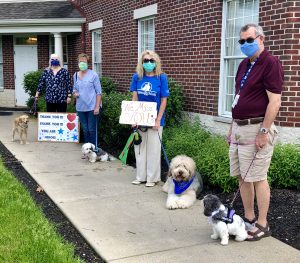 At the end of last month we had the pleasure of visiting at Brookdale Carmel where we were able to conduct window visits with residents in memory care and provide distanced support visits to staff members. Katie Broniarczyk, their Program Manager, said "the residents were so excited to see the variety of dogs and they had a most wonderful time! The Paws & Think volunteers are always so nice."
Visits like these help boost morale and provide mental health support. Great work, teams!
---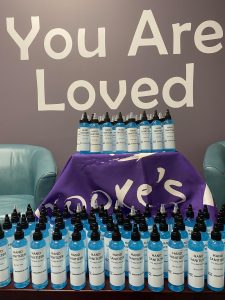 Thank you to Mansfield-King for providing us with an additional 1000 bottles of hand sanitizer to distribute to our program partners. We were able to donate 125 more bottles of hand sanitizer to Brooke's Place and Camp Healing Tree.
---
Our Paws to Comfort Crisis Response visits look a little different now, but the benefits to those experiencing trauma are still present. Our therapy teams recently support residents and staff at Homewood Health with distance visits, window visits, cupcakes, and balloons.
We are in the middle of a mental health crisis, and we know that now more than ever, people need the comfort that is brought by therapy dogs. Seeing the smiles and joy our dogs brought to this facility reinforced to us that the unconditional love of a dog is powerful.
---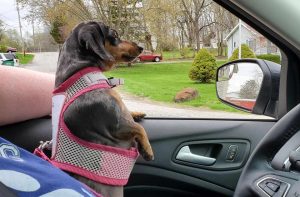 Sanders Glen Assisted Living residents and staff got quite the surprise on Easter! They held a car parade for their residents, and among the cars of family members were the Paws & Think therapy dogs who visit with them.
Our pet therapy teams miss their friends at all of our venues and were so happy to be able to wave…and bark…to residents and staff.
---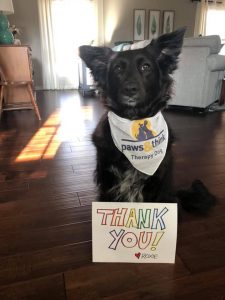 We want to send a big thank you to all the staff and volunteers at the shelters, especially our partners at Indianapolis Animal Care Services and Humane Society for Hamilton County. Thank you!
Our friends at Indianapolis Animal Care Services need our help. Here are some ways you can support them:
You could make masks and gowns for the shelter staff. This website has information about PPE for shelter employees and volunteers.
You can also design and send cards or letters to the staff and volunteers continuing to respond to calls and care for the animals here at the shelter. Their address is 2600 S Harding St, Indianapolis, IN 46221.
---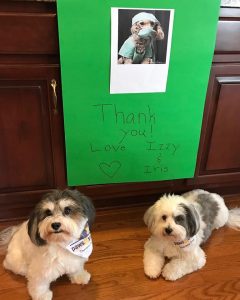 We are working hard to help the many venues we serve. One way is that several of our venue partners need handmade masks.
Castleton Healthcare has an urgent need. Everyone at their facility is required to wear a mask, so they will take whatever you can donate.
You will need to drop them off at the receptionist desk. Please email Danielle at activities@nullcastletonhealthcare.us the day and time, and she will notify their receptionist. Thank you!
---
We miss you. We miss all 50,000 of you that we provide services to each year. Here is a video just for you with messages from your furry friends…and some tricks, too! Stay safe and know that we send our love.
Thank you to our volunteers who sent in clips and to Keegan Connor for making the video.
---