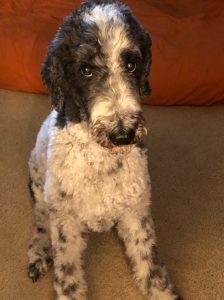 We are very sad to let you know that therapy dog Splash has crossed the rainbow bridge. Our Volunteer Coordinator, Kathy Janes, shares some fond memories of him:
"We first met Splash at a family event, PBS Kids in the Park, at Military Park in 2009. Splash and Mater hung out together to let kids read to them. They also got to meet the police horse that was there. Splash made many appearances as a neutral dog in the time he lived with his original owner, Anne Wolpert. He also visited schools with Anne and loved to chill as kids read to him or just loved on him. When Anne had to rehome Splash, Martha Karatz was thrilled to add him to her pack. He enjoyed a good life there and played with her grandchildren and visited their school occasionally. He also got to hang out at the Jewish Community Center when Martha was working there. Splash was a standard poodle with gentle ways and lots of love to give."
If you'd like to make a gift in memory of Splash, you can do so at pawsandthink.org/donate. Please let us know it's in his memory.
---
We're celebrating Valentine's Day with 'Be Mine, Canine' cutouts! With a donation of $200.00 to Paws & Think, you will not only support our mission to improve lives through the power of the human-dog connection, you'll also receive a corrugated plastic cutout of your dog (or your favorite Paws & Think therapy dog) as well as 10 Paws & Think notecards with envelopes.
Need some notecards to send for Valentine's Day (or any other occasion)? With a donation of $25.00, you will receive a pack of 10 Paws & Think notecards with envelopes.
Only 15 cutouts are available! Click here to order yours today.
Sponsored by Noah's Animal Hospitals.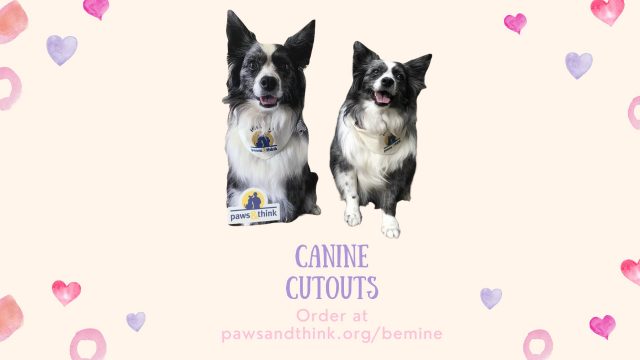 ---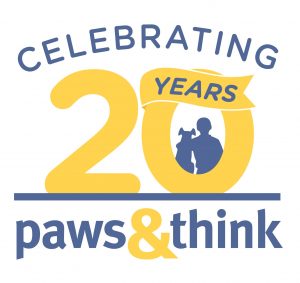 Paws & Think is celebrating its 20th anniversary in 2021! We have been positively impacting lives, both human and canine, right here in our community through compassion and connection since 2001.
SAVE THE DATE for our 20th Anniversary Fundraiser May 5th-21st.
---
Paws & Think is looking for a freelance WordPress developer to help bring our new website to life! The design has been created and approved by the board, and we are looking specifically for someone who can convert it to a custom WordPress theme. You will be working directly with the Marketing & Design Committee chair, who has extensive experience with WordPress themes, plugins, etc.
If you are a WordPress wiz and would like more details, please submit your interest using the form below. Qualified candidates will be provided with the budget, timeline and design. Virtual interviews will be conducted before a final decision is made.
---
Executive Director Kelsey Burton and therapy dog Pipsqueak stopped by Indy Style to chat with Patty Spitler about all things therapy dogs. Even with the pandemic, our services have continued to bring comfort to so many in our community.
Thank you, Patty and WISH-TV for having us on today to talk about our important work! Check out the WISH-TV piece here.
---
When the pandemic began, we knew our services would be needed now more than ever before. Our volunteers, staff, and Board of Directors were up to the challenge of figuring out how to change our programming in order to continue bringing comfort and hope while ensuring everyone's safety.
We need your help to continue serving our community when people need it most. Please donate today at pawsandthink.org/donate
---
A huge thank you to Junior League of Indianapolis for choosing Paws & Think as a recipient of the $7,500 Community Assistance Grant. This will be a great help in the continuation and further development of the Paws to Read program!
Check out the full list of 2019-2020 grant recipients on their website.
---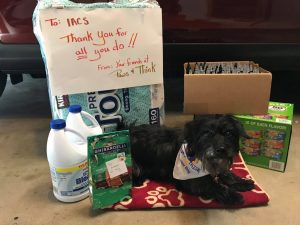 We work hard to support our nonprofit partners, especially when they need it most. Last week, we collected donations for Indianapolis Animal Care Services to show appreciation for the great work they do.
Our Paws & Think drive might be over, but they appreciate donations any time! Click here for more information about their donation needs and how to donate.
---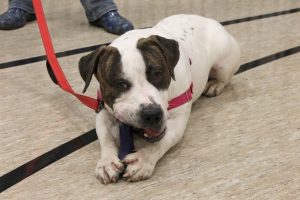 This year we were one of the nonprofit exhibitors in IndyHub's IndyVolved15, a month of civic engagement to amplify local nonprofits and help the city's residents get involved. As part of their #DoGoodOften Giving Bag initiative for the holiday season they are helping us collect donations of dog toys for the shelter dogs in our Youth-Canine programs.
We always need stuffed toys and durable chew toys for these dogs to keep them engaged during their week of training.
Other items that are helpful to support these programs are:
– Deluxe Easy Walk Harnesses
– Pupperoni sticks
– Squeeze cheese
– Peanut butter
– Hand sanitizer wipes
– Craft supplies such as adhesive letters, stickers, glue sticks, and double-sided tape to make kennel cards for the dogs when they graduate at the end of the week.
Check out our current Wish List for more items we need.
---
Paws & Think volunteer Brad Hoop and therapy dog Gus are featured in the December issue of Dogster Magazine. Brad and Gus are a Paws to Heal therapy team who visit healthcare facilities to provide comfort for patients, their families, and staff members. Brad is a cancer survivor, and when he was undergoing treatment he was visited by a therapy dog at the hospital. This encounter inspired him to pursue becoming a volunteer therapy dog handler.
Together Brad and Gus have visited Ascension St. Vincent and Riley Children's Hospital to brighten the days of cancer patients. Gus is such a sweetheart, and the staff at Ascension St. Vincent told us that his visits "change the whole mood of the unit." Read the Dogster article to learn more about Brad and Gus's story: Meet the Dynamic Due Bringing Happiness to Hospitals
---