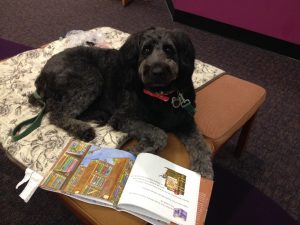 Did you know that our Paws to Read program is more than just an opportunity for kids to read to a dog?
Paws & Think is an affiliate of Reading Education Assistance Dogs (R.E.A.D.), a worldwide organization focused on improving the literacy skills of children through the assistance of registered therapy teams. R.E.A.D. is built on the foundation of classical human-animal interaction research and is supported by documentation in ongoing field studies.
This partnership allows Paws & Think's therapy team handlers the opportunity to take additional training as literacy mentors to help children gain confidence, improve social skills, and develop a love of reading.
To learn more about our Paws to Read program and to view our virtual visit schedule, visit https://pawsandthink.org/programs/paws-to-read/
---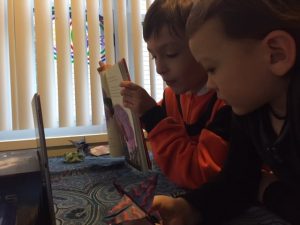 In-person library visits may be paused, but our virtual Paws to Read visits are going strong! Kathryn Dowel's children participate in our virtual Paws to Read visits with Indianapolis Public Library, and she reached out to let us know that, despite not being able to physically interact with the dogs, the program still has a huge impact.
"I think it might sound silly to some, reading to a dog over a Zoom call. But it encourages my readers. My 4th grader independent worker works on their inflection and confidence. My 2nd grader works on their emergent reading skills and proficiency. And my kinder is watching, being excited for the potential of what reading can be. It is different now, but we are happy to have these pieces of joy in our lives. Thank you for helping bring this to our family."
Click here to view our virtual Paws to Read schedule.
---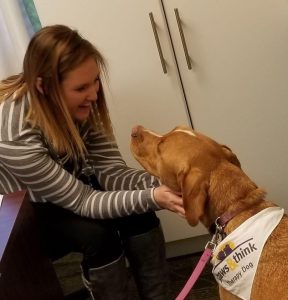 We all know the importance of self-care and stress relief, but did you know the simple act of eye contact with a dog can release a hormone that relieves stress? Oxytocin, a hormone whose many positive functions include reducing stress and lowering blood pressure, increases in both the human and the dog when they interact. Our work is beneficial not only to the people we serve, but also to our therapy dogs that love this work. Whether you're interacting with our Paws & Think therapy dogs or the family pet, take a minute for yourself to relieve some stress!
---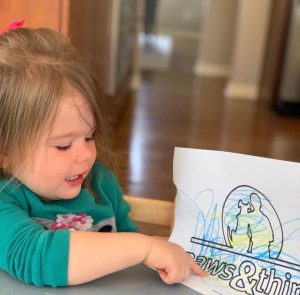 Don't forget we have a free Paws & Think activity book to keep kids busy while winter weather keeps them inside. This book was created in collaboration with local artist Gabriel Lehmen.
You can download yours here.
---
Recently our Executive Director held a lunch & learn with the great staff of Families First. She discussed the different types of support dogs and how therapy dogs help our community.
Families First wore a great blog post to help educate our community called More Than Just a Pet: How Animals Benefit Our Mental Health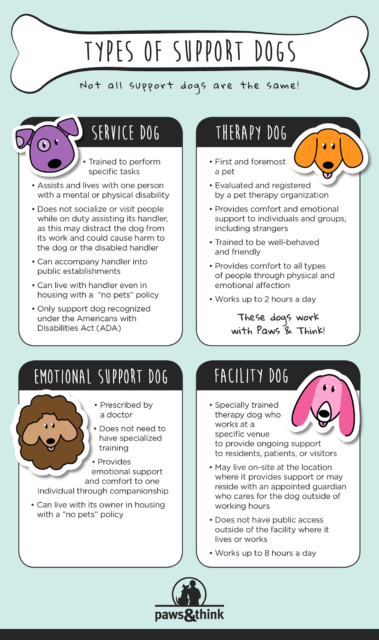 ---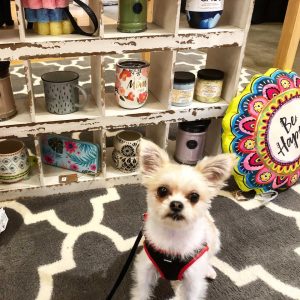 Throw your wardrobe a bone while supporting a doggone good cause! For the entire month of August, all profits from Clothes With a Cause will be donated to Paws & Think. Shop in person at Clay Terrace (14300 Clay Terrace Blvd STE 105) or online at https://clotheswithacause.net/.
The first $2,500 that is donated from Clothes With a Cause will be matched by our board members- that means anything you buy doubles the donation! Plus, if you spend $100 or more, you get a sterling silver necklace valued at $54!
---
Over this past year there has been growing evidence of a possible link between certain types of dog food and the development of heart disease in dogs. When attention was first brought to this issue it appeared that grain-free diets may be contributing to dogs developing dilated cardiomyopathy. Dilated cardiomyopathy is a heart condition in which the heart wall gets thin, weak, and can't pump blood efficiently throughout the body. It was thought that the grain-free diets were either deficient in an amino acid, called taurine, or that they changed the way taurine was metabolized in the body. This is important because taurine deficiency is known to cause dilated cardiomyopathy in both cats and dogs.
After more investigation, however, the food in question has been expanded to include not only grain-free diets, but also diets from boutique companies and diets that contain exotic ingredients (kangaroo meat, for example). Currently "BEG" diets (boutique, exotic ingredients, grain-free) are being examined as a culprit for the increase in heart disease cases in dogs throughout the US. There is not a definitive answer as of yet as to why these diets may be linked to heart disease in dogs (or even if they are truly the cause), but suspect they may just not be as nutritionally balanced as they should be. Investigations are still under way.
The current recommendation by veterinary cardiologists is to feed a commercial pet food made by a well-established manufacturer (Hill's, Purina, Royal Canin, etc.) that contains common ingredients such as chicken, beef, and even grains. For the most part, dogs do just fine eating grains and they are a good source of energy. There is actually only just a small percentage of dogs that may develop a true grain allergy (Wheaten Terriers are the main breed affected). Usually food allergies in dogs are due to the protein source, not the grain.
If a dog needs a special diet for a medical condition, consulting with their veterinarian or even seeking out a diet plan from a Board-Certified Veterinary Nutritionist (acvn.org) is the best way to go.
For More Information on Nutrition, please visit:
http://petnutritionalliance.org
http://www.petfoodnutrition.com
Updated Information about Grain-Free Diets & Cardiomyopathy:
https://avmajournals.avma.org/doi/full/10.2460/javma.253.11.1390
https://www.avma.org/News/JAVMANews/Pages/180801e.aspx
Article by Leslie Brooks, DVM
---
…And why our therapy dogs are not fed them
Raw protein diets have started to gain some traction in the pet food industry and among dog owners.  Some proponents feel that raw diets are healthier for dogs, though there has not been any peer-reviewed study proving this claim. However, there have been studies showing that feeding dogs raw protein diets can be a risk to human health, especially to those people who have compromised immune systems.
Raw protein diets can be contaminated with harmful bacteria, such as E. coli, Samonella, Campylobacter, and Listeria. Since the meat is raw, it is not cooked or processed in ways to kill these bacteria that may be present in the meat. Some dogs may get sick and have nausea or vomiting, soft stool or diarrhea, or even get an infection in their blood stream. For other dogs, they may not get sick, but could become asymptomatic carriers of the bacteria. This means, they could transmit the bacteria to people, either by licking them, or simply by the person coming into contact with their fur. These types of bacteria can make people extremely sick, and can even cause death, especially among susceptible children.
Because our therapy dogs frequently encounter people who may not have strong immune systems, such as children and the elderly, we cannot allow our therapy dogs to be fed raw protein diets. We do not want to put the people we are helping at risk for a deadly infection, no matter what the odds are.
Most veterinarians advise against feeding a raw food diet because of these public health risks.
Most types of "raw food" are prepared when the pet owner buys raw meat and bone and feeds it directly to their pet. There are also commercially available "raw protein diets". However, there are some raw foods that we may not be aware of that could potentially cause harm, and these include the following:
Pig ears
Bully sticks
Antlers
Marrow bones
Raw coated kibble
Freeze-dried raw food
Dried liver bites
**For this article, when we refer to raw, we only refer to raw meat and bone, not raw vegetables, since those are usually fine as long as they are washed off first.
References and where to find more information:
https://www.avma.org/KB/Policies/Pages/Raw-or-Undercooked-Animal-Source-Protein-in-Cat-and-Dog-Diets.aspx
https://www.ncbi.nlm.nih.gov/pmc/articles/PMC3003575/
http://vet.tufts.edu/wp-content/uploads/raw_meat_diets_memo.pdf
https://www.aaha.org/professional/resources/raw_protein_diet.aspx
---

Last month, Beatrice Bowlby, a senior at Park Tudor and part of the Global Scholars Program, presented her study regarding the research question, "Can animal assisted therapy, with an emphasis on inter-special empathy, play a valuable role in the treatment of psychological and physical disorders?" Below is the essay she wrote in response to that study.


At 12 inches tall and 24 inches long, Kipling does not look like your average therapist. In fact, he looks more like a loaf of bread. But I suppose at seventeen and a half I don't really look like a therapist either. In my eighth grade English class we were taught the difference between sympathy and empathy, and since then I have attempted to define them on my own, striving for the noumenal moment that manifests itself through empathizing with another being. It was not until I found Paws & Think that I truly understood the definition of empathy. In his therapeutic role, Kipling serves as the medium for the conversations I have. His stubby legs, long back, and big ears are characteristic of a Pembroke Welsh Corgi, and they have facilitated my ability to provide comfort and happiness to people from all walks of life.
The creative writer in me is fascinated by the complexity of character and the creation of dynamic personalities with only words, searching for a connection beneath a pile of diction and syntax. I am moved by the stories I hear in the nursing homes and the grief of the little girl who tragically lost her father. Listening has always been a strength of mine. In kindergarten, I was taught to listen because that is the respectful thing to do. As I got older, I discovered that listening isn't only respectful, but it instills a sense of trust and understanding in and for another.
The visits to Hoosier Village and Camp Healing Tree force me to step outside my immediate circles of school, family, and friends into a community that I would not know if I had not trained Kipling to become a therapy dog. As one of Paws & Think's youngest volunteers, I have become a familiar face. The other volunteers may know me as the young English girl with the corgi, and I can't say that that identification is any different in other aspects of my life. After all, my voice became an amalgamation of English and American before I could even call myself a citizen, stretching between one culture and another until the Atlantic felt more like an ocean and less like a pond.
From volunteer to intern, I have immersed myself in an organization in which I believe, spending time communicating with people and managing the donor database. The work is challenging and emotionally intense, but I am constantly amazed by the support and sense of fulfillment that I get from being part of the Paws & Think community. As an intern, I find myself in my element as my academic work ethic takes over, and thank you letters to donors are written, printed, enveloped, and sent with the greatest care. As a volunteer, I have realized that the time spent with the elderly woman in the wheelchair as she talks slowly about coming to America as a small child and the moments spent listening to little girls finally talk about emotions that kids their age should not know how to feel are the real reasons I love my work with Paws & Think.
Kipling aids in my ability to walk alongside another as they tell me of a journey that forced them to grapple with confusion, pain, and ultimately strength. I cannot say that I have endured what many of the people I talk to have, but I can say that I know what it is to be a sister and a daughter, a 10 year old girl, a friend, and a listener. Now I am able to define empathy for myself: to mirror the vulnerability of another as they tell an honest story.
---
Dogs have been a human's best friend for thousands of years. Originally, they provided support to hunters and latterly shepherds. In more modern times, they have helped the blind to become more mobile, with the first seeing eye dog starting its duty in 1928. They can now assist the police and other emergency services as well. However, dogs are not just a tool for physical labor. They can also provide emotional support to the lonely, including the elderly or socially anxious. These canines are known as Therapy Dogs and they've been providing a wealth of health benefits for many years now.
Who Can Use a Therapy Dog?
Anyone who can find benefit in spending time with a dog should aim to do so. This includes people who are suffering from social isolation, particularly the elderly who are at risk of developing dementia or Alzheimer's.
There have even been initiatives to help young children with their reading and writing by using the comforting presence of a dog. Therapy dogs are taken into classrooms and will sit attentively while children try to "teach" the dog how to read. In reality, it is the kids who are learning to read at a faster rate than if the dog hadn't been there.
For those with mental conditions such as depression or anxiety, a dog can make a world of difference. Having a dog in your home will release tension in the muscles and lower blood pressure, simply by allowing yourself to stroke, pet and play with them, therefore combatting stress. Dogs provide non-judgemental love and give their owners a sense of purpose and responsibility. This is an extremely effective motivator for those with depression who struggle to find meaning.
Where to Start
If you have serious problems with everyday movement, firstly make sure your house is mobility friendly. This may involve installing wider doors or a stair lift if it is becoming increasingly difficult to access other levels of the house.
If possible, adopt a pet of your own. The loyalty and caring nature of dogs makes them the perfect pet. By adopting from a local shelter, a traumatised and anxious dog will have a new free and happy life in your care. A dog with its own emotional problems may seem appealing because it allows owner and pet to help each other and heal together.
If you are unable to own a pet for yourself, search around for the right charity program to suit your needs. Paws & Think offers therapy dogs to help with behaviorally and academically challenged students. There is also help available for children or adults who have gone through other emotional trauma such as bereavement. Paws & Think offers pet services for people of all ages, who need therapy for a wide variety of reasons.
Written by Lucy Wyndham
---