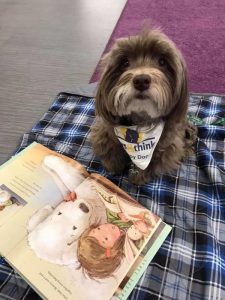 Join us for a virtual Paws to Read visit with Brownsburg Public Library this Saturday! Kids can sign up for a 15-minute session between 11am and 12pm to read to a registered Paws & Think therapy dog via Zoom. Register here for this Saturday, and check out the Brownsburg Library event calendar for future programs.
---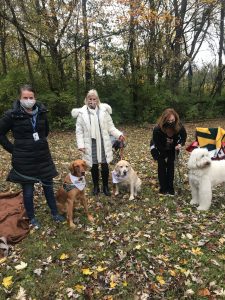 The Indiana Donor Network recently held a special event honoring organ, tissue, and eye donors. Several Paws & Think therapy teams participated in this one-day camp to provide support for the children grieving the loss of these donor heroes.
The kids loved spending time with the pups and there was lots and lots of laughter. After loving on the dogs, one of the staff members said, "I didn't even know that today would be so good for me, too." Our therapy dogs and their handlers uplift everyone they cross paths with during their visits, even those who don't realize they need a pick-me-up!
A volunteer also shared a heartwarming story from the event:
"While at our event on Saturday, we were sharing donated books with the kids. These kids all experienced the death of someone close and were getting a day full of fun activities including time with our therapy dogs. I was helping to make sure that the kids knew the table full of books was available to them. I chatted with one teen who was looking through a book of poems about dogs. She said she loves poetry and likes to read Shakespeare even though she doesn't always understand all of it. She also enjoys writing poetry. Later I noticed she was still sitting reading the book so I told her that she could take it with her. She looked puzzled and asked "Do I bring it back here then?" I explained that she doesn't need to bring it back, she can keep it. Her eyes lit up and she hugged it close and said "Oh wow, I can keep it!" And then a very soft, heartfelt, "thank you." She then said another thank you as her group was leaving. We don't always know when or how these donations are making an impact but I can tell you that one book certainly made a difference on Saturday."
Thank you to the The Luminous Fund, JE Fehsenfeld Family Foundation, Junior League of Indianapolis, and the Rogers Family Foundation for their support of our programs this year, and a special thank you to our many book donors who make moments like this possible!
---
Did you miss our Dogs are Magic: Wizard of Paws event last week? No worries. You can view the event here or on our YouTube page. This wonderful event is filled with fun, heartwarming stories, and lots of dogs!
If you would like to donate to help our programming, please go to pawsandthink.org/donate.
Thank you to our sponsors, all who donated, our volunteers, our board members, our staff, and our planning committee. You helped us hold a successful event and share our story with hundreds of people.
Thank you for having the heart, the brains, and the courage to help others.
---
Wow! I can't thank you enough for your support during Dogs are Magic: Wizard of Paws last night. Pipsqueak, Hermie, and I had a wonderful time sharing with you the positive impact Paws & Think has in our community every day. I hope you had fun and enjoyed the show.
Drum roll please…
We raised a NET total of just over $47,000.
I'm speechless! That's the most we have ever raised as a net total at this event. We are going to be able to do so much with this funding in the next 12 months and ensure our programming continues.
How to get your silent auction items:
Thank you for having the brains, the courage, and the heart to help so many in our community.
---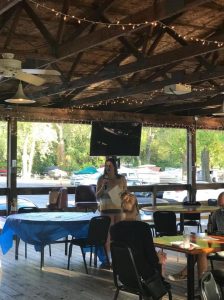 We had a wonderful time at Impact 100's Rock the Boat event last week. All of the 2020 Impact 100 finalists and the 2020 winner had a chance to share how the funds donated by Impact 100 are helping our community. Executive Director Kelsey Burton shared how the residual grant as a finalist went towards our Mental Health initiatives. From virtual therapy dog visits to therapy dog cutouts and more, our programming is helping people maintain or regain a positive mental health outlook.
Kelsey shared the story of a patient at Peyton Manning Children's Hospital who recently had a virtual visit. The 10-year-old patient said seeing the dogs makes her heart dance with happiness. The women of Impact 100 made that and so much more possible. Their financial support ensures we can do what is needed for those in our community. Thank you, Impact 100!
---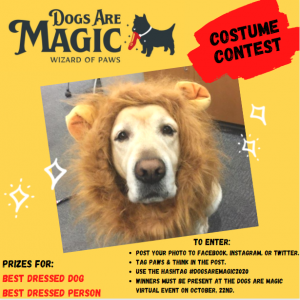 Join in the fun and enter our Wizard of Paws Costume Contest for this year's Dogs Are Magic extravaganza! We will be giving away prizes for the Best Dressed Person and Best Dressed Dog.
To enter:
Post your costume photo to Facebook, Instagram, or Twitter
Tag Paws and Think in the post.
Use the hashtag #DogsAreMagic2020 on your post.
If you are not on social meda, you can email your costume photo to lsmith@

null

pawsandthink.org to enter.
Winners must be present at our virtual Dogs Are Magic event on October 22nd from 6:30p-8p. To register for the virtual event visit pawsandthink.org/magic
---
We are now offering our Paws to Read program virtually in partnership with the Indianapolis Public Library. Beginning or reluctant readers ages 6-11 are invited to read aloud to a registered therapy dog who loves to listen to stories. This program is a great way to improve a child's reading skills and self confidence.
These events are held online and require registration in advance. After registering, you will be emailed login instructions approximately 24 hours before the event. A library representative will reach you to you via email with your specific 15-minute appointment time within the hour time frame of the program. The online program will require you have access to Zoom with a microphone and video connection. Children may read from any book they choose.
Register online through the Indianapolis Public Library events calendar. Openings are limited so register today!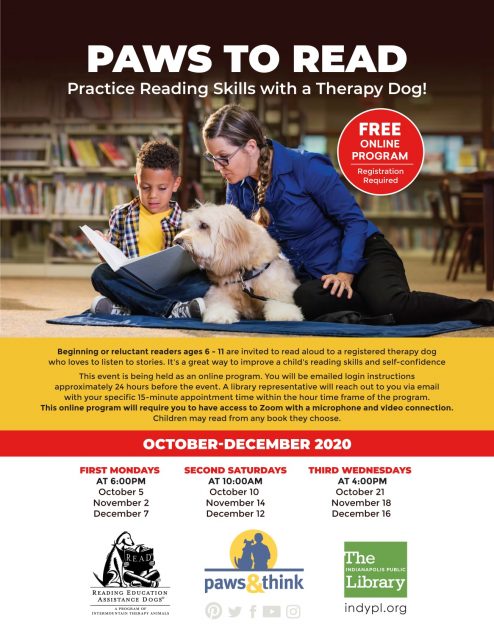 ---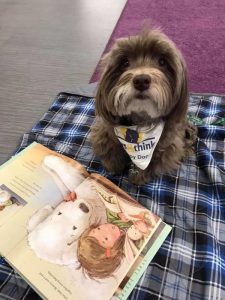 Read to a Paws & Think therapy dog! This Saturday, Carmel Clay Public Library is hosting a Paws to Read virtual visit.
If your child loves dogs, reading, or both, you can sign up for a 15-minute time slot for them to read aloud to a Paws & Think dog from home via Zoom! Visit this link to register: https://carmelclaylibrary.org/event/4599922
---
You're invited to Paws & Think's 4th Annual Extravaganza, Dogs Are Magic! This year the theme is Wizard of Paws, and we will have fun, new Wizard of Oz themed activities. Because we know, now more than ever, there's no place like home.
The event will feature Patty Spitler of Pet Pals TV, Butler University mascot Blue IV, Race Car Driver Kristian João Aleixo, and Paws & Think's very own Toto, Pipsqueak. Event activities include a silent auction, jewelry pull, wine & vodka pull, yellow brick road game, magician, costume contest, and dessert dash! To register, visit https://qtego.net/qlink/pawsandthink. Registration is free and is required to attend the event.
You can also purchase the optional Toto Package, a box of curated Wizard of Oz themed items that has everything you need to have a gala at home, worthy of the Wizard himself. Delivered to your door before the event, each package includes special gifts to make your evening perfect.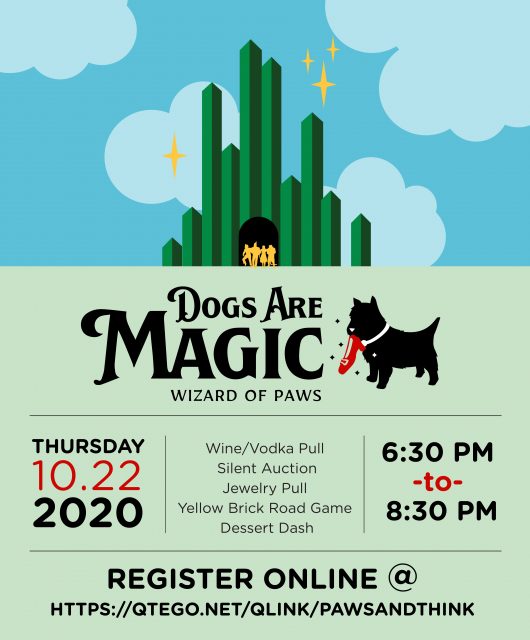 FAQs
Q: How do I attend?
A: Register at https://qtego.net/qlink/pawsandthink. You can attend via tablet, computer, or mobile phone.
Q: Do I have to purchase the Toto Package in order to attend?
A: Purchase is not necessary to attend the event, but it does make it more fun!
Q: Why should I buy a Toto Package?
A: In addition to your purchase supporting Paws & Think, the package is filled with gifts, including a Paws & Think etched stemless martini glass, a bottle of drink mix, a tealight wax melt warmer (with wax melts), a sweet treat, and supplies for a magic trick that will be taught during the event.
Q: I am already suffering from virtual meeting burnout- what will make this different from any other virtual meeting?
A: Executive Director and emcee, Kelsey Burton, has some Dogs are Magic tricks up her sleeve! Costumes, celebrity guests, and actual magic tricks will make this an exciting and entertaining event.
Q: Can I send the Toto Package to a friend as a gift?
A: Absolutely! Send the package to a friend that will be attending the event, someone that loves Wizard of Oz, or just a person that likes surprises (while supporting a great cause!). *If your purchase will be shipped to an address other than the one you used when you registered, email Jamie Lehman at jlehman@nullpawsandthink.org
Q: Why does registration require a credit card number if registration is free?
A: When you register through Qtego, they will require that you enter your credit card number. Your card will not be charged for registration, it will only be charged if you choose to purchase a Toto Package before the event or make a purchase, donation, or place a bid during the event.
Q: I have less frequently asked questions. How do I get answers?
A: If we didn't answer your questions, feel free to contact Jamie Lehman at jlehman@nullpawsandthink.org.
---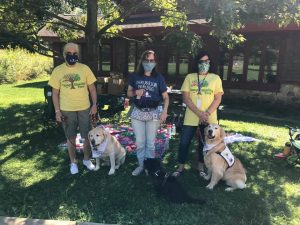 On Saturday, our therapy teams took part in Camp Healing Tree's Family Picnic. Normally, we would have spent the entire weekend at Camp. Due to Covid-19, Camp was cancelled, but Brooke's Place did a wonderful job with a family picnic.
There were various stations for the kids. One of the stations was visits with our therapy dogs. Because of our amazing donors, we were able to give each kid a new book as well. They could read to the dog or just visit.
We loved being able to see the kids. We had a special tribute to therapy dog Finn who would have been there. It was wonderful hearing all the stories from the kids and counselors about Finn. Camp Healing Tree is a safe place to talk about grief. We all shared in the memories of Finn and all of our amazing therapy dogs who help provide support and love to campers.
Thank you Brooke's Place for allowing us to partake in this wonderful day. Thank you to our volunteers and donors who make it possible for us to provide comfort.
---