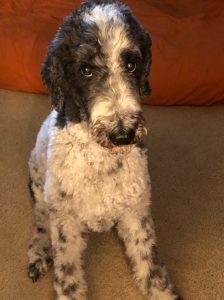 We are very sad to let you know that therapy dog Splash has crossed the rainbow bridge. Our Volunteer Coordinator, Kathy Janes, shares some fond memories of him:
"We first met Splash at a family event, PBS Kids in the Park, at Military Park in 2009. Splash and Mater hung out together to let kids read to them. They also got to meet the police horse that was there. Splash made many appearances as a neutral dog in the time he lived with his original owner, Anne Wolpert. He also visited schools with Anne and loved to chill as kids read to him or just loved on him. When Anne had to rehome Splash, Martha Karatz was thrilled to add him to her pack. He enjoyed a good life there and played with her grandchildren and visited their school occasionally. He also got to hang out at the Jewish Community Center when Martha was working there. Splash was a standard poodle with gentle ways and lots of love to give."
If you'd like to make a gift in memory of Splash, you can do so at pawsandthink.org/donate. Please let us know it's in his memory.
---
We're celebrating Valentine's Day with 'Be Mine, Canine' cutouts! With a donation of $200.00 to Paws & Think, you will not only support our mission to improve lives through the power of the human-dog connection, you'll also receive a corrugated plastic cutout of your dog (or your favorite Paws & Think therapy dog) as well as 10 Paws & Think notecards with envelopes.
Need some notecards to send for Valentine's Day (or any other occasion)? With a donation of $25.00, you will receive a pack of 10 Paws & Think notecards with envelopes.
Only 15 cutouts are available! Click here to order yours today.
Sponsored by Noah's Animal Hospitals.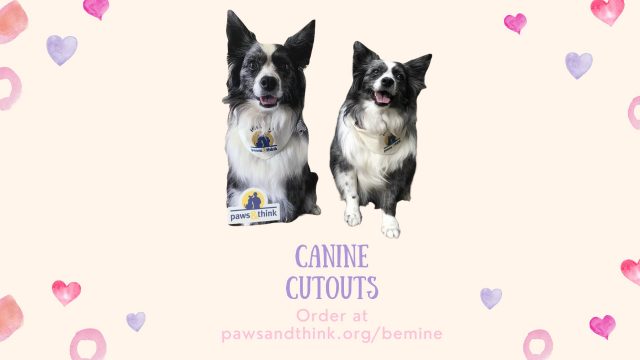 ---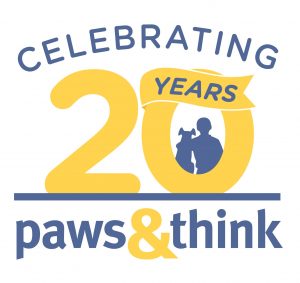 Paws & Think is celebrating its 20th anniversary in 2021! We have been positively impacting lives, both human and canine, right here in our community through compassion and connection since 2001.
SAVE THE DATE for our 20th Anniversary Fundraiser May 5th-21st.
---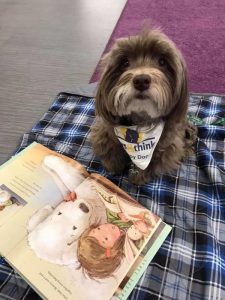 Join us for a virtual Paws to Read visit with Brownsburg Public Library this Saturday! Kids can sign up for a 15-minute session between 11am and 12pm to read to a registered Paws & Think therapy dog via Zoom. Register here for this Saturday, and check out the Brownsburg Library event calendar for future programs.
---
Paws & Think is looking for a freelance WordPress developer to help bring our new website to life! The design has been created and approved by the board, and we are looking specifically for someone who can convert it to a custom WordPress theme. You will be working directly with the Marketing & Design Committee chair, who has extensive experience with WordPress themes, plugins, etc.
If you are a WordPress wiz and would like more details, please submit your interest using the form below. Qualified candidates will be provided with the budget, timeline and design. Virtual interviews will be conducted before a final decision is made.
---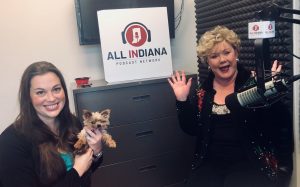 Executive Director Kelsey Burton and tiny therapy dog Pipsqueak were recently guests on Patty Spitler's podcast, Positively Patty. During the episode, Kelsey discusses how we adjusted programming to continue bringing comfort and hope to our community in 2020 and where we're headed in 2021. Thank you for having us, Patty!
You can listen to the episode here.
---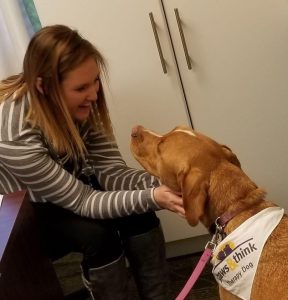 We all know the importance of self-care and stress relief, but did you know the simple act of eye contact with a dog can release a hormone that relieves stress? Oxytocin, a hormone whose many positive functions include reducing stress and lowering blood pressure, increases in both the human and the dog when they interact. Our work is beneficial not only to the people we serve, but also to our therapy dogs that love this work. Whether you're interacting with our Paws & Think therapy dogs or the family pet, take a minute for yourself to relieve some stress!
---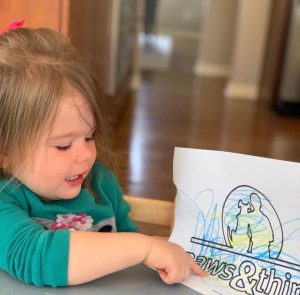 Don't forget we have a free Paws & Think activity book to keep kids busy while winter weather keeps them inside. This book was created in collaboration with local artist Gabriel Lehmen.
You can download yours here.
---
Executive Director Kelsey Burton and therapy dog Pipsqueak stopped by Indy Style to chat with Patty Spitler about all things therapy dogs. Even with the pandemic, our services have continued to bring comfort to so many in our community.
Thank you, Patty and WISH-TV for having us on today to talk about our important work! Check out the WISH-TV piece here.
---
Paws & Think therapy dogs love the snow! Watch as our furry friends enjoy the winter weather.
---