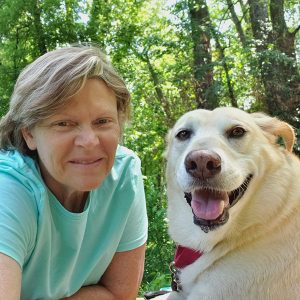 Shari Preston first learned about Paws & Think while watching PetPals TV in 2016. She was intrigued by the story and started volunteering with the Pawsitive Corrections Youth-Canine program shortly after. Shari has become a regular volunteer as a Mentor/Coach for the Youth-Canine program, and she has witnessed many inspiring moments that she says she hopes will make a difference for the youths that she has had the pleasure of meeting.
Shari explains that if a dog is distracted or shies away from a teen in the program, she will describe for the teen all that the dog has been through in such a short time: living in a noisy shelter, traveling with the other dogs from the shelter to the Juvenile Detention Center, and moving into an unfamiliar kennel with all new sights, sounds, and smells. She said the teens often speak about how they can relate to the dog's experience, and within minutes, she's able to watch a bond grow between the youth and the dog.
Helping the youth to practice different obedience commands with their dogs reinforces this bond, and she remembers one teen confiding in her that his dog taught him patience. Shari can relate to this – she has one dog of her own, a 7-year old yellow Lab mix named Finn that she rescued in 2014. She explains that before Finn, she didn't know what it was like to be around a fearful dog, and he has taught her so much. She and her husband, Chris, love to go hiking with Finn, and she enjoys sharing stories of their adventures with kids in the Youth-Canine programs.
In addition to helping with the Youth-Canine program, Shari also volunteers as an escort with the Paws to Heal program at St. Vincent. "It's great to ask someone if they would like a pet visit, and then to watch the emotional change it brings to the entire room," she says, reflecting on the impact of the program. She explains that not only does visiting with a therapy dog brighten a patient's day, but it often starts a great conversation by allowing the person to share stories about their dog as well. For her, this is the best part of volunteering with Paws & Think: "It's so heartwarming to see the pure joy on a person's face when they talk about a dog!"
---
Paws and Think, Inc. Selected as an Impact 100 Greater Indianapolis Change-Maker Finalist 
Impact 100 Greater Indianapolis, a charitable women's giving circle, selected Paws and Think, Inc. as one of five Change-Maker finalists that competed for a $100,000 high-impact grant at the 14th annual Impact 100 Greater Indianapolis celebration. As a finalist, we received a $24,000 residual grant to help us continue to improve lives through the power of the human-dog connection.
Thank you to the Environment and Animal Welfare Focus Area Committee for their amazing support and guidance. Your assistance made all the difference!
We are grateful to everyone at Impact 100 for this experience. We truly appreciate being able to share our story with so many incredible women.
Membership in Impact 100 Greater Indianapolis is secured through an individual donation of $1,000. Shared memberships in which two to four women can pool their money to share one vote are also available. Membership funds are used exclusively for the purpose of grant making, with more than 250 women collectively giving $191,000 to the 2019 grant pool.
---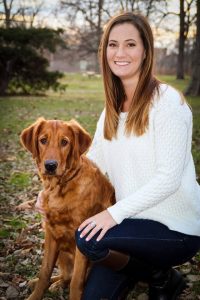 Whitney and her dog Pete started their volunteer journey in Cincinnati, where they lived and volunteered together at the Cincinnati Children's Hospital for a year. Whitney describes Pete as a calm and loving dog who enjoys everyone he meets, so after moving to Indianapolis, she knew she wanted to find a way for she and Pete to get involved with the community. They found Paws & Think after contacting Riley Children's Hospital to learn about their therapy dog volunteer opportunities. Whitney was impressed with Paws & Think's mission: "I love that Paws & Think helps in many different venues and is constantly trying to educate the community on the many ways dogs and humans help each other."
Together Whitney and Pete passed their therapy team evaluation with Paws & Think in June of this year and went on to complete the additional training to become part of the Paws to Heal program at St. Vincent's. They visit St. Vincent's every other week, and the Peyton Manning Children's Hospital is their favorite place to volunteer together. Whitney reflects on a recent visit there, where they encountered a young girl in the hallway outside her room. The girl sat down next to Pete, and Pete wiggled close to her and laid his head in her lap. The girl was so small that Pete's head barely fit in her lap, but they sat together for five minutes or more, content with each other's company. "That interaction just reminded how lucky I am to have Pete and how lucky we all are to have dogs that know just what to do to make the most of a moment," Whitney says.
Pete is a Golden Retriever who will be turning four in March, and when he is not volunteering with Paws & Think he loves to play fetch and go swimming in any water that he can get to. Pete has a younger brother, Eddie, who is also a Golden Retriever and just turned one year old. Together they enjoy visiting local parks to walk the trails, and Whitney is training Eddie so that he can become a therapy dog with Paws & Think someday, too. Whitney looks forward to being able to volunteer with Eddie and is happy that she is able to share Pete's gifts with others. "I get asked all the time how I trained Pete to be a therapy dog," she says. "While there is a lot of work and training that goes into it, it is so much more than just obedience. Some dogs just have that special personality!"
---
Over this past year there has been growing evidence of a possible link between certain types of dog food and the development of heart disease in dogs. When attention was first brought to this issue it appeared that grain-free diets may be contributing to dogs developing dilated cardiomyopathy. Dilated cardiomyopathy is a heart condition in which the heart wall gets thin, weak, and can't pump blood efficiently throughout the body. It was thought that the grain-free diets were either deficient in an amino acid, called taurine, or that they changed the way taurine was metabolized in the body. This is important because taurine deficiency is known to cause dilated cardiomyopathy in both cats and dogs.
After more investigation, however, the food in question has been expanded to include not only grain-free diets, but also diets from boutique companies and diets that contain exotic ingredients (kangaroo meat, for example). Currently "BEG" diets (boutique, exotic ingredients, grain-free) are being examined as a culprit for the increase in heart disease cases in dogs throughout the US. There is not a definitive answer as of yet as to why these diets may be linked to heart disease in dogs (or even if they are truly the cause), but suspect they may just not be as nutritionally balanced as they should be. Investigations are still under way.
The current recommendation by veterinary cardiologists is to feed a commercial pet food made by a well-established manufacturer (Hill's, Purina, Royal Canin, etc.) that contains common ingredients such as chicken, beef, and even grains. For the most part, dogs do just fine eating grains and they are a good source of energy. There is actually only just a small percentage of dogs that may develop a true grain allergy (Wheaten Terriers are the main breed affected). Usually food allergies in dogs are due to the protein source, not the grain.
If a dog needs a special diet for a medical condition, consulting with their veterinarian or even seeking out a diet plan from a Board-Certified Veterinary Nutritionist (acvn.org) is the best way to go.
For More Information on Nutrition, please visit:
http://petnutritionalliance.org
http://www.petfoodnutrition.com
Updated Information about Grain-Free Diets & Cardiomyopathy:
https://avmajournals.avma.org/doi/full/10.2460/javma.253.11.1390
https://www.avma.org/News/JAVMANews/Pages/180801e.aspx
Article by Leslie Brooks, DVM
---
Dear Friend: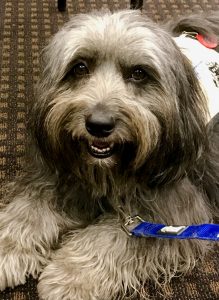 I'm lucky. I'm Harriet, a Paws & Think therapy dog – or as I like to think of myself, a smile creator, stress reliever, and master snuggler. When I go to work at St. Vincent Hospital, Brooke's Place, schools, libraries, or any of the many places I visit, I never know what I'll get to do.
One afternoon my human and I were searching for a patient's room in Peyton Manning Children's Hospital. I'm never in a hurry, because lots of times the caregivers, staff, and visitors need a little TLC, too. I'm flexible. So, I stop and cheer them up if they need a quick lovin'. That's something amazing about being a dog – I just never run out of love. Energy, yes, but run out of love? Never!
We were on our way to visit a little girl, and when we arrived there was quite the crowd in her room. She was on her way to surgery that very minute. My human asked if we had bad timing. Gosh, silly humans. Couldn't they see my timing was perfect? Thankfully, the doctors and nurses recognized this and said we were right on time! They asked if she would like me to ride to surgery with her. The scared child smiled and asked if I could hop up on her bed and snuggle. So, that's exactly what I did!
Up I went to escort my first patient to surgery. She loved on me the whole ride. Boy, was that great! And her Mom even said I had the best timing ever.
It's because of our supporters I get to do this awesome job.
Best job ever,
Harriet
Paws & Think Therapy Dog
Every day, your support makes stories like Harriet's possible.
Over 30,000 men, women, and children were provided comfort and support through our Pet Therapy Program (Animal-Assisted Interactions) in 2018. Hundreds of kids learned to fall in love with reading through our Paws to Read programs in schools and libraries where children read to therapy dogs.
In addition, our Youth-Canine Programs provided a second chance to 65 shelter dogs and 130 kids in 2018 alone!
We need your help to continue to make all of this possible.
Would you consider making a special year-end donation to help us continue to improve lives through the power of the human-dog connection?
Thank you for your continued support and friendship,
Kelsey Burton, Executive Director
Paws and Think, Inc.
---
It is with tears of joy I write this post. Soldier has been adopted!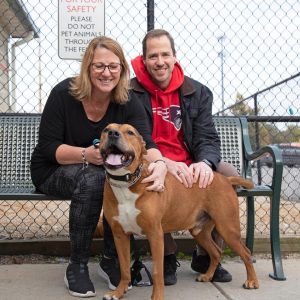 Soldier is a very special dog who was a graduate of our Youth-Canine program in 2016. He was trained in basic obedience by kids at Marion County Juvenile Detention Center. Although he did great in class, he was heartworm positive making it a challenge to find an adopter.
Lucky for Soldier, our temp tester Jodi VanSlyke stepped up and fostered Soldier for months during his treatment. With Soldier being an older pit mix and being in foster, it was hard to find an adopter.
One of our volunteers agreed to adopt Soldier and loved him completely until she was diagnosed with an autoimmune disorder that made it difficult for her to handle Soldier especially since he doesn't like other dogs too much and would pull to get to them.
Even though Soldier originally came from another shelter, we needed to find a shelter/rescue who had the capacity to work through some of his dog aggression issues. Lucky for us, our friends at Humane Society for Hamilton County (Indiana) stepped up. They agreed to take Soldier.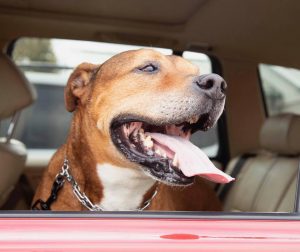 Because of funding from Nina Mason Pulliam Charitable Trust, we were able to cover the cost of his two week lodge and learn training and some recent medical costs! Thank you NMPCT!
Soldier was at the shelter since this spring. The great volunteers and staff at HSHC never gave up on him, and neither did we promoting him frequently including at our recent Dogs are Magic event. We knew his people were out there somewhere.
He waited patiently for his happy ending, and he got it!
Soldier was recently adopted by a wonderful couple, and as you can see from the pictures, he is so happy.
Thank you for adopting this big old love bug! We wish you all morning but years of happiness together!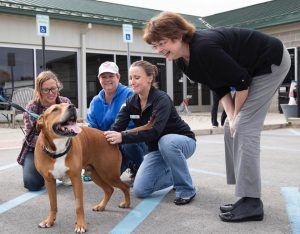 As you can see, it takes a village to help some of the more difficult to place dogs. Thank you to HSHC for being so incredible for the dogs in our community, NPMCT for helping us ease the burden of the financial side for the shelter, Jodi for spending months nursing him back to health, our volunteer for originally adopting him and loving him so much, and to his new family for giving him another chance.
If you want to help us continue to give dog's like Soldier a fighting chance, you can donate at https://pawsandthink.org/get-involved/make-a-donation/
---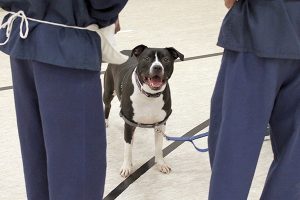 Since 2001, Paws & Think has been impacting communities in Central Indiana with our mission of improving lives through the power of the human-dog connection. One of the ways that we are able to support those in our community who need it most is through our Youth-Canine programs, where vulnerable youths are paired up with shelter dogs for a weeklong positive reinforcement training class that benefits the youths and the dogs. The goals of this program include instilling positive life skills in the youths and increasing adoption rates for the shelter dogs. Since 2013, our Youth-Canine programs have served over 520 vulnerable youths and 260 shelter dogs.
Paws & Think's longest standing Youth-Canine program is the Pawsitive Corrections Youth-Canine Program, a partnership between Paws & Think, the Marion County Juvenile Detention Center, and Indianapolis Animal Care Services. For this program, Paws & Think's trained temperament tester selects dogs from Indianapolis Animal Care Services to participate in the training class at the Marion County Juvenile Detention Center. An empty cell block is used to house the dogs for the week, and the dogs get a much-needed vacation from the crowded chaos of the shelter. Each cell is transformed into kennels so that each dog has a safe and secured space to sleep.
During the week of the program, incarcerated juvenile offenders are paired up with the shelter dogs, and together each pair learns the basics of positive reinforcement obedience training. Paws & Think's professional dog trainer leads the class, and the youths work through a series of exercises with their dogs to teach them basic commands. Paws & Think volunteer coaches act as mentors to help guide the youths and instill a foundation of positive learning that leads to success for both the youth and the dog.
At the end of the week, each youth makes a graduation card for their dog that is displayed on the dog's kennel when it goes back to the adoption floor at Indianapolis Animal Care Services. The card indicates the commands and skills that the dog has mastered to help increase the dog's chances of finding a permanent home. In 2017, the Pawsitive Corrections Youth-Canine Program celebrated a 100% placement rate for dogs that participated for the year, meaning that all dogs were adopted after they graduated from the training program.
In the past two years, Paws & Think has been able to expand our Youth-Canine programming beyond the Pawsitive Corrections Program, partnering with Warren Central High School and local foster-based rescues for the PAWs (Pups and Warriors) Program and bringing together Fishers Youth Assistance Program and the Humane Society For Hamilton County for the Hamilton County Youth-Canine Program.
With the support of our volunteers and donors, we continue to be able to help both at-risk youth and dogs to make our community a better place.
---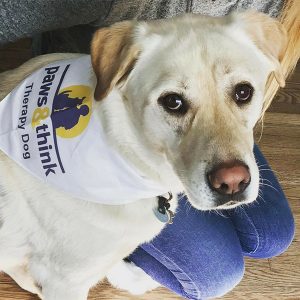 If you have been to a Subaru dealership in the past few years, you may already be familiar with Izzo, the canine half of this month's featured therapy team. "His photo is large in all the Subaru dealerships," explains Megan Thie, Izzo's owner and therapy partner. In the photo, the Labsky looks relaxed as his outstretched head is perched on the rear view mirror, soaking up the beauty of an autumn drive.
But Izzo wasn't always so calm. "Izzo was a wild child as a puppy and we went through a lot of obedience courses," explains Thie. But with his outsized personality also came a huge love of children. "He'd try to pull me towards them when we'd walk on the Monon Trail," recalled Megan.
This gave Megan an idea. Her mom is a 3rd grade teacher, so what better place would there be for Izzo to release his energy than in a room packed with kids? As a result, Izzo and Megan began visiting her classroom occasionally and still do to this day. These visits bring Izzo so much joy that you can see him physically "smile", according to Megan.
Izzo and Megan have been volunteering for Paws & Think for the past year and a half. As the child of a teacher and a lifelong lover of reading, Megan enjoys visiting other schools with Izzo to get kids excited about reading and strengthening their literacy skills.
However, Izzo has been known to be a bit of a workaholic at times. Megan recalls one time when the pair was working at the FINA World Junior Swimming Championship, talking to kids around the globe about competitive swimming and dogs. After an hour and a half of visiting, Megan attempted to leave with Izzo.
Izzo wasn't having it. "He laid down in the exit of the building, howled 'husky talk' at me, and drug me back inside." And even after one victory, Izzo still had some fight in him. When Megan left for the second time, Izzo sprawled out on the parking garage floor in one last attempt to stay even longer.
But all of the joy the pair gets from volunteering is well worth those occasional moments of stubbornness. "I'm always proud to share that Izzo is a therapy dog with the largest locally based therapy organization in Indiana," said Megan.
---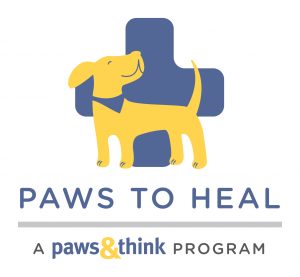 Paws & Think is thrilled to announce a new partnership with St. Vincent. Today was the kickoff of the Paws to Heal Program at St. Vincent. This new Paws & Think program allows our trained therapy teams to provide love and support to those most in need at the St. Vincent campus. This includes visits with patients, their families, and associates of St. Vincent.

"While we may not be able to provide a cure, Healing Arts at St. Vincent Indianapolis can take steps towards healing our patients, their families, and our associates on a holistic level. Paws to Heal, a Paws and Think, Inc. program, will help patients cope and normalize the hospital environment. We are very excited to have Pet Therapy integrated into our treatment model. Together we will break down professional silos and make way for interprofessional collaboration for the betterment of the individuals we care for," says Kaitlin Knapp, Manager of Healing Arts at St. Vincent.

As part of this new program, we are happy to announce the hiring of our Paws to Heal Program Coordinator Sandi Kammerer. Sandi's background includes over 11 years in Project Management, being a Certified Animal Assisted Therapy Professional from the Animal Behavior Institue, and being a Paws & Think Therapy Team and volunteer for the past 4 years.

Paws & Think Executive Director Kelsey Burton says, "We are honored to be partnering with St. Vincent and look forward to helping comfort and support those in need and being an integral part of the healing process."

Pet Therapy is part of St. Vincent's Healing Arts Department and is generously funded through the St. Vincent Foundation.

Volunteers interested in learning more about how to become a Paws to Heal therapy team or escort may contact Sandi Kammerer at skammerer@nullpawsandthink.org.
---
Do you want to help at-risk kids and shelter dogs? Then, we need YOU!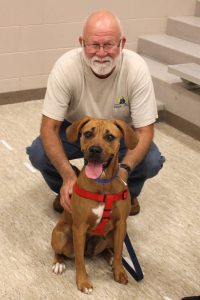 We are looking for volunteers to help with our Pawsitive Correction Youth-Canine Program at the Marion County Juvenile Detention Center.
Learn more by reviewing the Youth Canine Coach Mentor Description
If interested, contact Kim Trimpe at kimberlytrimpe@nullatt.net.
---