It takes a lot of help to support Paws & Think. Thank you to the following individuals and organizations that support our work…and for your support!
Collaborating Partners
Paws & Think visits over 50 unique venues on a regular basis annually. (View our complete list of partners.) The partners listed below have provided funding, program development or in-kind gifts to Paws & Think. For partnering with us in improving the lives of youths, canines and individuals with special needs through your time, talents and resources…Thank You!
Adult & Child
Ascension St. Vincent
Brooke's Place
Charity Cares Early Academy
Hamilton County Youth Assistance Program
The Humane Society for Hamilton County
Indianapolis Animal Care Services
The Indianapolis Public Library
The Indianapolis Public School System

Indy Reads




The Marion County Juvenile Justice System




Uptown Pup



---
2020/2021 Major Funding Partners ($1,000+)
Businesses and foundations that support us through financial means…Thank You!
Impact 100 Greater Indianapolis – $26,500
J.E. Fehsenfeld Family Foundation – $20,000
Tony Stewart Foundation – $10,000
J.B. King Family Foundation Fund, a fund of The Indianapolis Foundation – $8,000 over the next 4 years
Beim Foundation – $7,500
Junior League of Indianapolis, Community Assistance Grant – $7,500
Latham Foundation – $6,000
Luminous Fund – $5,000
Rogers Family Foundation, a fund of Central Indiana Community
Foundation. – $5,000
The Brave Heart Foundation – $2,000
Howdy Doody Good Times Foundation – $1,000
---
2020/2021 Gayle Hutchens Society for Individual/Family Donors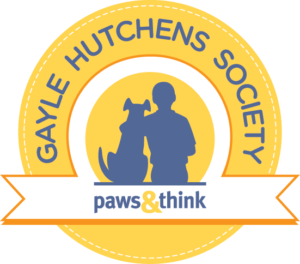 The vision for the Gayle Hutchens Society, named for the selflessly generous and kind founder of Paws & Think, is to acknowledge and honor those individuals and families whose leadership and generosity carry out the life-changing mission of Paws & Think every day in communities across Central Indiana. Gayle Hutchens Society members give an annual total of $1,000 or more to support Paws & Think's mission. All individual/family gifts of $1,000 or more are recognized in the Gayle Hutchens Society, whether the gifts support program priorities or specific campaign designations. On behalf of the thousands of lives touched and changed each year, Paws & Think thanks these visionary leaders for their outstanding annual support.
Thank you to our Gayle Hutchens Society members:
Nina Esbin
Jean & Gary Heck
Sara Anne Hook
Missy & Dan King
Andrew & Claire Lee
Jenny Trainor & Tom Lehman
Clare & Andy Morrison
Brett & Lori Nelson
Tonja & Frank Eagan
If you are interested in becoming a major donor, please contact Kelsey Burton at kburton@pawsandthink.org.