Steven Barley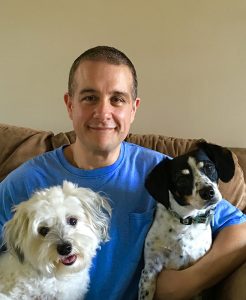 President, Board of Directors
Steven Barley is the Chief Operating Officer and Deputy Director at Indiana Public Retirement System (INPRS). With 24 years of experience in the financial services industry, he brings a wide variety of skills to the board, including operations, project, and financial management.
Steven saw joining the Paws & Think board as a great opportunity to help people through the power of the human-dog connection, and was drawn to the organization's unique programs such as Youth-Canine.
One fun fact about Steven is that he and his wife name their dogs in themes. Their first two dogs were named Paddington and Buckley, which are two locations in Great Britain. Their current dogs are named Kali and Meg. Kali is short for Kali River Rapids, which is a ride in Disney World, and Meg is short for Megara who was Hercules' girlfriend in the Disney movie. In addition to Paws & Think, Steven also sits on the Program Committee for Indy Humane Society and Finance Committee for Little Red Door Cancer Agency.