Lisa Jones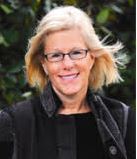 Lisa Jones got involved with Paws & Think in 2013, when she started volunteering as a therapy dog handler with her dog, Rookie. Lisa and Rookie had previously volunteered together with Therapy Dogs International, and Lisa was drawn to Paws & Think after learning more about how the organization was structured. Rookie has been a therapy dog for 7 years, and Lisa is now in the process of training her other dog, Toby, to also become a therapy dog with Paws & Think.
Lisa brings a great love for dogs to Paws & Think's Board of Directors along with strong communication skills from her background in healthcare. She has a B.S. in Nursing from DePauw University and is an RN and BSN with 18 years of experience in nursing. She took time off from her nursing career to raise three sons and has been working as a Real Estate Broker for the last 17 years. She has received multiple real estate awards, including the Five Star Agent Award and lifetime membership in the President's Club.
Lisa has been married to her husband for 41 years, and they have three adult sons and three daughters-in-law. Lisa used to play seven different musical instruments and still plays the glockenspiel, hand bells, chimes, and piano. In her free time she also enjoys needlepoint, reading, and playing tennis.