Kathy Janes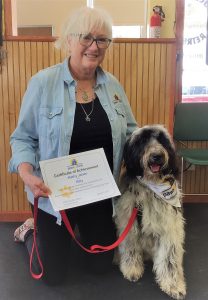 Volunteer Coordinator / AAA/AAT Advisor
Bringing a friend to a person in grief. Making the day of a hospitalized person. Giving children the confidence to read their favorite book cover to cover.
Those are a few of the reasons Kathy Janes recently took early retirement in order to devote more time to her passions – Paws & Think and Human Animal Interaction studies. As Volunteer Coordinator, Kathy wears many hats. Scheduling volunteers into venues, attending volunteer workshops, and assisting with trainings are all part of what Kathy does.
Before retirement, Kathy earned her BA in English and worked as a copy editor at an academic publishing company. After having children, she went into telecom sales and project management. Besides Paws & Think, Kathy has dedicated her time to helping the community, both in her native California and here in Central Indiana. She has served as a volunteer for Family Services, state and local PTA, and was a Blue Bird Leader. With animals, Kathy has been involved with breeding and showing Cocker Spaniels, volunteering for the Northern California Old English Sheepdog League Rescue, and participating in competitive obedience with her own dogs. She recently earned her Animals & Human Health Certificate through the Institute for Human-Animal Connection, a program within the Graduate School of Social Work at Denver University.
Kathy has two Goldendoodles, Ozzie and Gilligan, and a mixed-breed rescue, Harriet, who are all registered as therapy dogs with Paws & Think. Both Kathy and her husband Tom are therapy dog handlers, and they are also planning to train their newest dog, a Golden Retriever puppy, to become a therapy dog with Paws & Think. In her free time, Kathy likes to read recent studies in the field of Human Animal interaction, learn more about dog training, and play with her grandkids.