Dot Hitchins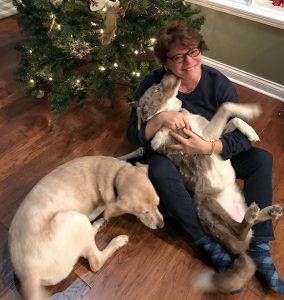 Dot Hitchins brings experience in volunteer management and recruitment, event planning, and strategic planning to Paws & Think's Board of Directors. She currently manages the volunteer program at St. Vincent Ascension and has been a non-profit manager for all of her career. In the past she served as the Boone County Leadership Coordinator and the Director of Donor Relations at Marian University. She also has a Bachelor of Science from the St. Louis University John Cook School of Business with a concentration in Management Science.
Dot describes herself as a "community volunteer junkie" who started as a candy striper at the age of 14. She has been in the Junior League for over 30 years, served on the Zionsville Parks Board, and was a member of the PTO. She got involved with Paws & Think in 2016 and has helped to develop the Paws to Heal program. She says she was drawn to the organization because it offered the opportunity to "do great things for others with dogs. I am so impressed by the scope and breadth of the services provided by Paws & Think, and I am excited to become a part of making magic happen."
Dot lives in Zionsville with her husband, Owen, their two dogs, Piper and Mowgli, and two cats, Dante and Moo. She says that dogs have always been part of her family, and she also loves horses and has ridden them in the past. Dot is a member of The Colonial Dames of America, and in her free time she enjoys walking her dogs, gardening, traveling, reading, cooking, and spending time with her family.