Who:     All Ages Welcome.
What:    St. Puprick's Day Yappy Hour
Where:  Register and Donate to Play HERE
When:   March 17, 2020, 6:30 p.m. to 7:30 p.m.
2nd Place:

The second place winner will receive a $25 Panera gift card and their dog will be featured in our social media stories for a day.
Can't make the events but still want to help?
You can donate anytime HERE on our website.
---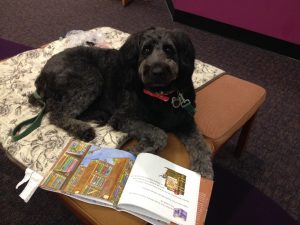 Did you know that our Paws to Read program is more than just an opportunity for kids to read to a dog?
Paws & Think is an affiliate of Reading Education Assistance Dogs (R.E.A.D.), a worldwide organization focused on improving the literacy skills of children through the assistance of registered therapy teams. R.E.A.D. is built on the foundation of classical human-animal interaction research and is supported by documentation in ongoing field studies.
This partnership allows Paws & Think's therapy team handlers the opportunity to take additional training as literacy mentors to help children gain confidence, improve social skills, and develop a love of reading.
To learn more about our Paws to Read program and to view our virtual visit schedule, visit https://pawsandthink.org/programs/paws-to-read/
---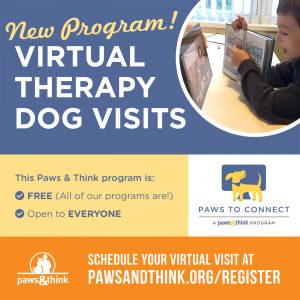 We are excited to announce our brand new program, Paws to Connect!
Individuals of any age can interact virtually with registered Paws & Think therapy teams with the goal of providing a fun break while helping to alleviate stress, loneliness, and feelings of isolation.
There is no age limit for participants, anyone is welcome to sign up at pawsandthink.org/register to receive a 15-minute time slot for a virtual visit with a Paws & Think therapy team. These lighthearted visits provide emotional connection and comfort via the power of the human-dog connection.
Our first session is this Saturday, February 13th from 1:00-2:00pm. Learn more at https://pawsandthink.org/programs/paws-to-connect/
---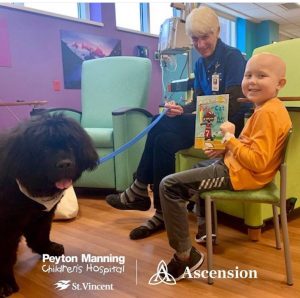 It is with great sadness that we inform you all that therapy dog Bella has crossed the rainbow bridge. Bella, a gorgeous Newfoundland, became very well known in our community for her therapy work. It often felt like being in the presence of a celebrity as people clamored to say hello to the big fluffy black dog that looked like a bear.
She and her handler, Margaret Drew, were one of our most active and longest-serving teams and an invaluable source of joy for those we serve. A gentle soul, Bella was able to bring comfort and delight to anyone she visited, and she touched the lives of so many. She was among the first R.E.A.D. teams with Paws & Think and loved visiting IPS 34, where she had such an impact that she was included in a mural within the school. In addition to the Paws to Read program, she was a wonderful part of the Hamilton County Youth-Canine program and the Paws to Heal program with Peyton Manning Children's Hospital to name a few.
Bella will be greatly missed but will live on in the hearts of so many in our community and in the hearts of all of us at Paws & Think.  We send a sincere thank you to Margaret and her husband Craig for sharing Bella. She was born to be a therapy dog and truly made a difference to so many.
If you would like to make a gift in memory of Bella, you can do so on this post or at pawsandthink.org/donate. If you donate on the website, please let us know it's in her memory.
---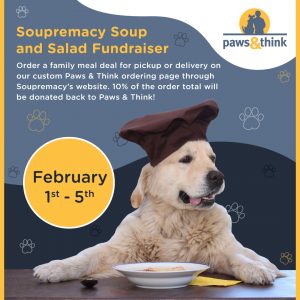 Soupremacy is partnering with Paws & Think for a soup and salad fundraiser from February 1st-5th. You can order Soupremacy's Family Meal Deal through our custom order page on their website, and 10% of the order total will be donated back to Paws & Think. Support Paws & Think and a small, local, veteran-owned business by enjoying a delicious meal of soup, salad, and dinner rolls this week.
You also have the option to Feed the Frontlines by adding a soup for a healthcare worker at Ascension St. Vincent to your order. We are glad to be able to support our Paws to Heal partners at Ascension St. Vincent for this fundraiser. Click here to place your order for pickup from Soupremacy's downtown Indy store.
---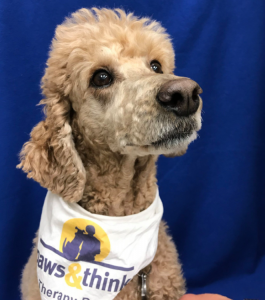 We are very sad to let you know that therapy dog Leo has crossed the rainbow bridge.
Leo and his handler, Clare Morrison, were a regular team at Ascension St. Vincent, visiting ASV Women's Hospital and Peyton Manning Children's Hospital. Leo was such a sweetheart and a wonderful therapy dog. Clare once said Leo was her "can take anywhere" dog. He will certainly be missed.
If you'd like to make a gift in memory of Leo, you can do so via our Facebook page or by visiting pawsandthink.org/donate. If you donate on the website, please let us know it's in Leo's memory.
---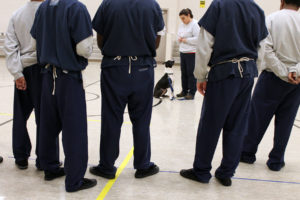 Congratulations to Paws & Think's Kim Trimpe for being selected as a 2020 Indiana Afterschool Network Staff Appreciation Awardee! Kim worked tirelessly in 2020 to ensure our Youth-Canine program at the Marion County Juvenile Detention Center continued despite many hurdles due to Covid-19. More impressively, she continues to do the work with a smile on her face even when things get tough.
Thank you, Kim, for all that you do for the Youth-Canine program and for the positive impact that you have on so many lives, both human and canine.
---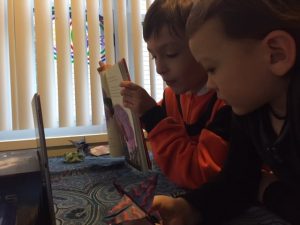 In-person library visits may be paused, but our virtual Paws to Read visits are going strong! Kathryn Dowel's children participate in our virtual Paws to Read visits with Indianapolis Public Library, and she reached out to let us know that, despite not being able to physically interact with the dogs, the program still has a huge impact.
"I think it might sound silly to some, reading to a dog over a Zoom call. But it encourages my readers. My 4th grader independent worker works on their inflection and confidence. My 2nd grader works on their emergent reading skills and proficiency. And my kinder is watching, being excited for the potential of what reading can be. It is different now, but we are happy to have these pieces of joy in our lives. Thank you for helping bring this to our family."
Click here to view our virtual Paws to Read schedule.
---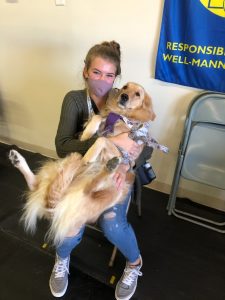 Neutral teams play an important part in our therapy training classes and evaluations, allowing therapy team trainees to get used to being around other dogs while working. The neutral dog is a registered Paws & Think therapy dog that is experienced in staying calm around other canines and allows the dogs in training to experience approaching another dog without reacting.
To our Paws & Think therapy teams, signing up to volunteer as a neutral team is a great way to continue to practice your skills and keep your dog socialized!
---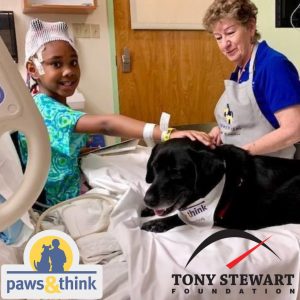 We are so grateful to have been selected as a grant recipient by the Tony Stewart Foundation. Paws & Think received $3,000 to support our alternative programming for children who are in hospitals or have experienced abuse.
This alternative programming includes virtual visits, dog parades, therapy dog "stand-in" cutouts, cards for support, videos, activity books, and more. Thank you to The Tony Stewart Foundation for their generosity!
---