One of the best things about Paws & Think is the impact the organization has on people who need help the most. We are lucky to have witnessed the power of the connection between humans and dogs for the past 18 years, and earlier this year, one of the strongest connections was formed.
In May 2017, Ellie was diagnosed with a brain tumor at just 13 years old. This past March, Ellie arrived for chemotherapy treatment at St. Vincent. These treatments have been hard on Ellie, causing both long-term and short-term side effects. To help make these days a little easier, Paws & Think has been sending pet therapy teams to see Ellie every week.
According to Ellie's mom, Karyn, Ellie's mood has brightened ever since her first visit with Paws & Think.
"Each week when we arrive at the clinic, Ellie raises her eyebrows in hopeful anticipation, and when she hears that a dog will visit, she literally jumps for joy," says Karyn.
The dogs gravitate to Ellie, sitting with her and loving on her while she happily rubs their bellies and ears. By the time Paws & Think volunteers leave the room, Ellie is always smiling.
"The dogs and the teams remember me every time, and it makes me so excited to see them," says Ellie. "It really helps every single time I have a dog…in ways I can't describe."
After extensive treatment, Ellie's tumor returned in July. She is now undergoing a 52-week chemotherapy regimen. Paws & Think volunteers will continue to be by her side, helping her fight every single week and bringing a little bit of happiness and a lot of love to Ellie and her family.
Every day, your support makes stories like Ellie's possible.
Over 50,000 men, women and children were provided comfort and support through our Pet Therapy Program (Animal-Assisted Interventions) in 2019. Hundreds of kids learned to fall in love with reading through our Paws to Read programs in schools and libraries where children read to therapy dogs.
In addition, our Youth-Canine Programs provided a second chance to 79 shelter dogs and 150 kids in 2019 alone!
We need your help to continue to make all of this possible.
Would you consider making a special year-end donation to help us continue to improve lives through the power of the human-dog connection?
Thank you for your continued support and friendship,
Kelsey Burton
Executive Director, Paws and Think, Inc.
---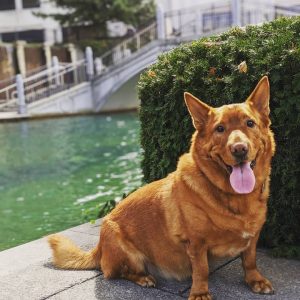 Last summer, shelter dog Momo participated in our Pawsitive Corrections Youth-Canine program at the Marion County Juvenile Detention Center where he met Amy, a new Paws & Think volunteer with a secret mission to adopt a dog. When she first saw Momo, she was immediately taken with his unique face. Many volunteers in the program commented that the chubby rolls on his snout made him look like Alf, and everyone agreed that they had never seen a dog quite like him before. Amy knew he was special, and at the end of the program she and her husband Michael went to Indianapolis Animal Care Services to make him a permanent member of their family.
The shelter estimated that Momo was an older dog who had lived on the streets for a while, which explained his patchy fur and the fact that he seemed to tire easily, slowly shuffling his big feet on walks around his new neighborhood. However, Momo soon learned from the vet that he had hypothyroidism, a condition that caused a variety of symptoms including weight gain, fur loss, lethargy, and droopy muscles on the face known as "tragic face." It turns out Momo's iconic snout rolls were because of his health condition, and his tiredness and sluggish gait were likely because he was not feeling well because of his overactive thyroid.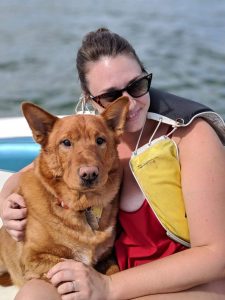 Momo started a new medication and within months his "tragic face" was gone, he lost over ten pounds, and he had a new perky attitude and happy pep in his step. Momo took new joy in playing with toys and was able to go for longer walks with his parents. He even enrolled in therapy dog training, and just a year later he and Amy became a registered therapy team with Paws &Think. Momo dressed up as Harry Pawter and visited members of our community to help promote our Dogs Are Magic: Wags & Wizards event this fall, and he plans to volunteer with the Paws to Read program in the future.
We love seeing shelter dogs come full circle through Paws & Think. Momo was able to benefit from our Youth-Canine program where he found his new healthy home, and now as a therapy dog he will be able to give back to the community through our Pet Therapy programs. Donate this Giving Tuesday to help Paws & Think continue to improve lives through the power of the human-dog connection.
---
Donate Today
Click on the button below to make a donation. By clicking on the button below, you will be redirected to the PayPal website where you can make a donation using your credit card.
Have a PayPal account? If you have a PayPal account, we encourage you to donate using this link. It is our PayPal Giving Fund in which all transaction fees are paid by PayPal, rather than our organization. You must have a PayPal account if you would like to make a donation this way.
---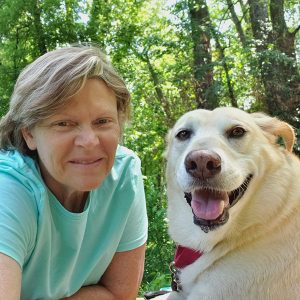 Shari Preston first learned about Paws & Think while watching PetPals TV in 2016. She was intrigued by the story and started volunteering with the Pawsitive Corrections Youth-Canine program shortly after. Shari has become a regular volunteer as a Mentor/Coach for the Youth-Canine program, and she has witnessed many inspiring moments that she says she hopes will make a difference for the youths that she has had the pleasure of meeting.
Shari explains that if a dog is distracted or shies away from a teen in the program, she will describe for the teen all that the dog has been through in such a short time: living in a noisy shelter, traveling with the other dogs from the shelter to the Juvenile Detention Center, and moving into an unfamiliar kennel with all new sights, sounds, and smells. She said the teens often speak about how they can relate to the dog's experience, and within minutes, she's able to watch a bond grow between the youth and the dog.
Helping the youth to practice different obedience commands with their dogs reinforces this bond, and she remembers one teen confiding in her that his dog taught him patience. Shari can relate to this – she has one dog of her own, a 7-year old yellow Lab mix named Finn that she rescued in 2014. She explains that before Finn, she didn't know what it was like to be around a fearful dog, and he has taught her so much. She and her husband, Chris, love to go hiking with Finn, and she enjoys sharing stories of their adventures with kids in the Youth-Canine programs.
In addition to helping with the Youth-Canine program, Shari also volunteers as an escort with the Paws to Heal program at St. Vincent. "It's great to ask someone if they would like a pet visit, and then to watch the emotional change it brings to the entire room," she says, reflecting on the impact of the program. She explains that not only does visiting with a therapy dog brighten a patient's day, but it often starts a great conversation by allowing the person to share stories about their dog as well. For her, this is the best part of volunteering with Paws & Think: "It's so heartwarming to see the pure joy on a person's face when they talk about a dog!"
---
Paws and Think, Inc. Selected as an Impact 100 Greater Indianapolis Change-Maker Finalist 
Impact 100 Greater Indianapolis, a charitable women's giving circle, selected Paws and Think, Inc. as one of five Change-Maker finalists that competed for a $100,000 high-impact grant at the 14th annual Impact 100 Greater Indianapolis celebration. As a finalist, we received a $24,000 residual grant to help us continue to improve lives through the power of the human-dog connection.
Thank you to the Environment and Animal Welfare Focus Area Committee for their amazing support and guidance. Your assistance made all the difference!
We are grateful to everyone at Impact 100 for this experience. We truly appreciate being able to share our story with so many incredible women.
Membership in Impact 100 Greater Indianapolis is secured through an individual donation of $1,000. Shared memberships in which two to four women can pool their money to share one vote are also available. Membership funds are used exclusively for the purpose of grant making, with more than 250 women collectively giving $191,000 to the 2019 grant pool.
---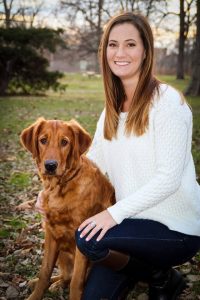 Whitney and her dog Pete started their volunteer journey in Cincinnati, where they lived and volunteered together at the Cincinnati Children's Hospital for a year. Whitney describes Pete as a calm and loving dog who enjoys everyone he meets, so after moving to Indianapolis, she knew she wanted to find a way for she and Pete to get involved with the community. They found Paws & Think after contacting Riley Children's Hospital to learn about their therapy dog volunteer opportunities. Whitney was impressed with Paws & Think's mission: "I love that Paws & Think helps in many different venues and is constantly trying to educate the community on the many ways dogs and humans help each other."
Together Whitney and Pete passed their therapy team evaluation with Paws & Think in June of this year and went on to complete the additional training to become part of the Paws to Heal program at St. Vincent's. They visit St. Vincent's every other week, and the Peyton Manning Children's Hospital is their favorite place to volunteer together. Whitney reflects on a recent visit there, where they encountered a young girl in the hallway outside her room. The girl sat down next to Pete, and Pete wiggled close to her and laid his head in her lap. The girl was so small that Pete's head barely fit in her lap, but they sat together for five minutes or more, content with each other's company. "That interaction just reminded how lucky I am to have Pete and how lucky we all are to have dogs that know just what to do to make the most of a moment," Whitney says.
Pete is a Golden Retriever who will be turning four in March, and when he is not volunteering with Paws & Think he loves to play fetch and go swimming in any water that he can get to. Pete has a younger brother, Eddie, who is also a Golden Retriever and just turned one year old. Together they enjoy visiting local parks to walk the trails, and Whitney is training Eddie so that he can become a therapy dog with Paws & Think someday, too. Whitney looks forward to being able to volunteer with Eddie and is happy that she is able to share Pete's gifts with others. "I get asked all the time how I trained Pete to be a therapy dog," she says. "While there is a lot of work and training that goes into it, it is so much more than just obedience. Some dogs just have that special personality!"
---
Over this past year there has been growing evidence of a possible link between certain types of dog food and the development of heart disease in dogs. When attention was first brought to this issue it appeared that grain-free diets may be contributing to dogs developing dilated cardiomyopathy. Dilated cardiomyopathy is a heart condition in which the heart wall gets thin, weak, and can't pump blood efficiently throughout the body. It was thought that the grain-free diets were either deficient in an amino acid, called taurine, or that they changed the way taurine was metabolized in the body. This is important because taurine deficiency is known to cause dilated cardiomyopathy in both cats and dogs.
After more investigation, however, the food in question has been expanded to include not only grain-free diets, but also diets from boutique companies and diets that contain exotic ingredients (kangaroo meat, for example). Currently "BEG" diets (boutique, exotic ingredients, grain-free) are being examined as a culprit for the increase in heart disease cases in dogs throughout the US. There is not a definitive answer as of yet as to why these diets may be linked to heart disease in dogs (or even if they are truly the cause), but suspect they may just not be as nutritionally balanced as they should be. Investigations are still under way.
The current recommendation by veterinary cardiologists is to feed a commercial pet food made by a well-established manufacturer (Hill's, Purina, Royal Canin, etc.) that contains common ingredients such as chicken, beef, and even grains. For the most part, dogs do just fine eating grains and they are a good source of energy. There is actually only just a small percentage of dogs that may develop a true grain allergy (Wheaten Terriers are the main breed affected). Usually food allergies in dogs are due to the protein source, not the grain.
If a dog needs a special diet for a medical condition, consulting with their veterinarian or even seeking out a diet plan from a Board-Certified Veterinary Nutritionist (acvn.org) is the best way to go.
For More Information on Nutrition, please visit:
http://petnutritionalliance.org
http://www.petfoodnutrition.com
Updated Information about Grain-Free Diets & Cardiomyopathy:
https://avmajournals.avma.org/doi/full/10.2460/javma.253.11.1390
https://www.avma.org/News/JAVMANews/Pages/180801e.aspx
Article by Leslie Brooks, DVM
---