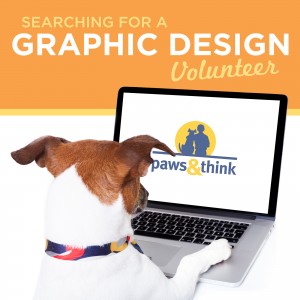 Paws & Think is looking for a graphic designer to volunteer their skills to our organization! We have an ongoing need for someone to help primarily with our print marketing materials, but there are also opportunities to help with web/social graphics, event invitations and program logos.
We are looking for one or more volunteers with design experience (or degree) who are proficient in Illustrator, Photoshop and InDesign.
If you are interested in volunteering in this capacity please contact Rhaya Shilts at rshilts@nullpawsandthink.org with your interest, availability, and any samples of your work.
---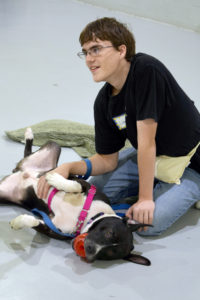 Tarzan's eyes were laser focused on the small ball in Chad Shuman's hands. It was the dog's turn at the Indiana State Fair Dock Diving Competition. The crowd was roaring and the smell of fair food filled the air, but the ball was the only thing that existed to Tarzan in that moment.
Right on cue, he begins to run the several feet down the platform as his owner throws the ball toward the water. Tarzan leaps off the platform and several feet across the pool before finally making his way back down to earth with a massive splash.
It's hard to imagine that not even one year earlier, Tarzan didn't know how to obey even the most basic of obedience commands.
Before being adopted by Shuman, Tarzan was living at the Humane Society for Hamilton County (HSHC) as a shelter dog. But in August 2017, he was chosen to be one of 5 shelter dogs chosen to participate in the first session of Paws & Think's Hamilton County Youth-Canine Program.
The program pairs at-risk youth from Hamilton Youth Assistance Program with shelter dogs to train them on basic obedience, improving their adoptability. For the program, Tarzan had been paired with a teen named Liam.
But on day 1, Tarzan was having none of it. He struggled in new environments, and refused to follow any of Liam's commands. But Liam had an idea.
"What if I give him a ball?" he asked, thinking that a toy might help Tarzan focus.
It worked. "Just like that, he connected with that dog," said Executive Director, Kelsey Burton.
Although Liam had broken through with Tarzan, it wasn't completely smooth sailing. Tarzan still had his stubborn moments when he decided to "quit" his training for the day and lay down on the floor. But Liam never gave up. In those moments, he would "lay down next to him and would pet him and love on him and just kind of start to teach Tarzan that it was okay to trust another person," said Burton.
Liam's persistence paid off for both him and Tarzan. He kept working to build trust with Tarzan throughout the week, and by the end of the 5 day program, Tarzan was thriving, even jumping through hula hoops.
But it wasn't just Tarzan that had grown. Liam had also made huge strides during the week, going from "not even being able to be in the room" at the beginning of the session to "being a leader, and demonstrating that," said Tricia Straus, an Advocate with the Fishers Youth Assistance Program.
"He was probably our star of our program from the standpoint that he benefited the most," said Burton. She explained how Liam gained confidence through the process of taking a scared shelter dog like Tarzan and through persistence, finally earning his trust. "He taught the dog those skills. That was totally him and he can have that accomplishment," Burton said.
By the end of the week, it was time for Liam and Tarzan to part ways. Burton remembers how Liam stretched out the goodbye as long as possible. "All the other kids had left and Liam had asked if he could come with us to walk Tarzan back to the Humane Society," she said. "And he walked over and you could just tell he didn't want to let that leash go."
Liam even wrote a letter to Tarzan's future owner with advice on how to be the best possible pet parent to Tarzan. One insightful piece of advice that Liam included – "His favorite toy by far is his ball."
Tarzan was soon adopted by Chad Shuman. As an athlete, Shuman had been looking for a dog that could join him on his runs. "I was kind of thinking a dog that could go and run and be active with me, and he is a champion at that," he explains.
And a champion Tarzan is. His results from the Dock Diving Competition? First place. And to think, it may have never happened without the help of a teen named Liam.

---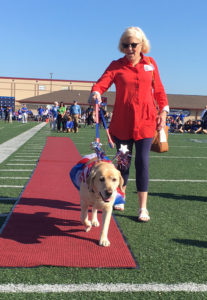 Lisa Jones and her dog Rookie have been volunteering with Paws & Think for over four years and have been able to make a positive impact by visiting all different types of venues as a therapy team. Lisa is an RN who has worked as a realtor and broker for the past 16 years, and she says her favorite part of volunteering with Paws & Think is seeing the difference that Rookie makes in people's lives – "He can help in a way that humans can't." Lisa is passionate about Paws & Think because she can see the value that it has in the community.
Together Lisa and Rookie have had many memorable experiences volunteering. In our end-of-year appeal, we highlighted the story of Rookie's visit with an unresponsive stroke patient who had a breakthrough moment in his recovery when he was able to speak to Rookie and feed him a treat. On another visit at IU, Rookie and Lisa went into the room of a woman who was terminally ill. Her husband, who was grieving, was skeptical about allowing Rookie to visit. "What good will this dog do?" he asked. When his wife placed her hand on Rookie's head, everyone was amazed to see her heart rate decreasing on the monitor, proof of Rookie's calming effect on her even in such a dire time.
Rookie, an English Yellow Lab, has been with Lisa since he was 11 months old and has been volunteering since he was a year and a half. Lisa is married and has three sons and three daughters-in-law, and when she is not volunteering with Rookie she enjoys needlepoint, reading, and volunteering with women who are overcoming addiction. Their family has two new additions – Lisa's first grandchild, and a new English Yellow Lab puppy, who Lisa hopes can also become a therapy dog someday.
---