"She came out and put her head on my shoulder as if to say 'I just need some love'", recalls Pam Martin of her encounter with the sweet, shy dog in the Youth-Canine Evening Care Program.
And love is exactly what Pam gives to the shelter dogs that are being trained in the JDC by their youth partners. Pam has been a Pet Therapy volunteer alongside her beloved partner Tito, and had always been interested in the Youth-Canine program. Now as a volunteer in the Evening Care Program, she spends time interacting with the dogs, including playing with them, feeding them, and going on walks.
The love goes both ways. Pam fondly remembers how her fellow volunteer Tammy fell in love with a beautiful hound mix named Bailey, who now calls Tammy "Mom". Along with the training provided by each dog's designated JDC youth instructor, Evening Care Volunteers give these special dogs the socialization needed to increase their chances of being adopted from the shelter and finding a forever home.
And Pam's favorite part of volunteering in the Evening Care Program? "I love spending time with the dogs! They are so appreciative of the attention they receive."
---
The winner of our 15th Anniversary Photo Contest is Fritz!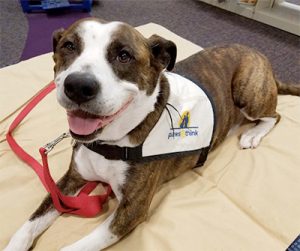 Fritz has been on quite a journey. Adopted by Mary Bennett from Indianapolis Animal Care & Control, the Staffordshire Terrier/Bulldog mix became a Paws & Think therapy dog, and now he has just won the #pawsandthink15 photo contest!
What made Fritz stand out to Mary at IACC? "After looking at many, he stood out because he was so loving," she explains. "He thinks he's a lap dog and just wanted to snuggle and love."
Fritz's happy-go-lucky spirit made him a perfect fit for serving with Paws & Think. Since February 2016, he has volunteered at locations such as Brooke's Place, which provides support to young people and their families after the loss of a loved one. "He loves being with the people, especially the children at Brooke's place," Mary says. "It's great to know we can help in some small way to make people's days a little brighter, and I love that we can do it together."
And Fritz doesn't stop at just loving people. He loves spending time with other dogs and cats – and even loves going to the vet!
So, does Fritz have any other surprises up his sleeve? "He doesn't have a large repertoire of tricks, but he does love to give people high fives," Mary says. Well Fritz, in honor of our 15th anniversary, here is a virtual high-five to commemorate your victory! Congratulations!
---
Leptospirosis (lepto) is a bacterial disease that can infect animals and humans. In the past, this was a fairly rare disease in dogs. However, over the past few years, it has become more common and easier to obtain.
Lepto is acquired by coming into contact with infected urine or from coming into direct contact with infected animals. The most common sources our dogs may acquire infection from includes rodents and wildlife, such as squirrels, raccoons, deer, opossums, and skunks.
Our dogs can become infected by coming into contact with water or soil where the infected animal's urine has spread. In fact, lepto can live in water and soil for weeks to months! It is a very persistent little bacteria! Our dogs can obtain the infection by drinking, swimming, or even just walking though water that is contaminated, as it can enter through the skin, eyes, mouth, or nose.
Lepto can be life-threatening to many dogs if they become infected. However, some dogs may not become sick, but could still shed the bacteria in their urine. Additionally, lepto can be shed in a dog's urine for up to 3 months after infection.
Humans that come into contact with infected dogs are at a high risk of becoming infected themselves. This is very dangerous for children, the elderly, and anyone with a compromised immune system. In fact, one-third of lepto cases in humans come from contact with infected dogs.
For this reason, and because of the communities of people we work closely with in promoting the human-animal bond, we follow the Centers for Disease Control's recommendation regarding lepto and dogs. The Centers for Disease Control recommends dogs be vaccinated against lepto yearly.
In the past, small dogs (dogs weighing less than 30 pounds) tended to have vaccine reactions to the lepto component of vaccines. Some would develop hives or facial swelling. However, over the past few years, vaccine technology has vastly improved and the risk of a vaccine reaction is far less likely now.
There is always a small percentage of dogs in which vaccine may not be 100% effective, and a small percentage of dogs that could still become carriers of the bacteria. While we can't account for all of the variants, we can do our due diligence to protect the humans who our therapy dogs serve. Protecting this bond means minimizing any risk that may threaten it, which includes preventing infectious diseases that may be transmissible from dogs to humans.
For More Information, please visit:
http://www.cdc.gov/leptospirosis/index.html
https://www.avma.org/public/PetCare/Pages/Leptospirosis.aspx
---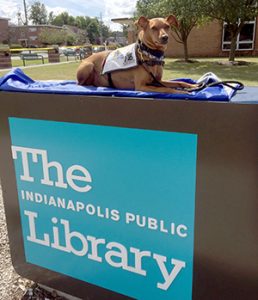 When Leanne Whitesell met Paws & Think's Executive Director at Woofstock 2013, she was excited to learn of the opportunities the organization could offer for her dog. When she got Terrence three years earlier, she knew right away that his gregarious nature and his desire to be around people would make him a great therapy dog, but she struggled to find information about how to accomplish this goal for him. Paws & Think offered a path that made sense, and she says she was drawn to the organization by the friendliness and helpfulness of the staff and volunteers. "They were patient with me and Terrence as we negotiated our way through our new world and allowed Terrence to be himself," she says. By January of 2014, they were a certified therapy team.
In the past three years, Terrence and Leanne have logged 97 therapy visits at 23 different venues. Terrence especially enjoys reading with children, and they regularly visited Eastridge Elementary School, where Leanne remembers two particularly special success stories where Terrance was able to help students improve their reading skills. One third grader improved by three reading levels and said that she believes that reading with Terrence made her enjoy practicing her reading more. Another student worked with Terrence for two years and formed a deep bond with him during their reading time – Terrence would crawl into her lap, and having his undivided attention helped to motivate her. She was the first student in her class to receive the Top Dog trophy for reading ten books.
Leanne appreciates that Paws & Think allows her and Terrence to volunteer together, and she feels their work is special because it provides opportunities for many people to engage with therapy dogs who would not otherwise be able to benefit from bonding with an animal. She says that Terrence loves visiting with people and making new friends through Paws & Think. "He is very aware of his responsibilities when he wears his uniform and takes his job very seriously," she says.
Leanne and Terrence have been volunteering at the Indianapolis Public Library – Irvington Branch since June of 2014. You can stop by to visit them at our Paws to Read program the second Saturday of every month from 11:00am-12:00pm.
---