Dogs have been a human's best friend for thousands of years. Originally, they provided support to hunters and latterly shepherds. In more modern times, they have helped the blind to become more mobile, with the first seeing eye dog starting its duty in 1928. They can now assist the police and other emergency services as well. However, dogs are not just a tool for physical labor. They can also provide emotional support to the lonely, including the elderly or socially anxious. These canines are known as Therapy Dogs and they've been providing a wealth of health benefits for many years now.
Who Can Use a Therapy Dog?
Anyone who can find benefit in spending time with a dog should aim to do so. This includes people who are suffering from social isolation, particularly the elderly who are at risk of developing dementia or Alzheimer's.
There have even been initiatives to help young children with their reading and writing by using the comforting presence of a dog. Therapy dogs are taken into classrooms and will sit attentively while children try to "teach" the dog how to read. In reality, it is the kids who are learning to read at a faster rate than if the dog hadn't been there.
For those with mental conditions such as depression or anxiety, a dog can make a world of difference. Having a dog in your home will release tension in the muscles and lower blood pressure, simply by allowing yourself to stroke, pet and play with them, therefore combatting stress. Dogs provide non-judgemental love and give their owners a sense of purpose and responsibility. This is an extremely effective motivator for those with depression who struggle to find meaning.
Where to Start
If you have serious problems with everyday movement, firstly make sure your house is mobility friendly. This may involve installing wider doors or a stair lift if it is becoming increasingly difficult to access other levels of the house.
If possible, adopt a pet of your own. The loyalty and caring nature of dogs makes them the perfect pet. By adopting from a local shelter, a traumatised and anxious dog will have a new free and happy life in your care. A dog with its own emotional problems may seem appealing because it allows owner and pet to help each other and heal together.
If you are unable to own a pet for yourself, search around for the right charity program to suit your needs. Paws & Think offers therapy dogs to help with behaviorally and academically challenged students. There is also help available for children or adults who have gone through other emotional trauma such as bereavement. Paws & Think offers pet services for people of all ages, who need therapy for a wide variety of reasons.
Written by Lucy Wyndham
---


From PetPalsTV
A recent tragedy at a high school found the students struggling to cope with the death of some fellow classmates. How did Paws and Think help these kids? Reporter Adam Dunn shows us how therapy dogs from this organization delivered just the right soothing touch for the emotionally paralyzed pupils.
---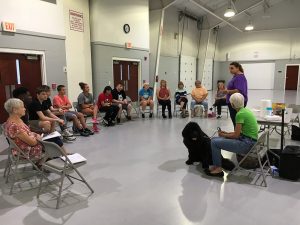 Paws & Think will be piloting a new Youth-Canine program this year in partnership with Hamilton County Youth Assistance Program (HCYAP) and the Humane Society for Hamilton County. The new Hamilton County Youth-Canine Program will be held two times in 2017, and the inaugural program starts this week. The program will be led by Paws & Think's Youth-Canine Coordinator, Kim Trimpe, and each training team will consist of two high school aged students, one dog, and one adult Paws & Think volunteer who will act as a mentor for the youth. This new program will follow the same model as our other Youth-Canine programs, with the goals of teaching valuable life skills to the youth and increasing chances of permanent adoption for the dogs.
HCYAP provides programs that promote positive growth and enhance home and community relationships for at-risk youth in Hamilton County. Teens who are facing challenging life circumstances have been selected by HCYAP staff to participate in our Youth-Canine program pilot with the goal that the program will teach them about opportunities to make their lives better. Youths will learn the value of working together towards a common goal, and our Paws & Think mentor volunteers will help to demonstrate that kindness and positive reinforcement can produce results and pave the way towards opportunities and success. Training sessions will include discussions about leadership, trust, empathy, safety, and will focus on positive reinforcement training for the dogs.
The Hamilton County Youth-Canine Program is the first program of its kind to bring together Paws & Think, HCYAP, and the Humane Society for Hamilton County. The second round of the pilot program will take place in the fall. Paws & Think is also currently working with Dr. Eric Grommon from IUPUI to develop statistical measures for our Youth-Canine programs to better quantify the positive impact of these programs to our community.
Learn more about our Youth-Canine programs.
---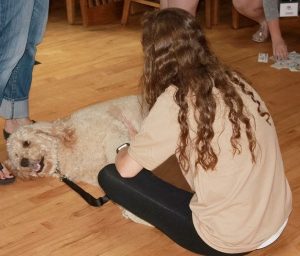 Indianapolis, Indiana – Paws and Think therapy teams assisted the students at Warren Central High School after tragedy struck last month. Therapy teams were called in three times to help students cope with the shooting of three classmates.
Dogs are often used to provide comfort during a crisis because they offer unconditional acceptance in these situations. They give comfort through their willingness to be petted, hugged, or simply present with no words or actions.
Crisis response requires training by dogs and their handlers. Paws and Think offers a four-hour training program to help handlers understand how others react to trauma.
The therapy teams were brought into a room where grieving students had gathered. As the dogs moved through the area, students started to feel comfortable to reach out and connect with the dogs and talk with the handlers.
"The handlers talk with and listen to the students as they process the crisis and the impact it has had on them personally," says Gerry Griffith, a Paws and Think volunteer and trainer for Indiana Crisis Assistance Response Team. "If other concerns become apparent, the handler will give that information to a school counselor or administrator."
Every person has a different reaction to the dogs during a crisis. Some interactions are short, while others want to spend time petting the dog and talking to the handlers.
"Dogs have an intuitive instinct to go to those that are most open to connecting with the team and those that are in the most pain," says Griffith. "Many times you will see the dog leading the handler to the individual that will be most served by their presence."
Warren Central received a lot of positive feedback from students, teachers, administrators, and community members about how much support the therapy teams were able to offer to grieving students.
"They truly helped many cope with the tragedies," says Brad Morgan, Counselor at Warren Central High School. "We are very thankful for such a great organization that is willing to drop everything and serve our kids."
---
When Executive Director Kelsey Burton called with the tragic news that three students from Warren Central High School had been killed, Marcia Baker knew that her therapy dog, an Australian Shepherd/Poodle mix named Raisin, could be a source of comfort for the grieving student body.
"I was more than glad to help out," Marcia said, although she wasn't sure what awaited her and Raisin at the school. "I couldn't imagine thousands of students grieving over what was such a raw and tragic event."
So off went Marcia and Raisin to Warren Central.
It was a typical reaction for someone whose love of both dogs and helping teens in need goes back decades.
Marcia grew up in St. Petersburg, Florida, in a dog loving family. Whether it was tramping through the woods or playing in the creek, dogs were a constant presence in her life. "I can't remember a moment when there wasn't a canine friend in the family," she said.
Marcia eventually became a teacher, working with at-risk teens in challenging environments and communities.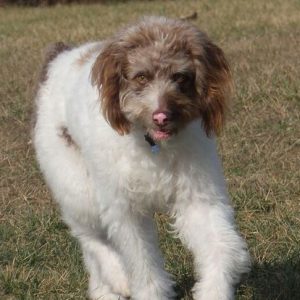 More recently, she became the owner of three-year-old Raisin. Marcia described Raisin as playful, yet relaxed, as she recalled the time Raisin slept on her back in the crate on the way home from Kentucky, where she was adopted.
Marcia soon realized that Raisin's happy-go-lucky nature was perfectly suited for a dog therapy setting. "When Raisin came into my life, I knew I wanted to share her with anyone who needed a canine friend," she said.
So when Marcia learned about Paws & Think while searching for pet therapy opportunities, she jumped at the opportunity for her and Raisin to get involved.
The duo travel all over Indianapolis giving comfort to kids in venues such as IPS #34, Brooks Place, Coburn Place, and Julian Center.
In addition to volunteering with Raisin, the Youth-Canine Program is a passion of Marcia's given her background in helping troubled teens.
"Getting back to this love of mine, along with my love of dogs, this program was just perfect for me," Marcia said of Youth-Canine.
For the program, Marcia has spearheaded the effort to develop new program training materials so that the program can be replicated in juvenile detention centers all over the country.
The materials, Marcia explained, will "make what we do easier, more focused, and increase the opportunity to bring about even better outcomes for the dogs and youth participating in the program."
But while programs like Youth-Canine involve a highly structured training program where at-risk students teach the basics of dog obedience to their canine pupils, when it came to comforting students at Warren Central, there was no program that could prepare Marcia and Raisin for what they would experience.
When they arrived at the school, the pair was greeted quietly by faculty and staff and instructed to just be available for the students.
"Raisin realized that this wasn't a time for play," Marcia said.
The pair wandered through the clusters of students who were sitting on the floor, standing along the hallways, and gathering in the counseling offices, trying to process the horror of what had happened.
"There wasn't much need for words," said Marcia. "Raisin was more than happy to lay next to a student or be surrounded by a group of students and be touched as they worked through their feelings."
However, as time went on, lighter conversation emerged from the silence as the students began to bond with Raisin. They inquired about her breed (often a topic of mystery among those first meeting Raisin) and her love of full-body massages. Many of them would also begin to open up and share their own dog stories. "This seemed to ease them back into the 'normal' world again," said Marcia.
After several days of being available for students, fewer and fewer students continued to need help. High school counselors gently guided students back into class.
By Thursday, the counselors informed Marcia and Raisin that their job was done. Although their calming presence was no longer needed at Warren Central, Marcia is ready to serve again if needed.
"We will be there in a heartbeat if we get the call."
---
UPDATE: SOLD OUT!
Thank you to everyone who purchased a shirt, and thank you for supporting Paws & Think!
---
There are new Paws & Think t-shirts available for all our volunteers and supporters! Throwback Threads Clothing Co. is offering two different shirts with 25% of sales being donated to Paws & Think. Be sure to pre-order your shirt before it's too late! Click the links below to purchase the shirts directly from the Throwback Threads Clothing Co. website.
Product Details:
– Unisex, modern crewneck fit
– Made with a super soft triblend of 50% poly, 25% combed and ring-spun cotton, 25% rayon
– Screenprinted In Indianapolis, Indiana
---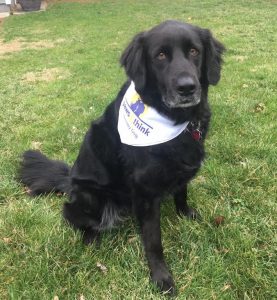 In November of 2015, Katie Selzler came across a picture on the Indianapolis Animal Care Services website of a dark-haired retriever named Remy who appeared to be smiling at the camera. Katie was looking to adopt an older dog, and Remy was estimated to be about five years old at the time. Inspired by the gentle soul captured in the photo, Katie went to IACS to meet Remy, but was told he was not available for adoption because he was in a program at the Marion County Juvenile Detention Center. Intrigued, Katie went back to IACS every day for the next three days until she was finally able to meet Remy, who was by then a new graduate of the Pawsitive Corrections Youth-Canine training program. Katie and Remy took a quick walk together, and after seeing how calm, happy, and friendly he was with strangers, she knew he was the dog for her.
Flash forward to 2017: Katie is searching online for ways to volunteer and give back to the community when she comes across Paws & Think. Having worked for animal rescues in the past, she was particularly interested in volunteering with an organization that worked with rescue dogs, and Paws & Think seemed like the perfect fit. She and Remy soon enrolled in the pet therapy training class, and in March they passed their evaluation to become a registered Paws & Think therapy team. Katie says she and Remy plan to visit hospitals and nursing homes, specifically facilities that have memory care centers. Katie is looking forward to volunteering as much as her schedule allows, and we are thrilled to have one of our Youth-Canine graduates return to Paws & Think as a volunteer. Look for Katie and Remy at upcoming outreach events where they will be helping to spread the word about Paws & Think!
---
Technically, the title "therapy dog" didn't exist in the days of the American West. But after visiting the Dogs: Faithful and True exhibit at the Eiteljorg Museum, you'd be hard-pressed to say they didn't give their owners therapy. Whether it was defending their owner during a hunt or mushing across the unforgiving frozen landscape, dogs played vital roles as heroes, workers, and companions in Native American and Western Culture.
Dogs: Faithful and True is a celebration of those dogs. Through art, photographs, artifacts, and interactive experiences, visitors can learn about the history of dogs in the American West.
In addition, you'll also have the opportunity to meet some of the Paws & Think therapy dogs! As a proud program partner, Paws & Think dogs will be visiting the exhibit one Saturday a month from noon-4pm. Those days are:
May 13th
June 3rd
July 8th
Other events include dog adoption from the Indy Humane's Pet Adoption Wagon, fun dog-related art workshops, and a talk from the Purdue College of Veterinary Medicine on the history of dogs in art.
To learn more about the exhibition and event times, visit the Dogs: Faithful and True event page on the Eiteljorg website. We look forward to seeing you there!
---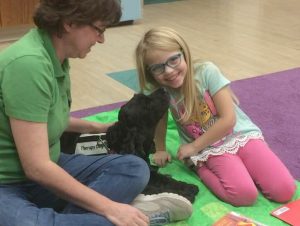 If you are interested in volunteering your time (along with your pet) for one of the Animal Assisted Activity/Therapy programs, our next available class begins in May! The class dates are May 20, June 3, 10, and 17. (Evaluations will be June 24.) Please remember that prior to class, you will need to contact Nina Esbin at nesbin@nullpawsandthink.org as well as complete and submit an assessment tool. (Pre-registration and pre-payment is required.)
Click here for more information.
---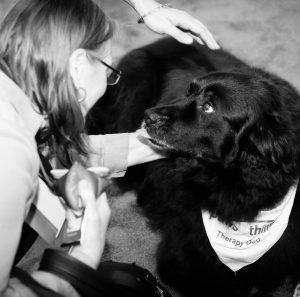 If you are interested in volunteering your time (along with your pet) for one of the Animal Assisted Activity/Therapy programs, our next available class begins in April! The class dates are April 8, 15, 22 and 29. (Evaluations will be May 6.) Please remember that prior to class, you will need to contact Nina Esbin at nesbin@nullpawsandthink.org as well as complete and submit an assessment tool. (Pre-registration and pre-payment is required.)
Click here for more information.
---