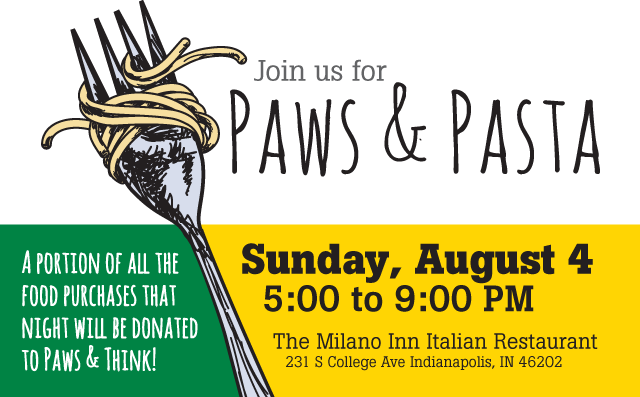 Join us on Sunday, August 4th from 5:00 to 9:00pm at the Milano Inn Italian restaurant for a night benefiting Paws and Think!
A portion of all the food purchases that night will be donated to Paws and Think, plus it will be a great opportunity to meet many of our board members and volunteers. If the weather is nice, we will have the outside patio and lawn (with bocce ball ball courts) reserved for our group and you will be permitted to bring your dog along to join in the fun. (Please keep in mind if you choose to sit indoors, there are no dogs permitted in the indoor dining areas.)
If you plan on coming, please email Jill Thompson at ajill.thompson@nullgmail.com and indicate the number of people (and dogs) coming. (RSVPs are not required, but are helpful for planning purposes.)
Hope to see you at Milano's for this fun event!
---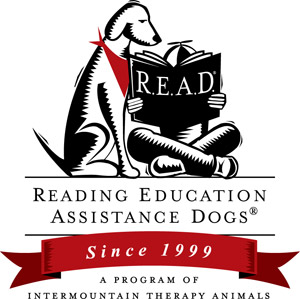 Paws & Think is very excited to announce that we are now an affiliate of R.E.A.D.®! With similar missions and philosophies in the use of therapy animals, this worldwide organization provides Paws & Think a stronger foundation for training our teams who work with youth in our "Paws to Read" programs.
R.E.A.D. members are registered therapy animals who volunteer with their owner/handlers as a team, going to schools, libraries and many other settings as reading companions for children. Through R.E.A.D., the handlers are trained as skilled facilitators, prepared to help the child gain confidence, improve reading and communication skills, social skills and develop a love of reading. With the dog, handlers are able to shift performance pressure off the child. Their mission and goals in this program share such a synchronicity with those of Paws & Think in assisting youth with our "Paws to Read" programs, that affiliating was a natural step to take our program to a higher level and provide greater consistency within our teams.
---
On May 30, 2013 Kathy Janes (Pet Therapy Director and Board Member) appeared on Indy Style with her dog, Mater. Watch the video above or see the full story on the WISH TV Website.
---
If you are interested in volunteering your time (along with your pet) for one of the Animal Assisted Activity/Therapy programs, our next class begins in June! The class dates are June 15th, 22nd and 29th. (Evaluations will be on July 6th.) Please remember that prior to class, you will need to contact Carol Davenport at cdavenport@nullpawsandthink.org as well as complete and submit an assessment tool. (Pre-registration and pre-payment is required.)
Click here for more information.
Note: If anyone wants to be evaluated this month, evaluations are Saturday June 22, June 29 and July 6th. Please contact Carol Davenport at cdavenport@nullpawsandthink.org if you are interested in attending.
---
Summer is just around the corner and there are a handful of opportunities for you to support Paws & Think while having fun in the sun! Here are some dates you can come out and have a good time while learning more about our organization. More details will be posted about each one as the date approaches. In some cases, you can bring your dog too!
Friday, June 7th, 4:00pm-7:00pm
"Ales & Tails" at the Sun King Brewery
Enjoy the start of summer by sipping on a frosty beverage and stopping by our booth in the brewery parking lot!
Sunday, June 2nd, 12:00pm to 5:00pm
Barkefellers Grand Opening of their Westside Location
Come visit the new location for this Indianapolis pet hotel that features boarding, grooming, daycare and training services. We will be there spreading the word about Paws & Think!
Friday & Saturday, June 14-15
Z Car Club Midwest Z Heritage Show
Paws & Think is honored to be the charity that will benefit from this year's Midwest Z Heritage Show in Nashville, IN. We will be at the event spreading the word about our organization!
Sunday, August 4th
"Pasta for Puppies" at the Milano Inn
Join us for a fundraising dinner at the Milano Inn. Pasta, pups and outdoor fun all located on the Milano Inn's outdoor patio and bocce ball field.
---
Paws & Think participated in the "HEUG a Dog" program at the Higher Education User Group Alliance Conference on March 18 and 19 at the Indiana Convention Center. Our dogs provided a welcome stress relief and break for the conference attendees. Paws & Think volunteers Heather Bacher, Robyn Porter, Kathy Janes and Brad Kupper told the attendees about our programs while they interacted with the dogs. Everyone had a great time, especially the dogs! In addition, the attendees were very generous in their contributions and support. Paws & Think thanks everyone that stopped by!
Click on any of the images below for a larger view!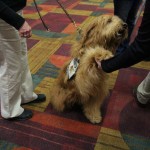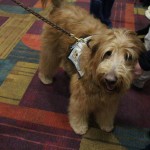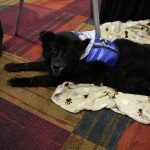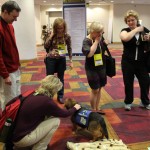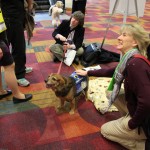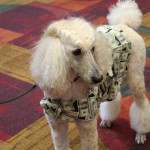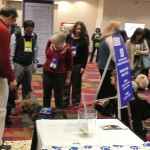 ---

Make Paws & Think part of your year by donating time, energy and passion as a volunteer with our organization in 2013. Each volunteer has a unique set of talents and skills beneficial to Paws & Think. Our various volunteer opportunities meet the needs of diverse schedules and interests. Your time and dedication will touch countless lives in Central Indiana. Lend your paw today.
---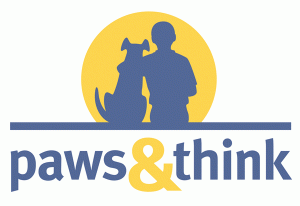 Media Contact:
Adam Whitaker
AWhitaker@nullPawsAndThink.org
317-667-5532
INDIANAPOLIS, Indiana (January 23, 2013) – Paws & Think, Inc., announced the appointment of Brad Kupper as its new Executive Director and launched a new branding identity. Kupper will provide strategic direction for the organization and oversee its fundraising, marketing and volunteer recruitment efforts. Paws & Think is an all-volunteer, non-profit organization that enhances the quality of life for the at-risk community, especially children, by leveraging the human-animal bond. Core services include providing youth-canine programs and registered therapy animals to serve the greater Indianapolis area.
Kupper brings a lifelong dedication to animals and their welfare. The Indiana native volunteers as an assistant dog trainer with Doggone Connection companion dog training. His dogs, Jackson and Brewser, are active volunteers with Paws & Think, participating in the Glendale Library reading program. He has also volunteered at the Best Friends Animal Sanctuary in Utah. Kupper is a business development/marketing manager for a local roofing company and a graduate of Speedway High School and Indiana University. "I am passionate about my love for the Indianapolis community and the potential of bringing a sense of pride and self-confidence to those more challenged by daily living," Kupper said. "I know that dogs can sometimes make a connection with people in need. That is what we do – help dogs help people."
Paws & Think also debuted their new branding initiatives, including a new logo, motto (Unleashing Potential) and website, www.PawsandThink.org. "Our rebranding is new and improved, but our longtime focus of serving the at-risk community remains the same," said Kupper. "We look forward to developing new programs and relationships that will positively affect more lives, both canine and human, in Indianapolis. We are ready to move into 2013 with a purpose that is stronger than ever."
Lynn Wilson served as Paws & Think's Interim Director following the passing of founder and Executive Director, Gayle Hutchens, in 2011.
###
About Paws & Think, Inc.
Founded in 2001, Paws & Think's mission is to serve at-risk youths, at-risk canines, and children and adults with disabilities and special needs in Central Indiana. Paws & Think is a 501(c)(3) non-profit, all-volunteer organization headquartered in Indianapolis, Indiana. It works in partnership with schools, detention centers, youth agencies, humane societies and shelters. For more information, please call (317) 520-2729 or visit www.PawsandThink.org.
---
We are very fortunate to have so many passionate and dedicated volunteers! Each January we like to look back on the previous year and recognize one special volunteer who has gone above and beyond in donating their time and talents. In 2012, that volunteer was Tom Janes (and his dog Mater). Learn about how Tom and Mater volunteer their time and see volunteers who were recognized in previous years on our Volunteer of the Year page.
---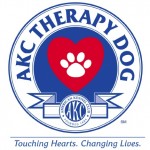 Paws and Think, Inc. is proud to announce that we are now on the American Kennel Club's list of THERAPY DOG ORGANIZATIONS. This is exciting in the recognition it brings us as the only Indiana therapy animal organization listed. It has only been in the last few years that the AKC has allowed mixed breed dogs to be registered as Canine Partners, making it possible for all of our registered therapy dogs, whether mixed breed or purebred, to be eligible to qualify for the new AKC Therapy Dog title.
Since our recognition, two of our dogs have achieved this title by completing these requirements:
Certified/registered by an AKC recognized therapy dog organization.
Perform a minimum of 50 visits.
The dog must be registered or listed with AKC.
We are very proud of Mater, owned by Tom & Kathy Janes, and Shane, owned by Mary Beth Googasian. Several of our other volunteers are very close to achieving this prestigious recognition. Visit them on our Therapy Dog Gallery, coming soon!
---