Volunteer of the Year
Our volunteers are the heart and soul of Paws & Think. Thanks for all that you do!

If you are interested in volunteering, please contact us. We would love to talk with you about the possibilities.
---
2015 Volunteer of the Year: Diane Aurand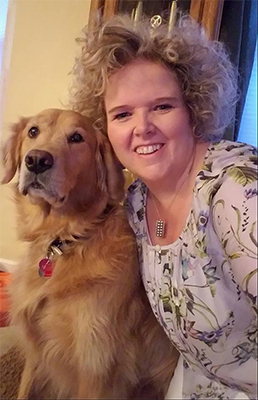 Cali Bear and I have been proud volunteers with Paws & Think for about three years. One of my proudest moments in life was being named their volunteer of the year. The work we do with Paws & Think for our community is so rewarding! Currently, Cali Bear and I visit Brooke's Place, Hoosier Village, Castleton Healthcare, IU's Hope in Healing Pediatric Bereavement program, The Julian Center, and Camp Healing Tree in the summer. We also enjoy doing special events when they arise.
Outside of being a volunteer with Paws & Think, I teach 6th grade at Zionsville West Middle School. Cali Bear joins me two days a week and helps keep the students calm and relaxed while they work. I'm lucky to be part of a school system that understands the value of therapy dogs. I also have another golden retriever at home named Taila, as well as a husband, Greg; a daughter, Shelby; and a grandson, Hendrix. I love animals and sharing my time with people who need a furry friend, an occasional sloppy lick, a smile, and a hug. The sloppy lick is from Cali Bear…not from me! As much as she tries, she has trouble holding her licker.
---
Previous Volunteers of the Year:
2014:
Volunteer of the Year: Susan Pratt
2013:
Volunteer of the Year: Margaret Drew
2012:
Volunteer of the Year: Tom Janes
2011:
Volunteer of the Year: Lisa Snyder
2010:
Volunteer of the Year: Carol Davenport
2009:
Volunteer of the Year: Rhaya Shilts
2008:
Volunteer of the Year: Debbie Feltz
2007:
Youth Volunteer of the Year: Sara Gibson
Adult Volunteer of the Year: Jodi Van Slyke
2006:
Youth Volunteer of the Year: Amanda Clevenger
Adult Volunteer of the Year (inaugural): Jill Boyer
2005:
Youth Volunteer of the Year: Leslie Hannah
2004:
Youth Volunteer of the Year (inaugural): Keith Diemer