Leslie Brooks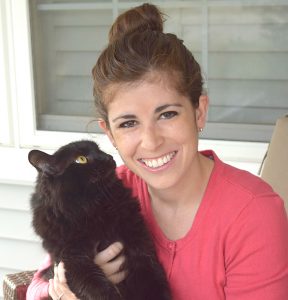 Leslie Brooks brings her knowledge, background, and experience in animal health and behavior to the Paws & Think board. Leslie works in her own mobile practice and does house calls for clients, specifically cats and dogs. Prior to beginning her mobile practice this year, Leslie did a rotating animal internship at VCA Advanced Veterinary Care Center and worked in Muncie for three years at a small animal clinic. She is a graduate of the University of Tennessee's College of Veterinary Medicine. In addition to her veterinary degree, she has a Master's in Public Health and a strong knowledge base in prevention and mitigation of zoonotic diseases (diseases transmissible from animal to human and vice versa).
Leslie appreciates the value of the human-animal-bond and the benefit animals can be in helping people cope with the daily struggles they may have, such as lowering their blood pressure, or helping with mental health. She has been volunteering with Paws & Think for 3 years, helping with the therapy dog training classes and youth-canine program, being a reading buddy in schools (IPS 34), in addition to assisting with fundraising events.
Over the past 3-4 years, Leslie has also volunteered with Exodus Refugee Services, HOSTS reading program for Wayne township schools, and Gleaner's Food Bank. She currently also volunteers with SOAR (Street Outreach Animal Response), which is an organization that helps the homeless that have pets in Indianapolis, making sure they get their vaccinations, flea and parasite control, a warm place to stay in the winter, and fostering for any owner that needs medical or mental health treatment.
In her free time Leslie enjoys riding her bicycle, reading, playing tennis, running, exploring new things in the city, and spending time with her husband and two cats.