Jackie Kent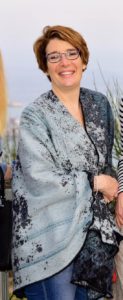 Jackie Kent is a Sr. Director at Eli Lilly Product Delivery. She leads the Clinical Trials Supplies team that provides medicines to clinical trials across the globe. With over 2 decades in IT, Jackie brings skills in fundraising, budget planning, project management, volunteer coordination, and large event leadership to the board. She has a BS in Computer Science and a BA in Ballet and the Performing Arts from Butler University.
Jackie saw joining the board as a great opportunity to get involved with an animal-centered organization that is active in the community. In addition to Paws & Think, Jackie has previous board experience as President for Young Voices of Indianapolis and North Waltham Primary School in England.
In her free time, Jackie enjoys gardening, traveling, and hiking. She also enjoys being involved with her children's activities, which include horse shows and show choir.
Jackie has one dog, named Carson. She also has one horse, as well as experience with raising horses and ponies over the years.