Paws and Think, Inc. has announced a generous operating grant from the Glenn Swisher Foundation. The grant will support the recent hiring of an Interim Executive Director as part of the organization's succession plan.
The Swisher Foundation was created by Indianapolis business leader Glenn Swisher. The Foundation has offered support for the organization's dog training program for a number of years.
"We are so very grateful for the ongoing generosity Glenn Swisher has shown Paws and Think," said founder Gayle Hutchens. "This operating grant is another example of his support for the central Indiana community and for the mission our volunteers carry out."
---
The Board of Directors has hired Lynn C. Wilson to assume the position of Interim Executive Director, effective Feb. 1st. Lynn will assist Founder and Executive Director Gayle Hutchens with the transition of responsibilities in preparation for the hiring of a new Executive Director within the next year.
Wilson was a Board member during the initial years of Paws & Think, and has been a long time supporter and donor. "I have long admired the mission and vision of Paws & Think, and I am pleased to play a role in this transformative time for the organization." Wilson told the Board at a recent Planning Retreat.
Wilson is the CEO of Crosby Wilson Consulting, a firm specializing in integrated marketing partnerships and maximizing corporate sponsorship investments.
---
Paws and Think founder Gayle Hutchens will be named an "Indiana Hero" during the March 30 Pacer game at Conseco Fieldhouse!
The Indiana Heroes Award, presented by Veolia Water, is awarded to an individual or group of individuals who, through their unique commitment and humanitarian spirit, have made exceptional and lasting contributions to our community.
Does that sound like Gayle or what!
Please plan on attending the game to cheer for Gayle and for all that Paws and Think does for central Indiana. Game time is 7 p.m. Be rowdy!
---
Cyndi Cochran is the Indianapolis Branch Manager for Assured Healthcare and has been active member of the healthcare industry for almost ten years. Cyndi is a graduate of Purdue holding her Bachelor of Science in Biology. With the help of her two cats (Wesley and Zoe) and dog (Scout), Cyndi dedicates her philanthropic and personal time to her passion for animals.
---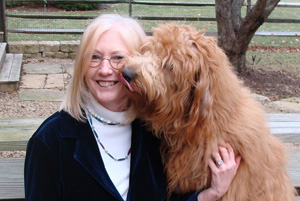 I've realized that my happiest times have been when I'm involved somehow with dogs, which I've always loved, and volunteer work. While my day job hasn't been one to left much extra time for either of these things, my manager has encouraged me to find my work-life balance. It's almost a cliché today, but it is more important than ever in our stressful world. I think my work-life balance began about 3-1/2 years ago when we got Mater, our Goldendoodle. We committed to taking him to obedience class from the first day we got him, and he still goes today. We began to make new friends there, mostly with the other Doodle "parents". And we learned about Doodle Romps where they all get together and play. If you didn't know it, Doodles are the most joyful dogs who recognize one another from blocks away! Mater was so outgoing and happy that he just seemed special somehow, and I realized that his enthusiasm for life was something to be shared. So I looked into training him for Animal Assisted Activities. Everyone I talked to referred me to Paws and Think. We signed up for the class and have been volunteering since then. Mater has brightened our world in so many ways, and I am grateful that he can share his joy in life with others. Paws and Think has provided us the opportunities to get involved both with him and with other people. Most importantly, I know that what we are doing makes a difference. I can see it in every face we meet as we share our lives with this great organization.
---